This post includes affiliate links. As an Amazon Affiliate I earn from qualifying purchases. Find out more about affiliate links.
Mini quiche absolutely falls into that category of foods which almost everyone likes to see at a party or picnic. There's a lot to like. A good quiche boasts crisp pastry, creamy soft filling and a deep, cheesy savory flavor, spiked with ham, bacon or vegetables for extra interest.
While a full sized quiche cut into wedges is great, these mini quiche made in patty pans or muffin pans are easier to make and serve, and they cook fantastically fast using a combi steam oven setting. Choose from one or both of the flavor options in the recipe to make a classic cheese, bacon and onion version or go vegetarian with mushroom and garlic.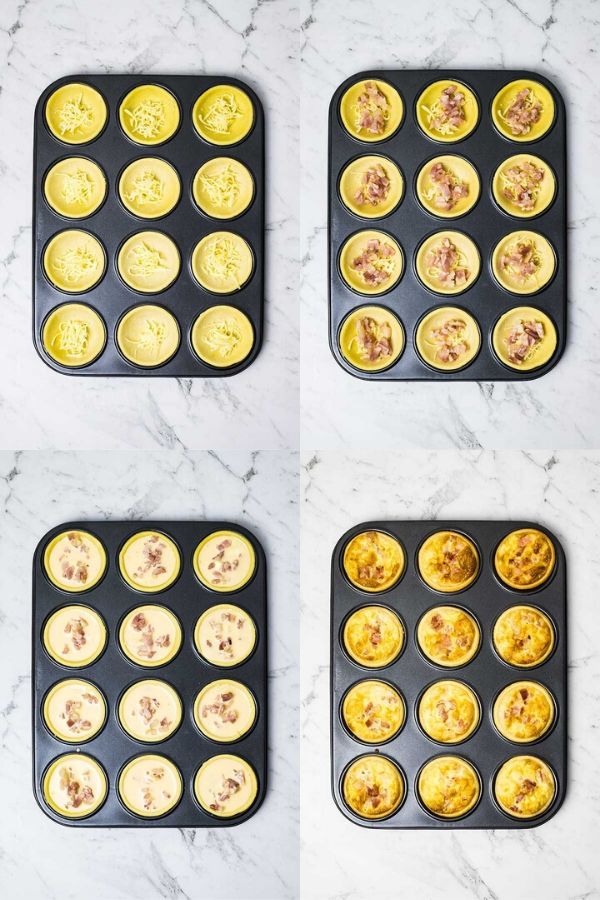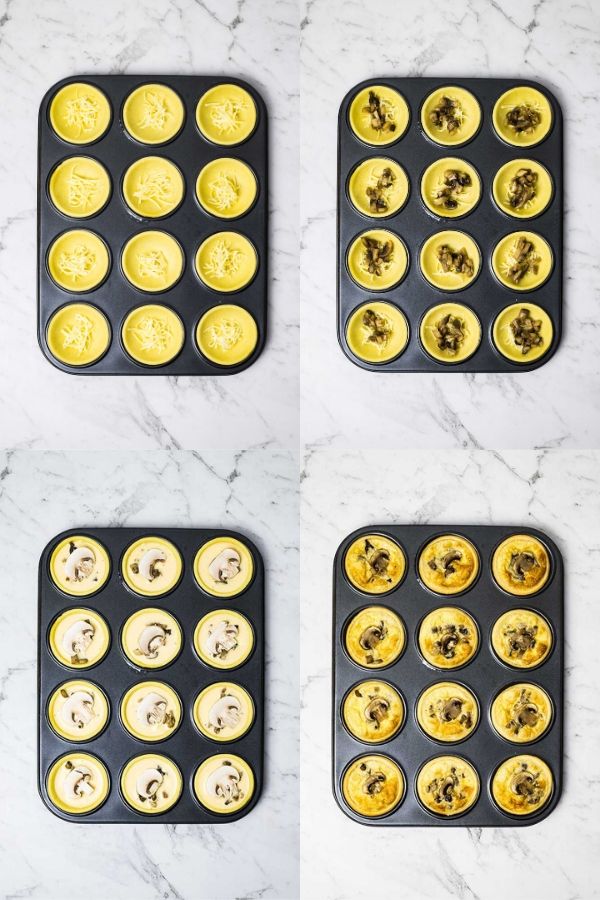 There's no need to blind bake your pastry for these quiches and they are sturdy enough when cooked to pack into a Tupperware or onto a platter, ready to serve at a moment's notice. They're lovely served warm but also taste great at room temperature, so if you're taking them to a party where oven space is tight the host will thank you for bringing something which can be put straight onto the table.
Pastry for mini quiche
I am a huge fan of making my own pastry when the occasion calls for it, but I recognize that a) not everyone enjoys making it and b) sometimes you just need a fast ready-made option. On that front, I have good news about your mini quiche efforts! Bought shortcrust pastry (pie crust) is absolutely fine to use here.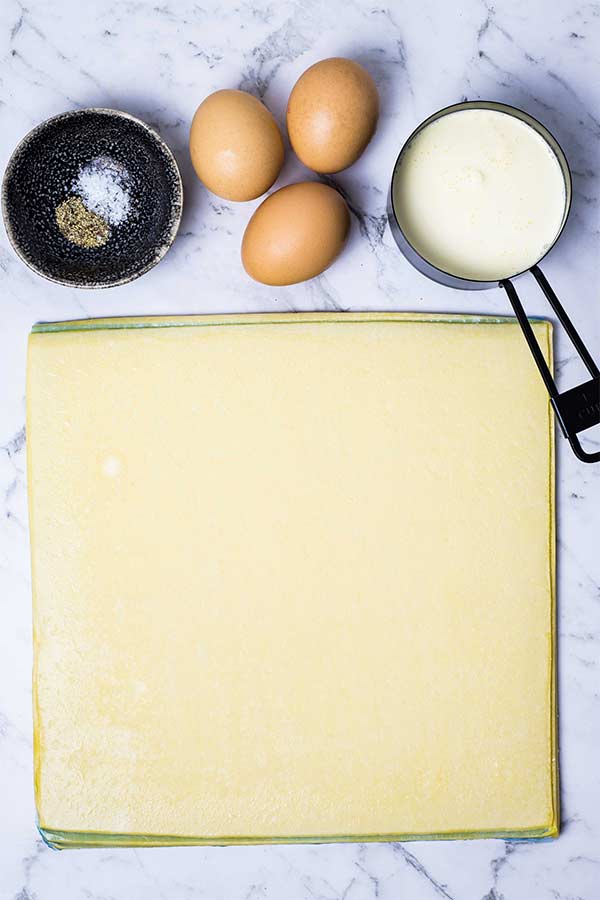 By all means make a batch of shortcrust if you have the time and inclination, but feel no shame buying some if it's the difference between making this recipe and not.
In Australia I use the square sheets of frozen shortcrust pastry readily available in any supermarket, in the USA you may need to look for pie crust pastry in your freezer section. Basically, any unsweetened short pastry should do the job nicely.
Filling for mini quiche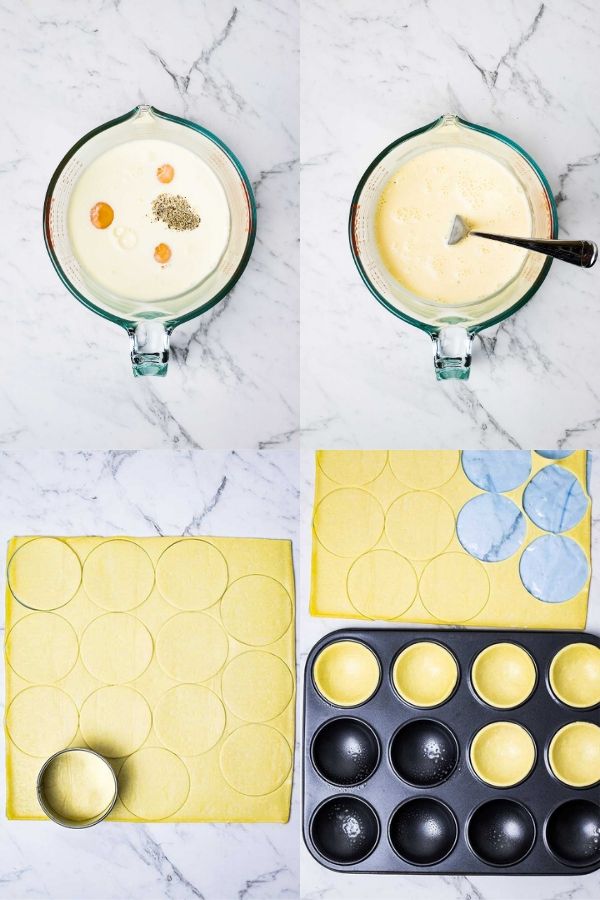 I'm giving you two options for quiche filling in today's recipe. Both include gruyere cheese, but one version has you fill the quiche with bacon and onion and the other with buttery mushrooms and garlic.
Choose one or both fillings from the recipe, mix them together for a bacon-mushroom combination, or create your own quiche flavor from whatever finely chopped cooked vegetables or meat you like.
Here are some ideas to get you started on interesting quiche fillings:
Olive, feta and roasted peppers
Three cheese (gruyere, blue and parmesan are favorites, but use whatever you like)
Cooked chicken and bacon
Roasted sweet potato or pumpkin and herbs
Spinach and cheese
Potato and pepperoni
Tomato and onion
Happy cooking, see you here again soon.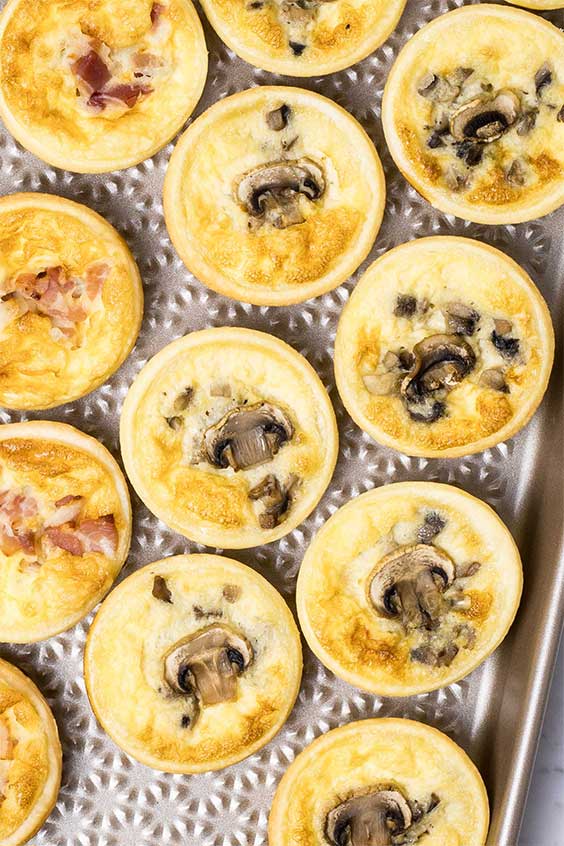 Print Recipe
Mini Quiche in a Steam Oven (Two Ways)    
Need an easy finger food dish which can be varied to include dozens of different flavors, and which cooks fast, travels and freezes well? I've got you covered with steam oven mini quiche.
Ingredients
2

sheets

frozen shortcrust pastry

thawed (each sheet 8"/25cm square); if you're in the USA, this should be labelled as pie crust pastry in your freezer section
For the egg filling
3

eggs

large

2/3

cup

cream

160ml pouring or heavy cream

1/4

tsp

salt

fine or table

1/4

tsp

pepper

ground
Bacon and onion option
2

tsp

olive oil

5

oz

streaky bacon

150g finely diced

¼

onion

finely chopped (or use a small eschalot)

½

cup

gruyere cheese

1.5oz/45g grated
Mushroom and garlic option
1

tbs

butter

1

clove

garlic

minced

4

oz

button mushrooms

100g, about 6 small mushrooms, finely chopped

2

mushrooms

extra, thinly sliced, for garnish

½

cup

gruyere cheese

1.5oz/45g grated
Instructions
Preheat oven to 375°F/190°C, combination steam setting. If your oven has variable steam settings, choose 50%. If not, don't worry! Just set to combi steam at the correct temperature and the oven will figure out the humidity for you. Grease two 12-hole patty pan tins or two 12-hole muffin pans and set aside.

Use a round cutter to cut 24 circles of pastry. I use a 2¾"/7cm one for my patty pans. If you're using a muffin pan, just check that the circles will cover the base and come a little way up the sides (1/2" is plenty of height) – if not, use a slightly larger cutter.

Press the pastry circles into the prepared pans, making sure the pastry is properly pressed in with no air between the pan and pastry. This will ensure nice golden bases for your quiches. Set pastry-lined pans aside in the fridge while you assemble the filling/s.

Mix up the eggs, cream, salt and pepper in a small jug, whisking to combine well. Set aside.
Bacon and onion filling
Heat the oil in a pan over medium heat and add the bacon. Cook for a couple of minutes until it's just beginning to turn brown at the edges, then add the onion and cook, stirring for a few minutes until the onion is soft. Remove from heat and put into a bowl.

Divide the cheese between the pastry crusts, then divide the bacon mixture over the top of that. Pour enough egg mixture into each crust to fill.
Mushroom filling
Melt the butter in a pan over high heat, then add the garlic and cook for a few seconds, stirring. Add the finely chopped mushrooms and cook until the mushroom softens and turns golden at the edges, about 4 minutes. Remove from heat and put into a bowl.

Divide the cheese between the pastry crusts, then divide the cooked mushroom mixture over the top of that. Pour enough egg mixture into each crust to fill, then put a slice of mushroom on top of each.
To cook
Put the filled quiches into the oven and cook until they're light golden and puffed, about 12 minutes. Leave in the pans for a couple of minutes, then turn out serve warm.

If you'd like to prepare these ahead, they'll keep very well in the fridge for 2-3 days, or in the freezer for up to 3 months. Reheat from cold (5-6 minutes) or directly from frozen (around 10 minutes) using the same settings you cooked them on.
Notes
Each of the fillings listed makes enough to fill 24 quiches. Choose ONE OF the bacon or mushroom filling. If you want to make two different types, make half of each filling quantity for 12 of each. Or double the pastry and egg mix quantities to make 24 each of flavor.
I like the nuttiness of gruyere cheese in my bacon or mushroom quiches, but feel free to use another firm melting cheese if you prefer.
Nutrition
Calories:
92
kcal
|
Carbohydrates:
2
g
|
Protein:
4
g
|
Fat:
8
g
|
Saturated Fat:
4
g
|
Trans Fat:
1
g
|
Cholesterol:
41
mg
|
Sodium:
104
mg
|
Potassium:
53
mg
|
Fiber:
1
g
|
Sugar:
1
g
|
Vitamin A:
196
IU
|
Vitamin C:
1
mg
|
Calcium:
64
mg
|
Iron:
1
mg
Over to you – if you try this recipe I'd love to know about it! Share your comments below or on Facebook, tag @steamandbake on Instagram, or pin all your favourite Steam and Bake recipes over on Pinterest!
Would you like more recipes and tips to help you cook with confidence? Join the mailing list to be alerted to new posts.