This post includes affiliate links. Find out more about affiliate links and how they help this site.
I realize that showing you how to roast pumpkin in a steam oven may be telling many of you how to suck eggs, but just in case it's not, I've put together a quick step by step for you today.
If you've been roasting pumpkin using combi steam for a while now, skip on by and wait for my next post to arrive, which will see you using up some of the glorious orange stuff in an adaptation of my perennially popular potato rolls.
Roasted pumpkin is an endlessly useful ingredient to have on hand. We enjoy it as a side dish straight from the oven but it's also brilliant for adding a filling depth to salads, turned into an easy roasted pumpkin soup or pureed and mixed into pasta, breads, scones and indulgent desserts.
Why roast pumpkin in a steam oven?
I love using the combi steam settings on my oven to roast pumpkin, partly because it gives a lovely texture but largely because it's much faster than doing it the old fashioned way.
Steam oven roasted pumpkin takes a little over half the usual time to cook, which is to say around 18-20 minutes for small diced pieces and about 25 minutes for larger wedges with the skin on.
The corners of the pumpkin get browned and chewy, just as they do in a regular oven, but the insides become silky soft thanks to the added moisture in the oven. It also tastes more intensely pumpkin-y, perhaps because the steam cooks faster and locks in the flavor of the vegetable a little better than dry heat?
The other great thing about steam oven pumpkin is that if you want to roast pumpkin for puree, you can roast a naked panful without worrying about the edges becoming too dry to easily blend. Fat and seasonings will make it a little more brown (great if it's going into a salad or being turned into a side dish), but it bakes up beautifully without anything added at all.
What to do with roasted pumpkin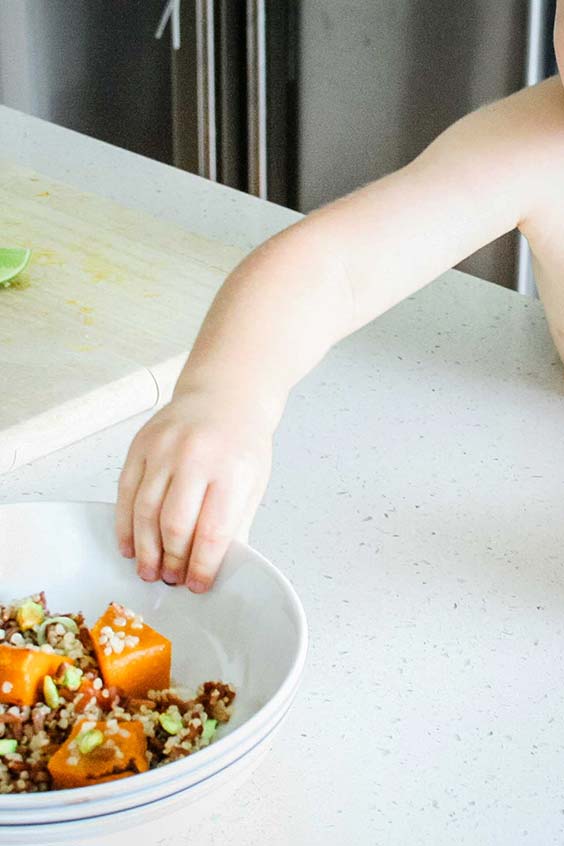 I could go on for ages about all the great things to do with a pan of roasted pumpkin, but I'll try to keep it to a handful of absolute favorites:
Tips for roasting pumpkin in a steam oven
My best tip for roasted pumpkin is to leave the skin on for roasting. It helps the pumpkin hold together better and there's less waste than slicing it off prior to cooking, because you can just peel it straight off after roasting, leaving almost all the flesh behind.
If I'm roasting pumpkin to puree I discard the skin before pureeing, but if I want to use it in a salad or as a side dish, I just serve it with the skin still on. It looks lovely plus it's edible if that's your kind of thing, and it will have softened up a lot in the oven.
Use a good, dense-fleshed variety. What you can get will vary depending on where you live, but in Australia I frequently use jap pumpkin or butternut squash; in the USA look for something like acorn or butternut squash, kabocha or sugar pie pumpkin varieties. The sorts of pumpkins you get for Halloween carving are broadly known as field pumpkins – they tend to be really dry and flavorless, and not good for cooking.
Season your pumpkin! For everything except pureed pumpkin, I season well with salt and frugally with oil, and usually add a herb or spice (or a few) which will go with whatever the end dish is going to be. For soups that's often just garlic and herbs, but for salads it could be red pepper flakes or a seasoning blend to add Italian, Middle Eastern or African flavors to the pumpkin.
Do you want to use and love your steam oven more?

There are precious few resources to teach us HOW to use a steam oven in everyday cooking. I'm guessing that's why you're here! If you love cooking but aren't making the most of your combi steam oven, you aren't alone.

Steam Oven Insiders was created for you!

Benefit from my decade-plus of steam oven knowledge and training, delivered to your inbox twice monthly in bite sized, easy-to-implement tips and delicious recipes you'll actually want to cook. Insiders get access to every exclusive recipe and article within the members dashboard, so you'll never miss a thing.

Find out more right here
How to roast pumpkin in a steam oven.
You'll want to preheat your oven to roast pumpkin. While some dishes can go into a cold steam oven, I find pumpkin generally needs a hot, preheated oven or it ends up becoming a bit too wet from the moisture it absorbs while the oven heats to temperature.
I preheat to 430°F/220°C, combi steam setting. If your oven has variable steam settings, use 50%. If not, don't worry, just set to combi steam at the correct temperature and the oven will figure out the humidity for you.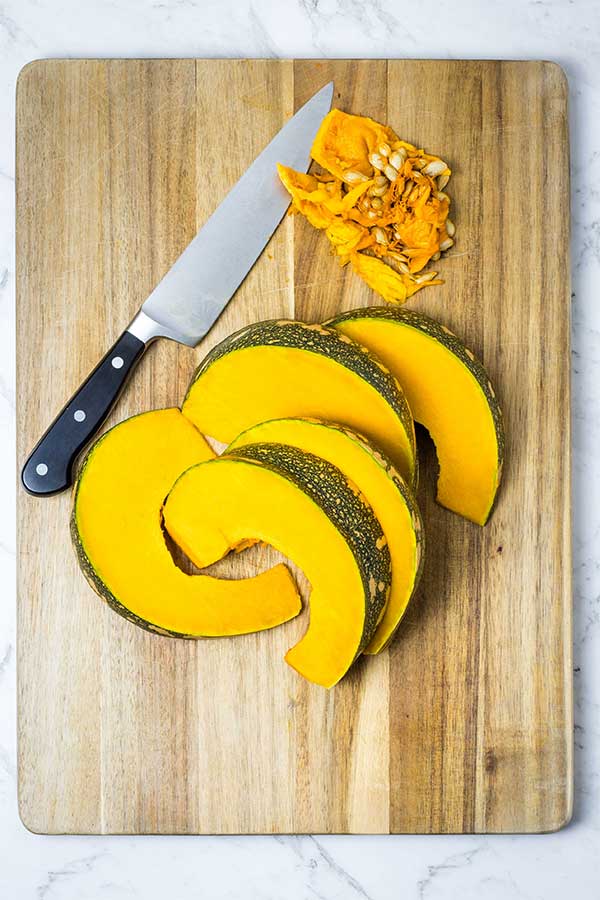 While the oven heats, deseed the pumpkin, cut off any stalky bits and slice into wedges, or dice into cubes. If you're pureeing the pumpkin later, don't season or oil it. Otherwise now's the time to season liberally and coat with enough oil to make the seasonings stick.
Spread the pumpkin in a single layer on a baking tray. If you've got a lot it's much better to use two trays than to pile it all onto one where it won't cook evenly.
Time to cook! Different varieties will take different amounts of time to cook – to know when it's done, you should be able to easily push a knife into the thickest part of the flesh; it shouldn't resist or feel grainy.
The wedges pictured are around 2"/5cm thick at the fat edges and took 22 minutes to cook. They're unseasoned, but if I'd rubbed oil onto them they would have browned more at the edges.
That's it. Easy peasy and now you've got a gorgeous pan (or two) of sweet, soft pumpkin to use as you please. If you'd like to puree your pumpkin, as I did with this batch, just peel off the skin while hot and puree with an immersion blender until it's smooth.
I hope roasting pumpkin this way will be so easy you'll make it a regular thing in your kitchen, mixing pumpkin into all sorts of dishes.
Happy steam oven cooking, see you here again soon.
Over to you – if you try this method for roasting pumpkin I'd love to know about it! Share your comments below or on Facebook, tag @steamandbake on Instagram, or pin all your favourite Steam and Bake recipes over on Pinterest!
Would you like more recipes and tips to help you cook with confidence? Join the mailing list to be alerted to new posts.