This post contains affiliate links. Go here for more details about how these help this site.
For some reason, whenever I have something incredibly simple to share here I feel almost apologetic to post it. I'm not sure why – if you're like me, you are constantly on the lookout for general inspiration and things which can be quickly made and easily adapted. This is especially true when it comes to cooking in a steam oven, even more so when you're learning how to use one.
So in the spirit of learning quick everyday recipes which can be adapted in all sorts of ways, today I give you steam oven scrambled eggs (I know, two breakfast-friendly recipes in a month. What can I say, I really like breakfast. Though I'm not averse to a scrambled egg for lunch or dinner either).
It's probably pertinent to have a quick discussion about why you would cook your eggs in the steam oven instead of a frypan, given they'll take about the same time. After all, it's great to have a steam oven and to make good use of it, but surely it's not worth reinventing the wheel just so you can say you cook everything in your fancy appliance, right?
Despite what you might think (and despite the impression you could get from this very website), I happen to agree that not everything can or should be cooked in a steam oven just because you have one! Just as you wouldn't make everything you eat in a saucepan, or a slow cooker, or a microwave, there are certain things which will work beautifully and others which aren't worth cooking in a steam oven.
Whenever I'm thinking about what will work and what won't, and especially if I'm considering sharing a recipe with you, I ask myself two things. Firstly, is it over-complicating things to put this in the steam oven? And secondly, will the finished dish actually be better than if I'd cooked it using a different method?
If I can't answer no to the first question and yes to the second then I generally don't bother developing a recipe any further. Which brings us back to the eggs and the reasons I think you should try steaming them: they take pretty much the same effort in the steam oven as on the stovetop – maybe a little less stirring, which is always nice; the texture is softer, more lush and creamy even if you don't want to add cream and butter (that's the biggest win, really); and finally, if you are cooking for a crowd you will definitely find it easier and less effort to do the eggs this way.
Plus, once they're cooked you can 'hold' your scrambled eggs in the steam oven on a keep-warm setting (I like 140⁰F/60⁰C, they won't cook any further unless you leave them there for hours but it's warm enough to serve up) while you make the other parts of your breakfast.
Scrambled eggs by any method are all in the timing and that can vary enormously depending on the number of eggs and the vessel you're cooking them in. So what I've done below is give my quantities and timing for the small solid stainless steel pan which comes with many steam oven models. You can find something similar (though a little deeper) here, if you don't have one or want to add an extra – these trays are indispensable in my cookware collection because they conduct heat quickly, don't rust and are a breeze to clean in the dishwasher thanks to not having rolled edges or crevasses for dirt or water to accumulate. They can also take a good scrubbing if you happen to bake something onto them.
Once you've got the cooking time sorted, you can have a play with different additions to your eggs.
Most of these additions can just be stirred through towards the end of cooking or served alongside, although some could be cooked straight in there from the beginning.
For the eggs pictured we went with some soft baby kale leaves, fresh Lebanese flatbread and my favourite spicy Shichimi Togarashi sprinkle (great on all sorts of things and always in my spice drawer! You can buy it here). Some of my other favourites apart from the staple of hot buttered toast include:
Soft goats cheese or feta and a handful of spinach leaves.
Cherry tomatoes and cheddar cheese (the tomatoes can be cooked with the eggs, stir the cheese through at the end).
Ham and pan-fried mushrooms (with or without a little garlic).
Fresh chilli, avocado and a squeeze of lime, all wrapped in a warmed tortilla (optional: bacon. Though my husband would say the bacon is never optional).
Chopped roasted capsicum and asparagus spears (cook them in together).
Grain mustard and wedges of brie or camembert cheese (dollop the mustard and lay the cheese over the top at the end of cooking, return to the oven for a minute to warm through).
Happy steam oven cooking, see you here again soon.
*But wait, I keep forgetting to remind you about Pinterest! I have been adding LOTS of steam-oven-adaptable recipe inspiration over there, you can follow my boards to get updates as I add new ones (which I'm doing most days). 🙂
Do you want to use and love your steam oven more?

There are precious few resources to teach us HOW to use a steam oven in everyday cooking. I'm guessing that's why you're here! If you love cooking but aren't making the most of your combi steam oven, you aren't alone.

Steam Oven Insiders was created for you!

Benefit from my decade-plus of steam oven knowledge and training, delivered to your inbox twice monthly in bite sized, easy-to-implement tips and delicious recipes you'll actually want to cook. Insiders get access to every exclusive recipe and article within the members dashboard, so you'll never miss a thing.

Find out more right here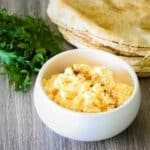 Print Recipe
Scrambled Eggs
Steamed scrambled eggs are the silkiest, softest scramble you'll ever make. You won't want to try any other method once you've done them this way.
Ingredients
6

eggs

large, I always use free range or pasture raised

salt and pepper

to taste

1 1/2

tbs

butter

optional, but good

1 1/2

tbs

cream

optional, but good
Instructions
Preheat your oven to 200⁰F/95⁰C, steam setting (100% humidity).

Whisk the eggs to break them up but don't go overboard. You want a few bigger curds of white and yolk visible in there. Season with salt and pepper, and pour them into your oven's small solid tray or a similar stainless steel tray (don't use a ceramic or glass dish here, it will throw out your cooking time enormously).

Very quickly, open the oven door and put the tray in, then set your timer for 2 ½ minutes.

Give the eggs a good stir, loosening the edges and folding through the less-cooked middle to make a soft scramble. If you think they're done at this point, stir in the butter/cream if using and serve immediately (no, that's not a typo – I think the texture of the dish is better if you put the butter/cream in at the end. A bit of a stir will incorporate it just fine).

If they're still a bit too soft, return eggs to the oven for a further 30 seconds to minute to finish off. They shouldn't take more than 3-4 minutes at most to cook through.
Notes
If you want to scale this up for more people you can use a large solid tray and increase to 15 eggs, which will make 5 or 6 portions. In this case you'll need to increase the cooking time by a minute or two, but I still recommend stirring them after 2 ½ minutes as per the method to get an even cook.
I've already mentioned that this is all in the timing. What I give here is a guide only – everyone's oven is different so you will have to use discretion. If you aren't quick to open the door and get the tray in you'll find the temperature drops a fair bit and might take a while to come back up, necessitating a slightly longer cooking. Also, I like my eggs soft but fully cooked, which gives only the smallest of windows for error! If you prefer them very soft or very hard you'll need to adjust the time either side.
The nutrition information given in this recipe is for the eggs without any other sides or additions. It includes nutrition content for both cream and butter as listed in the ingredients, though these are optional.
Nutrition
Calories:
304
kcal
|
Carbohydrates:
1
g
|
Protein:
17
g
|
Fat:
25
g
|
Saturated Fat:
12
g
|
Cholesterol:
529
mg
|
Sodium:
268
mg
|
Potassium:
182
mg
|
Sugar:
1
g
|
Vitamin A:
1144
IU
|
Calcium:
81
mg
|
Iron:
2
mg
But I don't have a steam/combi-steam oven! Normally I would give some sort of instruction here for cooking the dish in a more conventional manner, but I'm pretty sure you know how to scramble an egg in a frypan!