This post includes affiliate links. As an Amazon Affiliate I earn from qualifying purchases. Find out more about affiliate links.
These sweet and spicy party nuts straddle the line between sweet and savory treat and appeal to almost everyone, even those who don't have a sweet tooth. I've been including them in my festive gift boxes for years, where they're a welcome addition to the buttery and sugary cookies and confections.
Deeply toasty, coated with a thin layer of toffee that's spiked with salt, cumin and a touch of cayenne pepper, the nuts are completely addictive. They're also a brilliant drinks accompaniment. If you're like me, more than a few will disappear into your mouth as you make them!
The nut mix only takes a few minutes to put together and get into the oven, and a batch makes enough for three or four generous gift bags plus plenty left over to set out when unexpected guests drop in. They don't need any special equipment, just a saucepan, baking sheet and a regular oven.
If you can restrain yourself from eating them, the nuts keep for a couple of weeks. That means you can make some to keep on hand for gifts through December (or any other time of year!).
The best nuts for spiced party nuts
These spiced nuts are flexible and the sweet and salty toffee coating goes with almost any nut. I've written the recipe today with almonds and cashew nuts but I also love pecans, macadamias and peanuts.
The only nut I prefer not to use in this recipe is walnuts. They toast very quickly, often before the toffee coating has had a chance to cook enough, and can turn bitter in the blink of an eye.
You can use a combination of nuts or just one type, depending on your preference. So long as you've got around four cups in total it doesn't really matter.
How to make sweet and spicy party nuts
I'm going to walk you through how to make these spiced nuts. There are a couple of small tricks which will take them from so-so roasted nuts to addictive party snack, but it's mostly a matter of melt and mix, then toast in the oven until the nuts and sugar are golden.
Let's get started.
You'll want to set out all your ingredients and preheat the oven. No steam required in your oven for this recipe, as you need a dry heat to cook the toffee and toast the nuts.
Next, pop sugar, water and butter into a small pan and cook it until the sugar and butter melt and come to the boil. You can mix your nuts together in a bowl while you wait for the sugar mix to heat.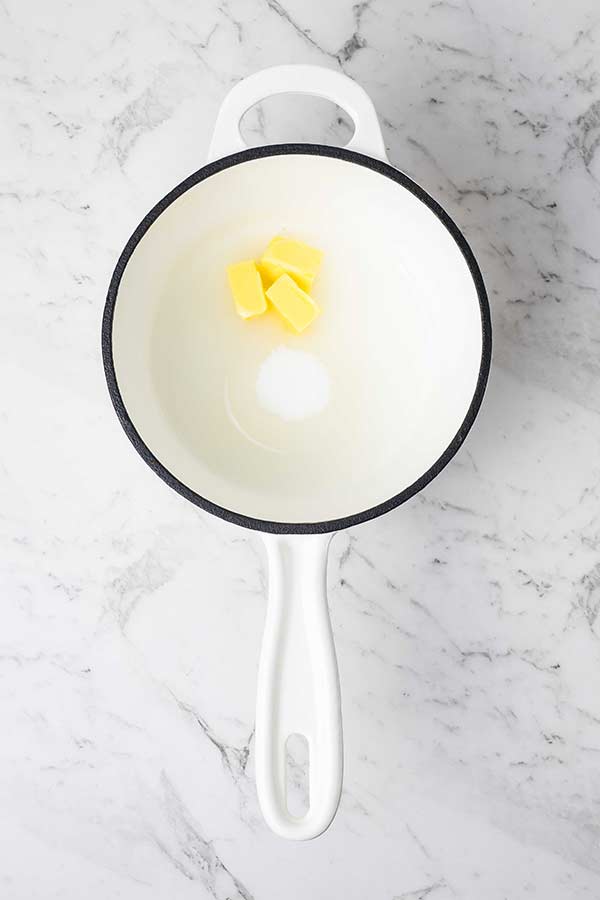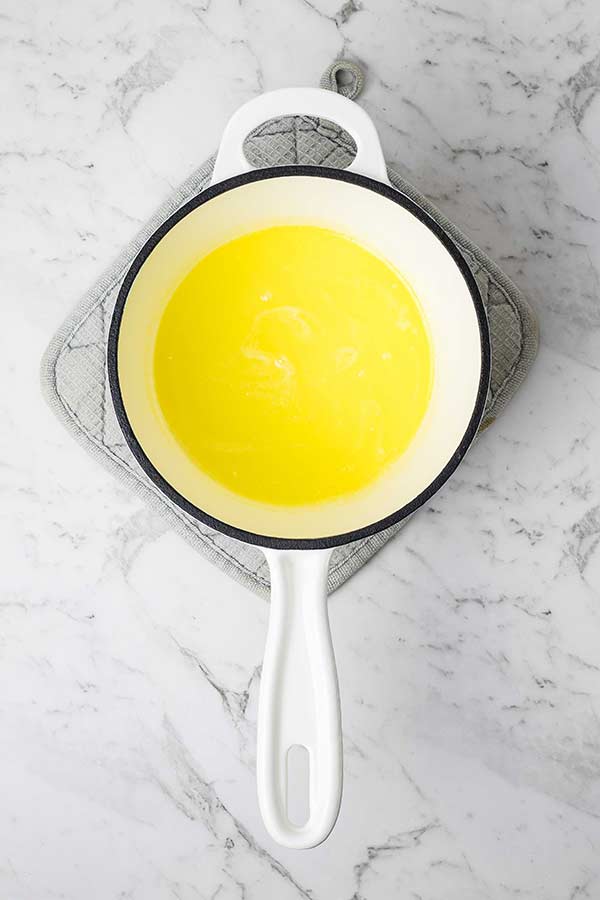 Add the spices to the sugar mixture and stir to combine, then tip it over the nuts and stir so every nut is well coated.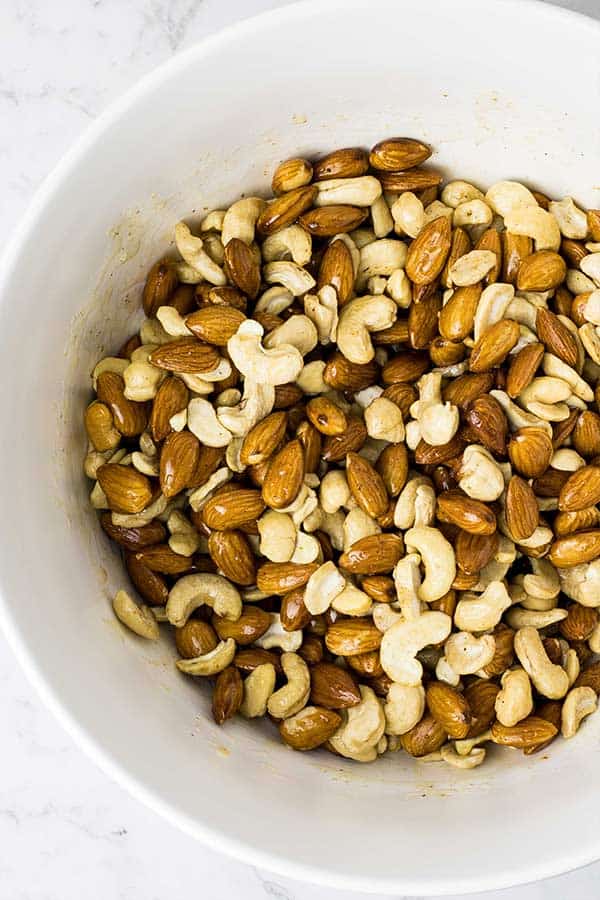 Pour the nuts and any excess sugar mixture into a lined pan, spreading it out so all the nuts are in a single layer. You'll find there's a little puddle of sugar syrup which settles to the bottom of the pan, don't worry about that as it'll end up coating the nuts later in the cooking process.
Time to bake! Cook the nuts, stirring regularly to separate them while the coating melts and turns toffee-like. This is the big key to getting spiced nuts which are fully coated in the spice mixture but separated nicely, rather than ones which cook into clusters.
When the nuts are done and out of the oven, stir them a couple more times while they cool. They come out a little sticky but will harden on cooling, so you want to make sure they don't harden into a large mass.
That's it! You've got more willpower than I if you can stop yourself picking at them, so my advice it to seal them up in a jar or little gift bags as soon as they're cool.
Happy cooking, see you here again soon.
Do you want to use and love your steam oven more?

There are precious few resources to teach us HOW to use a steam oven in everyday cooking. I'm guessing that's why you're here! If you love cooking but aren't making the most of your combi steam oven, you aren't alone.

Steam Oven Insiders was created for you!

Benefit from my decade-plus of steam oven knowledge and training, delivered to your inbox twice monthly in bite sized, easy-to-implement tips and delicious recipes you'll actually want to cook. Insiders get access to every exclusive recipe and article within the members dashboard, so you'll never miss a thing.

Find out more right here
Print Recipe
Sweet and Spicy Party Nuts
These nuts are a little sweet, a little salty and just spicy enough to give them a kick. They're great as a canape with drinks and also make an easy last-minute homemade gift.     
Instructions
Preheat oven to 350°F/180°C, convection/fan forced setting (no steam). Line a baking sheet with parchment paper and set aside.Put the nuts into a mixing bowl and set aside.

Put the butter, sugar and water into a small pan and cook over medium heat until the sugar is dissolved and the mixture comes to a simmer. Remove from heat.

Stir the salt, pepper and spices into the syrup and pour over the nuts. Stir to combine so all the nuts are coated in the syrup, then spread the nuts and any excess syrup onto the prepared baking sheet.

Bake for 10 minutes then stir to make sure all the nuts are separate and evenly coated. Return to the oven for a further 5 minutes then stir again. At this point, if the nuts are nicely toasted and the coating is just slightly sticky, they're done. If they aren't toasted enough, give them 3-5 minutes extra in the oven – the pictured ones took a total of 18 minutes to cook. Remove from oven and stir a couple of times as the nuts cool so they remain separate. They will harden on cooling.

Store the nuts in a well sealed container in a cool, dry place for up to a few weeks. If you're gifting them, they'll keep best in tightly sealed clear plastic gift bags.
Notes
You can change up the nuts to use almost any other type, here, so long as you stick to 4 cups total. Pecans, macadamias or peanuts are great additions – just steer clear of walnuts as they tend to toast and burn faster than the sugar and spice coating can cook.
The nuts keep for up to a couple of weeks in an airtight container or tightly lidded jar after cooking, or can be packed into clear gift bags and tightly sealed.
Nutrition
Serving:
0.25
cup
|
Calories:
357
kcal
|
Carbohydrates:
24
g
|
Protein:
11
g
|
Fat:
27
g
|
Saturated Fat:
4
g
|
Trans Fat:
1
g
|
Cholesterol:
3
mg
|
Sodium:
305
mg
|
Potassium:
377
mg
|
Fiber:
4
g
|
Sugar:
13
g
|
Vitamin A:
58
IU
|
Vitamin C:
1
mg
|
Calcium:
87
mg
|
Iron:
3
mg
Over to you – if you try this recipe I'd love to know about it! Share your comments below or on Facebook, tag @steamandbake on Instagram, or pin all your favourite Steam and Bake recipes over on Pinterest!
Would you like more recipes and tips to help you cook with confidence? Join the mailing list to be alerted to new posts.