This post includes affiliate links. As an Amazon Affiliate I earn from qualifying purchases. Find out more about affiliate links.
I first made this honey roasted pear and walnut salad for a Christmas take-a-plate party a few years ago, so this seems a great time of year to share it with the rest of you. To make it, all you have to do is roast pears to juicy and fragrant perfection (yes, even those sad old supermarket pears which never seem to get ripe will work), and combine them with toasty walnuts, cranberries, manchego cheese and a mustardy balsamic dressing.
Although it suits just about any season, this salad feels particularly festive thanks to the luxurious quantity of walnuts and the bright and tart cranberries scattered throughout. I also love the combination of roasted pears with turkey or ham, so it makes a fine side to Christmas dinner.
Most of the components of this pear salad can be prepared ahead of time, which, if not a necessity must at least be a desirable thing for most of us. The actual assembly of the final dish takes all of five minutes, so I hope this is something you'll be able to throw onto an upcoming entertaining menu without elevating any anxiety levels. Because no one needs kitchen stress at this, or any other time of year.
Which pears to use in a roasted pear salad
In short, almost any pears will work for this salad, as long as you don't start out with something too ripe. A perfectly ripe pear is a thing of fleeting beauty which needs no heat or assistance to give maximum enjoyment, so if you're lucky enough to have one I recommend you slice and eat it pronto before it ventures into mushy territory!
For all those hard, underripe or flavorless pears sitting on the supermarket shelves, roasting them with a little honey, salt and pepper is by far the best way I've found to coax sweetness and perfume out of them. The variety doesn't matter much; they all tend to hold their shape fairly well and to cook into a lovely firm but yielding texture. I've used Bartlett pears today but I also love Buerre Bosc (brown) and tiny Corella pears when they're available.
How to make a roasted pear and walnut salad
Nothing too complex here, as promised up top.
We're going to roast the pears, adding walnuts to the same pan partway through cooking so they can get toasty and deeply flavored. If you like, you can do this step up to a day ahead of time and store the pears and nuts in the fridge. Just bring them to room temperature before assembling your salad.
Dressing next: put all the ingredients into a jar, screw on the lid nice and tight and shake it up. Easy, right? And this can be done ahead of time too.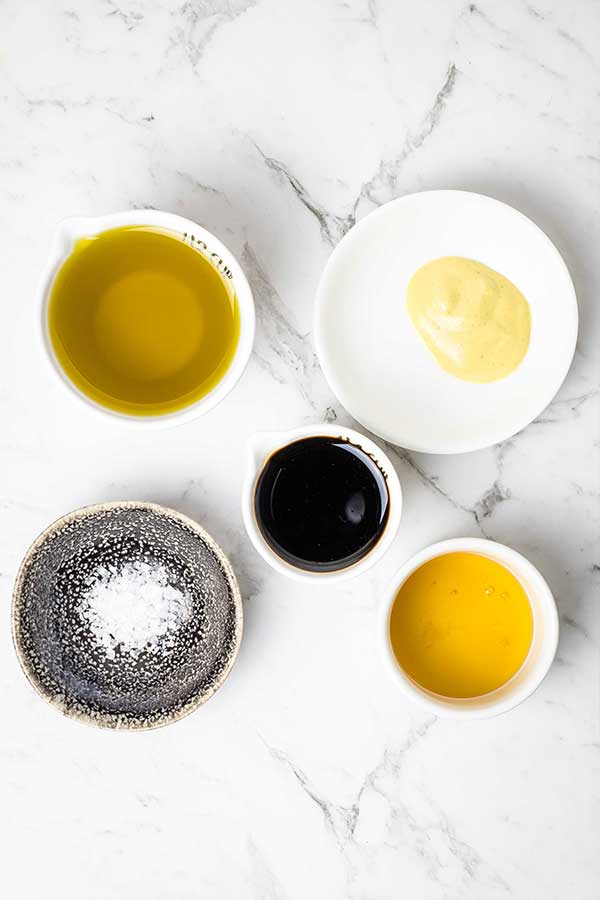 To make the salad, you just put your salad leaves into a bowl and arrange the pears and nuts over the top. Drizzle a little dressing over everything, then shave the cheese directly onto the salad and scatter cranberries over it to finish. I like to serve this with a dish of dressing on the side for people to add extra, but that's it!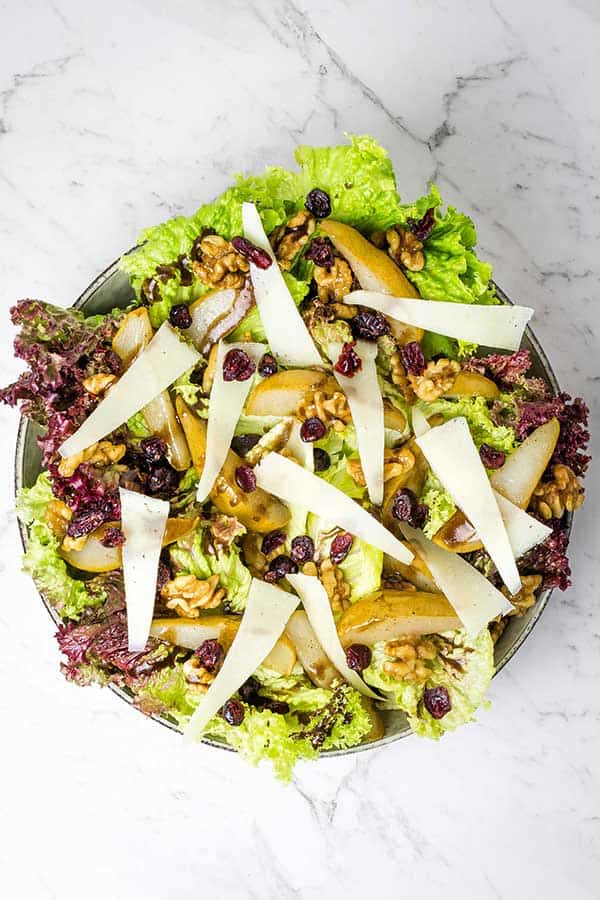 Happy cooking, see you here again soon.
Print Recipe
Honey Roasted Pear and Walnut Salad
With sticky sweet pears, roasted walnuts and tart cranberries, this salad is welcome on any table as a side dish. Turn it into a main meal by adding grilled chicken or poached eggs.        
Instructions
Preheat oven to 350°F/180°C, combination steam setting. If your oven has variable steam settings, select 50%. If not, don't worry! Just set to combi steam at the correct temperature and the oven will work out the humidity for you.

Line a baking tray with parchment paper and put the pears in, spreading them into a single layer. Sprinkle with the salt and pepper and drizzle the honey and oil over the top. Bake until the pears are tender but not too soft, about 12-15 minutes.

Remove the pears from the oven and add the walnuts. Mix to evenly coat the pears and nuts in the cooking juices, then return the pan to the oven until the walnuts are toasted, about 10 minutes. Remove and set aside to cool. If you're preparing ahead, refrigerate the pears and walnuts for up to 24 hours, until about 30 minutes before serving. Allow them to come to room temperature before assembling the salad.

While the pears and walnuts are cooling, make the dressing. Mix all the ingredients together in a jar with a lid, shaking to combine. The dressing can be made and stored in the fridge several days ahead of time.

Scatter the leaves over a large platter or into a bowl. Arrange the pears and nuts along with any cooking juices over the leaves, then drizzle dressing generously over the salad. Shave the cheese over the top and scatter with cranberries. Serve immediately.
Notes
This quantity makes 6-8 side serves, or 4 main meal sized serves (see next note).
The addition of some cooked chicken, poached eggs or thinly sliced prosciutto will comfortably turn this salad into a main meal.
Once you've roasted the pears and walnuts, which can be done ahead of time, the salad comes together quickly.
Use firm pears for this dish rather than very ripe ones, as they'll hold their shape better. I find even sad, under-ripe supermarket pears work, as the oven transforms them into something perfumed and floral that they'd never achieve eaten raw.
I love a mixture of leafy green and bitter salad leaves for this dish, but use whatever appeals. The pictured salad has baby cos plus green and red oak leaf lettuces.
Manchego is a firm Spanish sheep's milk cheese, similar in texture to parmesan but creamier and less crumbly. If you don't like (or can't get) Manchego, Italian pecorino or a creamy blue cheese are also excellent with the other flavors in this salad.
Nutrition
Calories:
514
kcal
|
Carbohydrates:
35
g
|
Protein:
8
g
|
Fat:
41
g
|
Saturated Fat:
8
g
|
Cholesterol:
15
mg
|
Sodium:
502
mg
|
Potassium:
304
mg
|
Fiber:
5
g
|
Sugar:
24
g
|
Vitamin A:
711
IU
|
Vitamin C:
17
mg
|
Calcium:
191
mg
|
Iron:
1
mg
Over to you – if you try this recipe I'd love to know about it! Share your comments below or on Facebook, tag @steamandbake on Instagram, or pin all your favourite Steam and Bake recipes over on Pinterest!
Would you like more recipes and tips to help you cook with confidence? Join the mailing list to be alerted to new posts.