Honey roasted carrots are a staple side dish for the holidays, but I make them almost every time I entertain throughout the year.
A simple roasted carrot is great enough on its own, but we're going to bump up the flavor with salted butter, sweet honey, and the most carrot-y carrots you can imagine.
How are we going to make these carrots extra carrot-y? Steam. Or, more precisely, sous vide.
This post may include affiliate links. As an Amazon Affiliate I earn from qualifying purchases (don't worry, it doesn't cost you anything!). Find out more about affiliate links.
Why sous vide your honey carrots?
Cooking carrots low and slow makes them really intensely flavored, with a gorgeous tender – but not mushy – texture. Sous vide is the way to do it, and if you have a steam oven it's as easy as popping all the ingredients in a pan and putting it in the oven. If you've got a sous vide circulator the process is different but the outcome is almost identical. Just vacuum seal and cook in a sous vide water bath instead of your oven (see the recipe notes for details).
Imagine the sweetest steamed carrots coated with butter, salt, pepper and honey. You can absolutely stop there and eat the carrots just like that. You won't be disappointed and it's a really easy way to prepare them.
But we're going to go further today. Because we can. Because I want you to make the best honey roasted carrots of your life. Adding a quick high heat roast to brown everything and turn that sauce into a sticky honey glaze is the goal here.
Are you enjoying this post? If you'd love more Christmas steam oven recipes, check out my cookbook Steam Oven Christmas. It's a carefully curated collection of the best festive recipes to cook in your steam oven!
How to make honey glazed roasted carrots
Alright, here's the step by step of our sous vide and roasted honey carrots, just to show you how easy it is. If you want to get straight into it, the full printable recipe and notes are at the end of this post!
Use baby or Dutch carrots which have been well scrubbed or peeled, or larger carrots peeled and chopped into sticks. Whichever you can find or prefer.
If using regular carrots, cut the peeled carrots into sticks about ½"/1cm thick. Put them all into a pan in a single layer. If your carrots won't fit in one layer, use two pans so they cook evenly.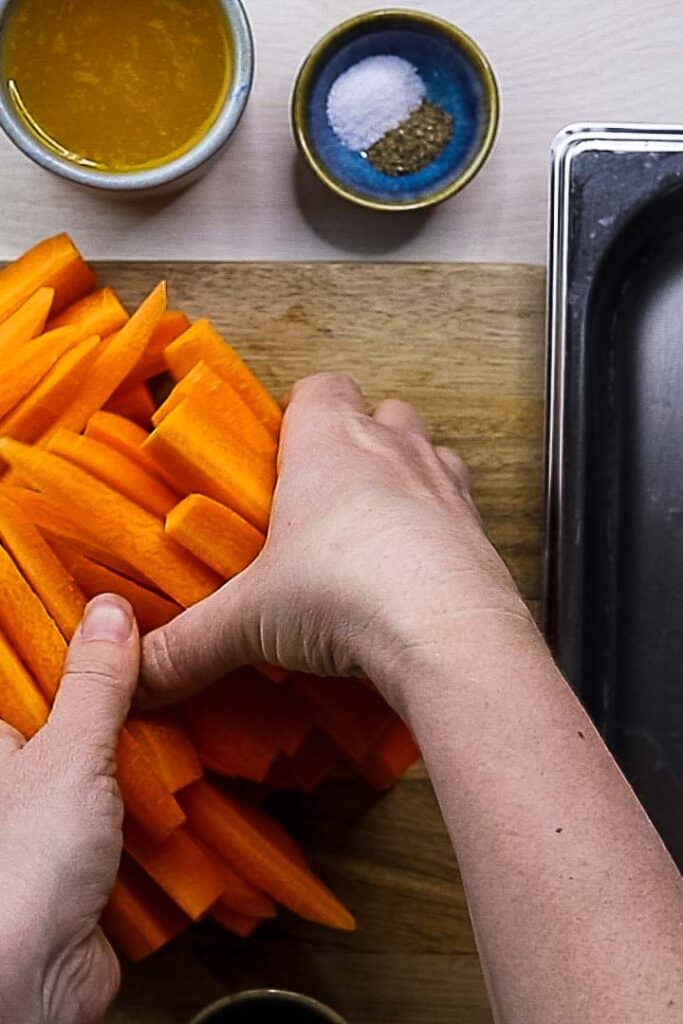 Drizzle the carrots with melted butter and scatter with salt and pepper. Spoon the honey over the top and give everything a quick mix around.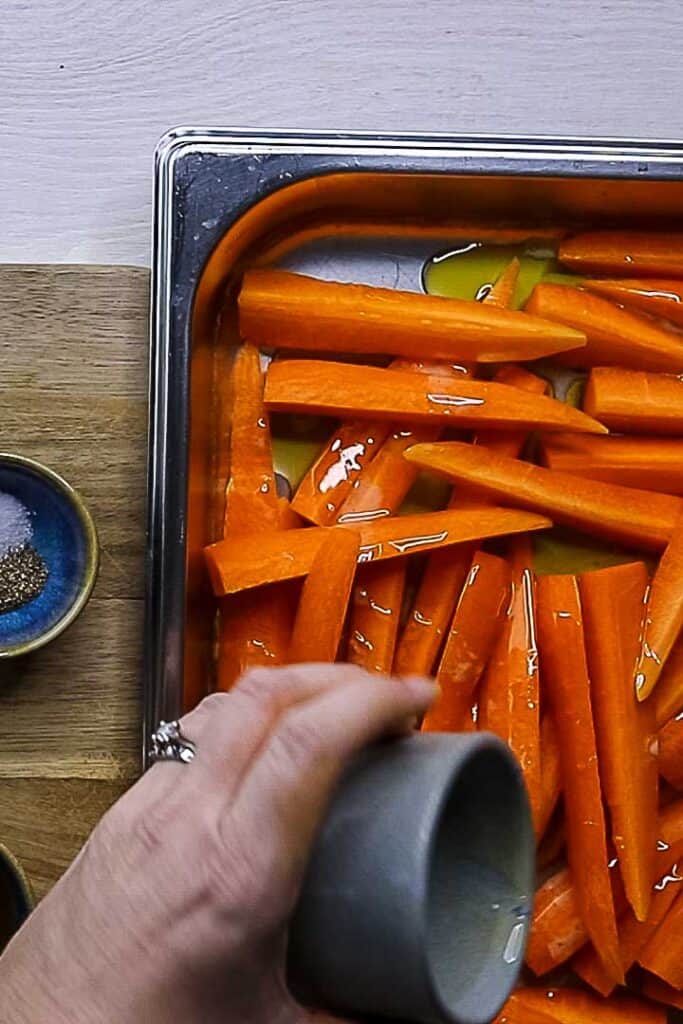 At this point I cover the carrots loosely with aluminum foil, because I don't want the buttery juices to become too diluted from the steaming process. You can skip this, however the glaze after the final roasting step won't be as sticky and reduced.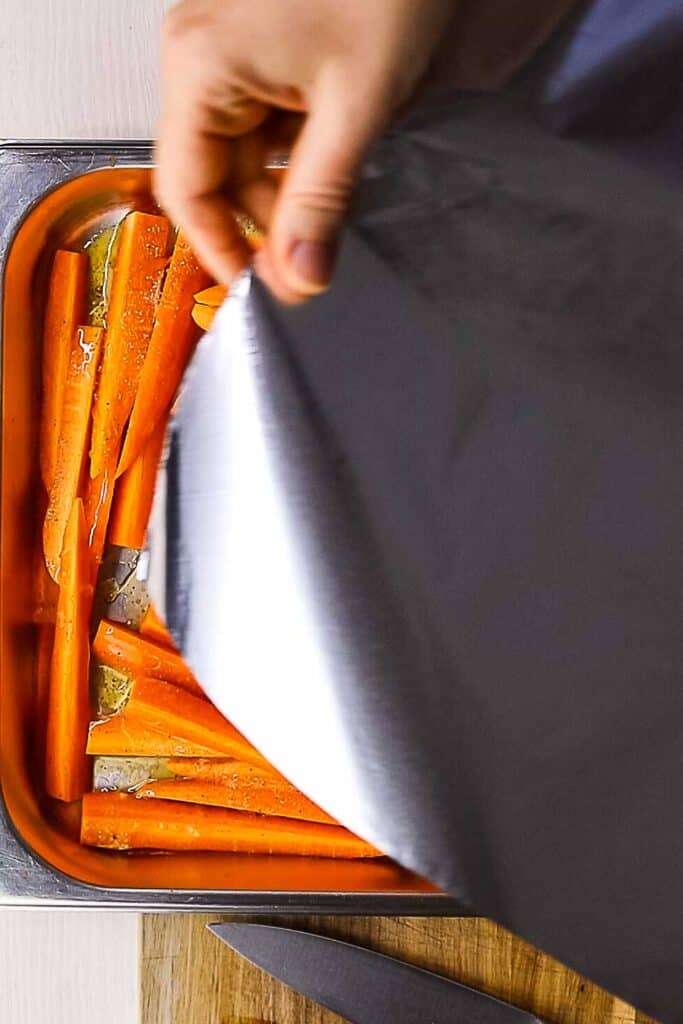 NOTE: if you have a vacuum sealer and sous vide circulator, you can use these instead of a steam oven! Bag the carrots and seasonings instead of putting them in a pan, and use the same time and temp as the recipe says below.
Cook the carrots for 45 minutes, then crank up that oven and uncover the pan!
This final roasting step isn't to cook the carrots, it's just to concentrate the glaze and make everything golden and sticky. Rather than a set time, use your judgement to decide when they're finished to your liking.
Do you want to use and love your steam oven more?

There are precious few resources to teach us HOW to use a steam oven in everyday cooking. I'm guessing that's why you're here! If you love cooking but aren't making the most of your combi steam oven, you aren't alone.

Steam Oven Insiders was created for you!

Benefit from my decade-plus of steam oven knowledge and training, delivered to your inbox twice monthly in bite sized, easy-to-implement tips and delicious recipes you'll actually want to cook. Insiders get access to every exclusive recipe and article within the members dashboard, so you'll never miss a thing.

Find out more right here
Beautiful, aren't they!
I hope you love these honey roasted carrots as much as I do, and that they become a regular feature at your house.
Have you made and enjoyed this recipe? I'd love if you'd be kind enough to rate and review it via the stars in the recipe card, or leave a comment below! Ratings and reviews help other readers to find and know whether one of my recipes will suit them.
Print Recipe
Honey Glazed Carrots
The way these carrots are cooked makes them so intensely carrot-y and sweet that they almost feel like you've pulled off a magic trick. No matter what else is on the table, these are always one of the first dishes to disappear.
Ingredients
1

lb

baby carrots

scrubbed (or regular carrots, peeled and cut in half lengthways then into 2"/5cm pieces)

3

tbs

butter

melted

1

tbsp

honey

¼

tsp

salt

¼

tsp

black pepper
Instructions
Preheat oven to 185°F/85°C, steam setting (100% humidity).

Put the carrots into a lightweight metal pan. Add the butter, drizzle over the honey and sprinkle with salt and pepper, then toss to combine. Cover the pan with a layer of foil to prevent excess moisture collecting on the carrots (no need to cover too tightly, just a loose scrunch around the edges of the pan is fine).

1 lb baby carrots,

3 tbs butter,

1 tbsp honey,

¼ tsp salt,

¼ tsp black pepper

Cook carrots for 45 minutes, then remove from oven and change setting to 430F/220C, convection heat (no steam).

While the oven heats, remove foil from the pan and give the carrots a quick stir to make sure they're well coated in the glaze. Put the uncovered pan back into the oven and cook the carrots, stirring a couple of times for even browning, until they're well browned and the liquid is a thick, sticky glaze. This should take around 15 minutes.

Serve the carrots hot, with additional salt and pepper to taste.
Notes
Want to bump up the flavor even further? Add a little minced garlic to the butter before mixing with the carrots. Or be different and add the zest of half an orange, or some finely sliced ginger into the pan. 
If you have a vacuum sealer, skip step 2 above and put all the ingredients into a bag (no need to melt the butter first) and seal to cook. Proceed with the recipe, opening the bag and putting the carrots and cooking liquid into a pan for the final glazing in step 4.
If you want to make the recipe ahead of time, they can be fully prepared and chilled for up to 24 hours. Reheat in a hot, dry oven; 450°F/220°C for around 8 minutes will probably do it. 
Nutrition
Calories:
131
kcal
|
Carbohydrates:
14
g
|
Protein:
1
g
|
Fat:
9
g
|
Saturated Fat:
5
g
|
Polyunsaturated Fat:
1
g
|
Monounsaturated Fat:
2
g
|
Trans Fat:
1
g
|
Cholesterol:
23
mg
|
Sodium:
309
mg
|
Potassium:
276
mg
|
Fiber:
3
g
|
Sugar:
10
g
|
Vitamin A:
15901
IU
|
Vitamin C:
3
mg
|
Calcium:
40
mg
|
Iron:
1
mg