Chicken steamed dumplings are so easy to prepare and a perfect appetizer or snack when you've got a crowd to feed. There are countless variations on dumpling fillings, but my steamed dumpling recipe is made with a mixture of ground chicken, carrot, ginger and sweet/savory hoisin sauce, wrapped in a soft and chewy dumpling wrapper.
Today I'll show you how I make my dumpling recipe, as well as how to steam dumplings at home using either a basket or a steam oven. And we'll talk about cooking frozen dumplings, which is my preferred method because you can just cook and serve whenever you want to eat your dumplings!
This post may include affiliate links. As an Amazon Affiliate I earn from qualifying purchases (don't worry, it doesn't cost you anything!). Find out more about affiliate links.
Dumpling filling for easy steamed dumplings
The filling for steamed chicken dumplings is easily prepared by mixing all the ingredients together in a bowl.
I use lean ground chicken, which makes light and tasty dumplings. It's a perfect companion to the ginger and hoisin sauce I used to flavor the mixture. You can also use ground pork, shrimp or a mixture of all three in your dumpling filling.
When you mix the filling ingredients, I really recommend using your hands. It's by far the easiest and fastest way to get everything really well combined. Each dumpling only contains a small amount of filling, so if it's not properly mixed you'll end up with dumplings that don't have the right ratio of ingredients inside them.
How to wrap chicken steamed dumplings
When it's time to assemble and wrap dumplings, here's how I do it. Note I am far from an expert in dumpling assembly and folding! I'm in awe of people who can make hundreds of dumplings every hour, pleating each one with precision.
I place a teaspoonful of filling in the center of each dumpling wrapper, then run a little water around the edge with my finger.
Pick up and loosely fold the wrapper in half around the filling, then start at one side and fold the bit of the wrapper closest to you over on itself in small increments to make little pleats. Pinch the pleated bits and the flat side of the wrapper together as you go. It's a little difficult to describe but the photos give an idea of what to do.
If the pleating isn't working out for you, just fold the dampened wrappers in half around the filling and pinch them closed without pleats.
Repeat this process until all the filling is used up.
Are you enjoying this post? Try these other Asian style steam oven dishes!
Fast and Easy Sheet Pan Shrimp and Broccoli
Asian Style Steam Oven Sticky Beef Ribs
Do you want to use and love your steam oven more?

There are precious few resources to teach us HOW to use a steam oven in everyday cooking. I'm guessing that's why you're here! If you love cooking but aren't making the most of your combi steam oven, you aren't alone.

Steam Oven Insiders was created for you!

Benefit from my decade-plus of steam oven knowledge and training, delivered to your inbox twice monthly in bite sized, easy-to-implement tips and delicious recipes you'll actually want to cook. Insiders get access to every exclusive recipe and article within the members dashboard, so you'll never miss a thing.

Find out more right here
How to steam dumplings at home
Steamer basket method for chicken steamed dumplings
If you're going the traditional route and cooking dumplings with a steamer basket, you'll need a wok or pot filled with an inch or two of water. You'll also need a bamboo or metal steamer basket with a lid. What you use is less important; the critical thing is that you can set the basket inside it, above the level of the water. That's how you'll get the steam to circulate upwards and into the steamer, cooking your dumplings.
I'm not sure it's traditional, but I always line my steamer basket with some parchment paper. It stops the dumplings sticking to the inside of the basket and tearing when you go to remove them. Make sure you don't line the basket all the way to the edges! The steam from the water underneath needs to get up into the basket and if you cover the entire basket it won't be able to.
Bring your pot of water to the boil. While you wait, place your dumplings into the lined basket. Make sure they aren't touching each other and have a little room between them for the steam to circulate properly.
Pop the lid on and set the basket over the boiling water, cooking for 12 minutes.
Steam oven method for easy steamed dumplings
If you have a steam oven at home, this is going to be so easy! Steam oven dumplings are great because you can cook more at one time and have minimal cleanup. Just wipe out excess water from the oven after cooking and you're done!
I use perforated trays lined with parchment paper for dumplings in the steam oven. It allows me to put up to 4 pans in the oven at once, cooking 60 or more dumplings at a time. It's true crowd-cooking joy.
To cook, just preheat your oven to 212°F/100°C on the steam setting and put the dumplings in. Come back 12 minutes later to perfectly steamed dumplings.
If you love the look of serving dumplings in bamboo baskets, you can absolutely use one to steam dumplings in the steam oven. Leave the lid off during cooking, though. It's not necessary in a steam oven because steam will circulate through the oven and around the dumplings just fine.
Cooking frozen dumplings
Cooking frozen dumplings is my preference over cooking freshly-made ones. Just freeze your dumplings carefully (see notes in the recipe card below), and they'll cook perfectly from frozen, for a very speedy meal or snack. All the assembly happens ahead of time so you get to really enjoy the fruits (dumplings?!) of your labor at exactly the time you want to.
When you're cooking frozen dumplings, follow exactly the same steps as above for the fresh ones, just add two minutes to the cooking time. That's it!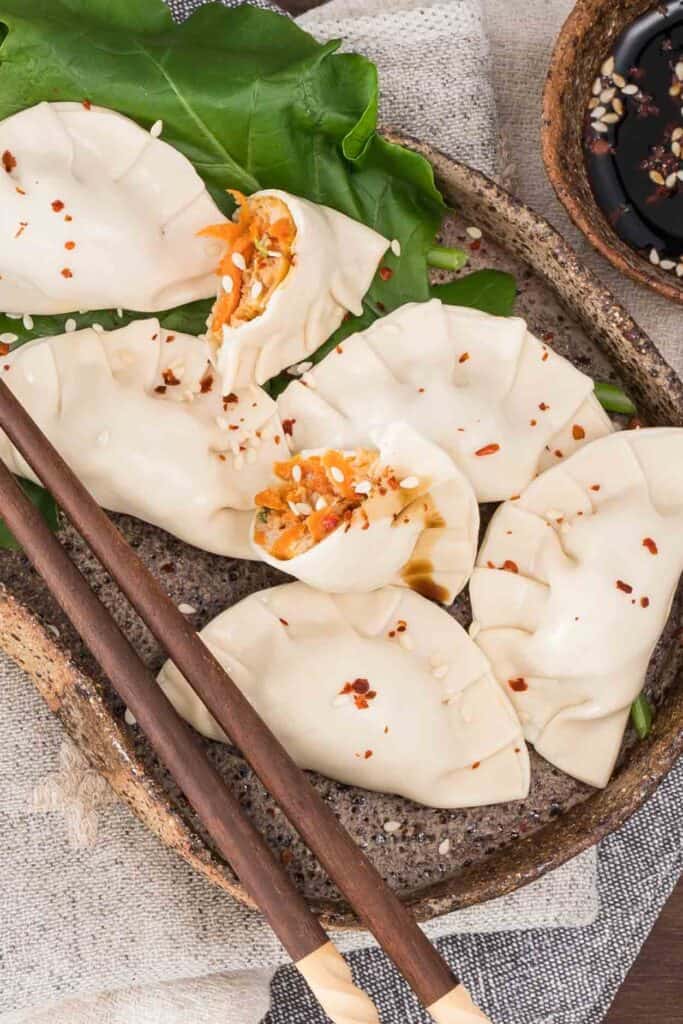 Chicken steamed dumplings are a delicious and easy-to-make dish that's welcome just about anytime. Simple and flavorful filling, combined with those soft, chewy wrappers, makes them a crowd-pleaser that's sure to become a staple. Whether you're serving them as a main or as a snack, your homemade chicken dumplings are sure to be a hit with family and friends.
Happy cooking, see you here again soon.
Have you made and enjoyed this recipe? I'd love if you'd be kind enough to rate and review it via the stars in the recipe card, or leave a comment below! Ratings and reviews help other readers to find and know whether one of my recipes will suit them.
Print Recipe
Chicken Steamed Dumplings with Hoisin and Ginger
Chicken steamed dumplings with hoisin and ginger are perfect for a crowd. Make them in advance and steam straight from the freezer, for delicious dim sum at home!
Ingredients
Dumplings
1

lb

ground chicken

chicken mince, lean

2

Tbsp

hoisin sauce

1

inch

ginger

fresh, grated

2

scallions

spring onions, finely sliced

1

carrot

large, grated

1

Tbsp

cornstarch

cornflour

50

dumpling wrappers

or wonton wrappers, from Asian grocers
Instructions
Make the filling
Put all the dumpling ingredients except the wrappers into a large bowl, mixing very well to combine. You can prepare this mixture up to an hour ahead of time and store in the fridge until you're ready to use it.
Assemble the dumplings
Lay out a few dumpling wrappers at a time on a clean surface. Fill each one with about a teaspoon of the chicken mixture. Dampen the edges of the wrappers with water (I just dip my finger into a bowl of water and swipe it around the edge of the wrapper), before folding up the sides and pinching or pleating to seal. Repeat until all the filling is used up.

Put the dumplings in the fridge for at least 30 minutes and up to 4 hours. This helps them to 'set' so they hold their shape better when cooking. Alternatively, you can freeze the dumplings for up to 2 months and cook straight from frozen. See notes for freezing directions.
Steam dumplings – steam oven
When it's time to cook, preheat your oven to 212°F/100°C, steam setting (100% humidity). Line a perforated pan with parchment paper (if you don't have a perforated pan just use a solid one and allow 30 seconds extra cooking). Put the dumplings in the pan, allowing a little space between each one to stop them sticking together. Steam for 12 minutes (if cooking from frozen, allow 14 minutes).
Steam dumplings – bamboo steamer
To cook your dumplings the traditional way in a bamboo steamer, fill the bottom of a wok or large pot with a couple of inches of water. Make sure the steamer will fit over the top of the wok/pot without touching the water. Bring the water to a boil.

Line the base of the steamer basket with parchment paper to stop the dumplings from sticking, then arrange dumplings inside the basket with a little space between each one. Do not let them touch one another or they'll stick together. Put the lid on and set the basket over the boiling water. Cook for 12 minutes, or 14 minutes from frozen.
Make dipping sauce
Mix together all the dipping sauce ingredients in a small bowl.

Serve dumplings hot with dipping sauce on the side.
Notes
To freeze dumplings, arrange them, not touching, in a single layer on a parchment-lined tray. Freeze, then transfer to a zip-lock bag or airtight container for storage. They'll keep like this for a couple of months (longer if they're very well sealed), and can be steamed straight from the freezer. 
I buy packets of little round dumpling wrappers from my local Chinese grocer, but square wonton wrappers also work if you can't find round ones. If you have a well-stocked regular supermarket you may also find them there. 
Have you run out of wrappers before the filling was used up? Form the rest of the mixture into little meatballs and steam for the same time as the dumplings. For pretty presentation, serve the meatballs on ceramic Chinese spoons and sprinkle over a few sliced scallions/spring onions and red chili pieces.
Nutrition
Calories:
39
kcal
|
Carbohydrates:
5
g
|
Protein:
2
g
|
Fat:
1
g
|
Saturated Fat:
0.2
g
|
Polyunsaturated Fat:
0.2
g
|
Monounsaturated Fat:
0.4
g
|
Trans Fat:
0.01
g
|
Cholesterol:
8
mg
|
Sodium:
100
mg
|
Potassium:
65
mg
|
Fiber:
0.2
g
|
Sugar:
0.3
g
|
Vitamin A:
218
IU
|
Vitamin C:
1
mg
|
Calcium:
5
mg
|
Iron:
0.4
mg