This soy sauce chicken is the most amazing comfort food. Salty, savory, sticky and delicious, pair it with just about any carb you like and you'll have a meal fit for all.
Made with an Asian chicken marinade containing soy sauce, ginger, garlic and honey, this dish feels so generous and satisfying. I love it because although it tastes like it's taken days to put together, it's fast and simple. Like 10 minutes and straight into the oven simple.
I cook this soy sauce chicken recipe in my convection steam oven (combi steam oven), but you can just as easily roast it in a regular oven. Just pop a lid on the pot for the first half of the cooking time, and expect it to take a little longer overall than in the steam oven.
This post may include affiliate links. As an Amazon Affiliate I earn from qualifying purchases (don't worry, it doesn't cost you anything!). Find out more about affiliate links.
Honey Soy Chicken made easy
Honey soy chicken marinade is a staple when I want fast, Asian inspired flavors. This one leans more heavily on the soy and little less on the honey, because I didn't want it too sweet. It includes garlic, ginger, scallions and just a touch of chili for heat, though you could leave that out.
To make the marinade you literally just throw all the sauce ingredients into a bowl and give them a stir, and put your aromatics into a pan. Don't fuss with finely chopping anything, either. Roughly chopped aromatics will still give up all their great flavor, and they're easier to remove after cooking.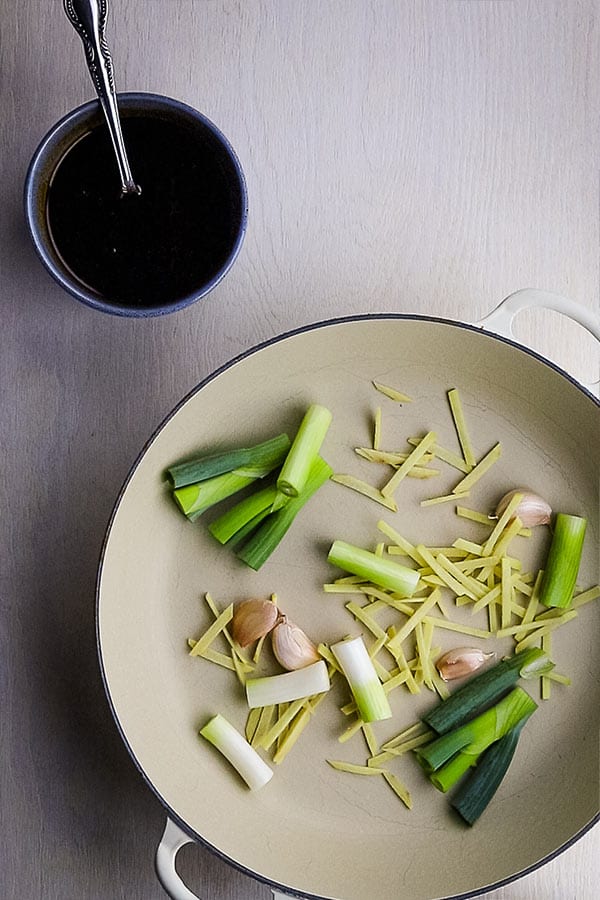 The one ingredient I do make an effort to chop nicely is the ginger, because I like serving my chicken with the ginger pieces. You can leave it in large chunks, though, if you don't love ginger as much as I do! Just pull out the chunks before serving.
If you like this recipe, you'll also love my sticky Asian style beef ribs!
The most difficult part of this recipe is flattening out the chicken. It's not hard by any stretch, but you'll need a decent pair of kitchen scissors.
To butterfly the chicken, turn it over, breast side down. Cut down each side of the spine to remove it. Open out the bird, give it a bit of a press to flatten, and you're done!
Too hard or too 'icky' to do that part yourself? Ask your butcher, it'll take them all of about 30 seconds and they're generally more than happy to do it.
How to cook soy sauce chicken
Like I said, this is so, so easy. Gather your ingredients and mix up the Asian chicken marinade, and preheat your oven.
For the full recipe directions and quantities, scroll down to the printable recipe card at the bottom of this post!
Put the flattened chicken into a pan. I like my round 12 inch (30cm) low cast iron casserole for this. It holds the chicken nice and snug so the marinade doesn't run off, like it would into the corners of a larger pan.
Pour the honey soy mixture over the chicken and put the pan in the oven.
Now go away, drink wine, or tea, or prepare some sides. And let that delicious roast chicken do its thing!
I like to check this dish halfway through the cooking time, just to make sure it isn't browning too early. The sugar in the marinade can make it do this, so if your chicken looks very golden but isn't cooked, just lay a piece of foil over the top of the pan. Don't scrunch it tight, just put it over so it's covering the top.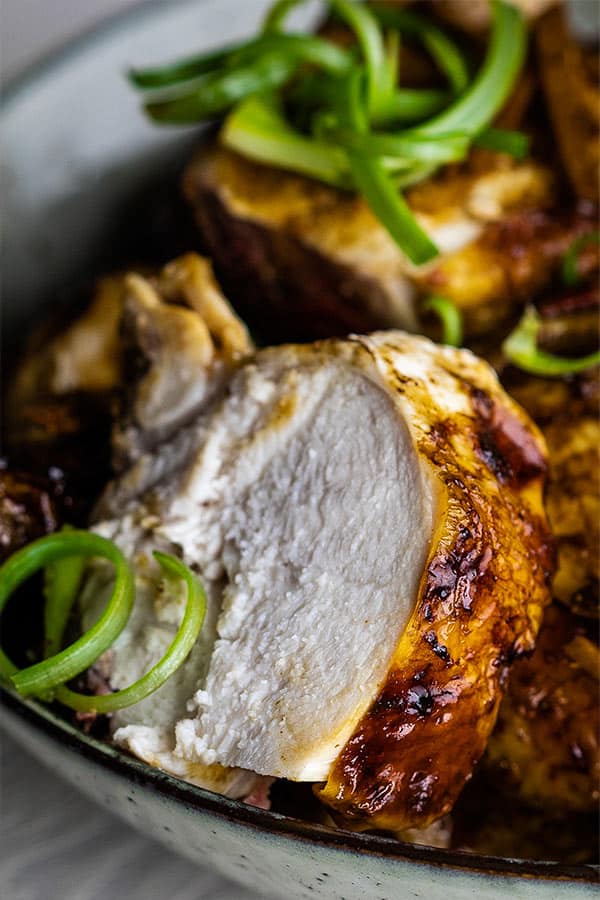 When the chicken is cooked through, take it out of the oven and let it rest for about 10 minutes before cutting into large portions and serving with rice, noodles, flat breads or stir fried greens. It's very flexible in terms of sides; my favorite kind of dinner!
If you want to get all fancy-like with your garnish, chop a couple of scallions into strips lengthways and drop them into iced water. They'll curl up into pretty little green ribbons after a few minutes in the water, perfect for scattering over the chicken as you serve it.
Do you want to use and love your steam oven more?

There are precious few resources to teach us HOW to use a steam oven in everyday cooking. I'm guessing that's why you're here! If you love cooking but aren't making the most of your combi steam oven, you aren't alone.

Steam Oven Insiders was created for you!

Benefit from my decade-plus of steam oven knowledge and training, delivered to your inbox twice monthly in bite sized, easy-to-implement tips and delicious recipes you'll actually want to cook. Insiders get access to every exclusive recipe and article within the members dashboard, so you'll never miss a thing.

Find out more right here
Happy steam oven cooking, see you here again soon.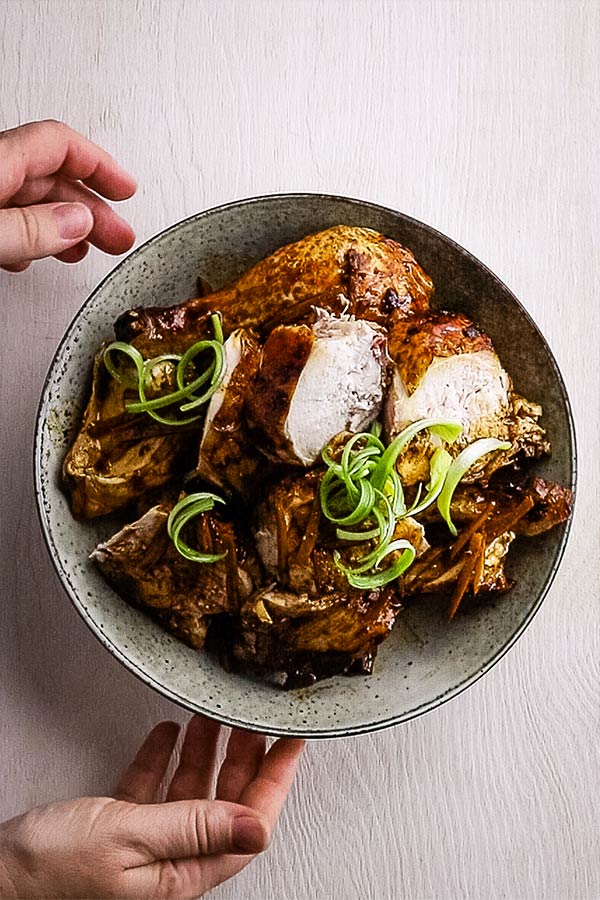 Have you made and enjoyed this recipe? I'd love if you'd be kind enough to rate and review it via the stars in the recipe card, or leave a comment below! Ratings and reviews help other readers to find and know whether one of my recipes will suit them.
Print Recipe
Soy Sauce Chicken
This roasted soy sauce chicken is incredibly juicy and tender, with a deeply roasted finish and notes of soy, ginger and honey. It's great served with steamed rice or stir fried vegetables.
Ingredients
3.5

lb

whole chicken

spine removed, pressed flat 1.5kg

⅓

cup

dark soy sauce

80ml see notes

3

Tbsp

honey

1

knob

ginger

about a 2-inch piece, peeled and julienned

4

scallions

spring onions, roughly chopped

4

garlic cloves

bruised

2

Tbsp

white vinegar

1

tsp

chili paste

½

tsp

ground white pepper
Instructions
Preheat oven to 400°F/200°C, combi steam setting. If your oven has variable steam settings, choose 60%. If not, don't worry! Just choose combi steam at the correct temperature and the oven will take care of the steam for you.

Put the chicken into a deep baking dish, flattened out and skin side up. Mix the rest of the ingredients and pour over the chicken.

3.5 lb whole chicken,

⅓ cup dark soy sauce,

3 Tbsp honey,

1 knob ginger,

4 scallions,

4 garlic cloves,

2 Tbsp white vinegar,

1 tsp chili paste,

½ tsp ground white pepper

Roast the chicken until it's cooked through, about 35-40 minutes. If the skin begins to brown too much, loosely cover it with a piece of foil partway through cooking.

When the chicken is cooked, rest it, covered, for 15 minutes before carving and serving. I cut it into pieces at the joints and serve large portions rather than slicing it.

Serve with steamed rice and green vegetables, with extra chili paste on the side if you like it hot.
Notes
I specify dark soy sauce for this recipe – it's thicker and deeper in flavor than light soy sauce. If all you can find is light, you can sub it, but beware it's often more salty than dark soy. I'd go with 1/4 cup instead of 1/3 just in case.
Nutrition
Calories:
481
kcal
|
Carbohydrates:
17
g
|
Protein:
38
g
|
Fat:
29
g
|
Saturated Fat:
8
g
|
Polyunsaturated Fat:
6
g
|
Monounsaturated Fat:
12
g
|
Trans Fat:
1
g
|
Cholesterol:
143
mg
|
Sodium:
1217
mg
|
Potassium:
460
mg
|
Fiber:
1
g
|
Sugar:
14
g
|
Vitamin A:
389
IU
|
Vitamin C:
7
mg
|
Calcium:
41
mg
|
Iron:
3
mg