If you've never cooked a whole chicken sous vide and you've wondered whether it could really be that good, this sous vide spatchcock chicken is going to blow your mind. It makes an amazing roast chicken dinner, and the cooking process is far simpler than the fancy title would have you believe.
For this dish, we're going to flatten out the entire chicken, for convenience during cooking and maximum crispy skin. It's a wonderful whole chicken recipe that you can mostly prepare ahead of time, so it's less hard work at dinnertime. 
The cooking time seems very long, but almost all of it is hands off. You need around 10 minutes to prep the chicken for the sous vide bath or steam oven, and another 15 to finish and serve. In my book, that makes it a totally achievable weeknight meal if you get it going in the morning. 
You'll finish the chicken in a very hot oven just before serving. And then, what looks like a simple oven-roasted chicken turns out to be the best cooking method for golden brown skin, perfectly cooked dark meat and juicy, tender breast meat.
This post may include affiliate links. As an Amazon Affiliate I earn from qualifying purchases (don't worry, it doesn't cost you anything!). Find out more about affiliate links.
How do you cook a sous vide whole chicken?
With water bath sous vide cooking, the chicken must cook in a bag under the water level for precise temperature control. You can't successfully bag a whole bird unless you remove the air, either by stuffing the chicken or filling the bag with liquid. Otherwise, the cavity of a chicken is a giant air pocket which prevents it from sinking.
How do we solve this? Flat chicken.
Flattening out the chicken makes it easier to bag, safer to cook at lower temps and generally a little simpler to handle.
Today we're going for a spatchcocked chicken. That means we'll remove the backbone and flatten out the bird with all the other bones still intact. 
If spatchcocking isn't enough for you, you can go further and remove the whole rib cage. That makes for easy carving of the breast but nice presentation of the legs and wings. Or, debone the entire chicken and flatten it out, so it can simply be sliced and served after cooking. 
I make most sous vide chicken recipes in my steam oven, but you can achieve the same results with a sous vide immersion circulator and a water bath. 
The major difference between the two methods is that with a steam oven, you don't need to use a vacuum-sealed bag. I still use bags if I plan to chill the meat straight after cooking and finish it at a later time. 
If you're using a circulator you'll need a large sous vide bag or a ziploc bag to put the chicken in before cooking.
Flavor infusion in your sous vide spatchcock chicken
When you're cooking chicken sous vide, you're already giving it the best chance at retaining the natural juices and flavor. It's a great way to employ long and slow cooking for tenderness, without drying out the meat.
To enhance this method of cooking, you really don't need much by way of seasoning. Olive oil, kosher salt, black pepper and garlic powder are my go-to ingredients for simple, flavorful chicken. If I want extra aromatics I might add thyme or rosemary underneath the chicken, but that's it. 
If you want to really infuse flavor into chicken when you're cooking sous vide, add a marinade or rub.
An aromatic smoky BBQ rub works well for sous vide spatchcock chicken. So does harissa paste, cumin and coriander mixed with yogurt and smeared all over the meat. I've also made my soy sauce chicken recipe using this sous vide technique with great results.
Can get enough of this sous vide steam oven recipe? Try some more!
Step-by-step guide to sous vide spatchcock chicken
The full printable card for this spatchcock chicken recipe is below. Here's the more descriptive visual guide, though.
Flatten out the chicken
First off, place your whole chicken, breast side down, onto a cutting board. Grab some sturdy kitchen scissors or poultry shears. 
Cut along both sides of the backbone to remove it, then pat the meat dry on both sides with paper towels.
Open the chicken out, skin side up, so the legs splay to the outside. Press down sharply on the breastbone so it cracks and the chicken lies as flat as possible.
Season and seal, if necessary
Rub oil, salt, pepper and garlic powder all over both sides of the chicken.
If you're cooking sous vide in your steam oven, pop the bird, skin side up, into a large, shallow stainless steel pan. Otherwise, put it in a cooking bag and use a vacuum sealer or the water displacement method to expel excess air. 
I used the bag method for this recipe even though I cooked using my steam oven. That's because I wanted to chill the chicken after cooking and finish it the next day. The bag makes it super convenient to do this. 
Cook time!
Preheat your steam oven or sous vide device, then cook the chicken for 5-7 hours. The timing is quite forgiving. The meat will be perfectly cooked at the 5 hour mark, but you can safely leave it cooking up to 7 hours without much change in texture.
When the chicken's done, remove it from your water bath or steam oven. It's not going to look very appealing! The skin will be flabby and white, but we're about to fix that. If you've bagged the chicken for cooking, there'll be pinkish liquid in the bag. The liquid looks terrible but don't throw it away! That liquid can be cooked down for gravy, or chilled where it'll turn into glorious, gelatin-rich chicken stock. 
Chill (if you aren't finishing straightaway)
If you're pre-preparing to serve at a later time, immediately chill the chicken. I put mine into the freezer for half an hour, then into the fridge, to get the temperature down quickly. 
You can keep the cooked chicken in the fridge for up to 3 days before roasting and serving, or in the freezer for a couple of months.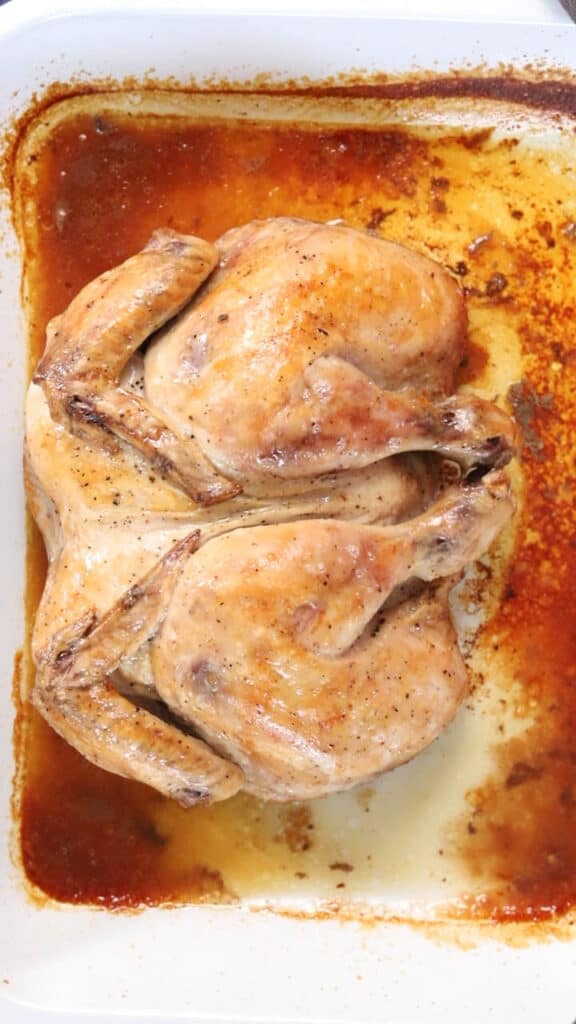 Roast or broil for crispy skin
If you're going straight to finishing and serving, get your oven nice and hot. I use a fan grill setting, but conventional heat with a finishing blast under a broiler/grill is fine too. Remove the chicken from the bag, if you've used one, and cook it just until the skin is golden brown and sizzling, anywhere from 8 to 20 minutes depending on the oven setting. 
You're done! Rest the meat in a warm place for about 15 minutes, which gives you enough time to get plates warmed and any sides served up. Then carve the chicken and pile it onto a big platter in the middle of the table.
What to serve with sous vide spatchcock chicken
Mostly, we eat this dish served with sourdough bread and a big salad, but it's versatile enough to serve with almost any vegetable side you can think of (Brussels sprouts casserole, anyone? Or maybe Moroccan chickpea salad?).
If sous vide is a new way of cooking for you, I really hope you'll feel confident to give it a try with this recipe. And if you're an old hand at sous vide, hopefully this will inspire you to throw on a sous vide spatchcock chicken for a low-fuss dinner one night very soon.
Happy cooking, see you here again soon.
Have you made and enjoyed this recipe? I'd love if you'd be kind enough to rate and review it via the stars in the recipe card, or leave a comment below! Ratings and reviews help other readers to find and know whether one of my recipes will suit them.
Print Recipe
Sous Vide Spatchcock Chicken
Hands-down the best way to cook a whole chicken if you want tender, perfectly done meat! Spatchcocking the chicken makes it easier to handle for cooking, and maximizes crispy skin for serving.
Instructions
Preheat and prep
Preheat steam oven to Steam or Sous Vide setting, 155°F/68°C (100% humidity). or preheat a sous vide immersion circulator in a water bath.

Using kitchen scissors, cut along each side of the chicken's backbone to remove it. Turn the chicken over and open it out, skin side up, then press down firmly on the breastbone with the heel of your hand to flatten the bird. Remove the neck and any loose skin from the chicken, then pat dry well with paper towels.
Season
Rub the chicken all over on both sides with the oil, salt, pepper and garlic powder. If you're doing steam oven sous vide, place the chicken, flattened out, into a stainless steel baking tray. If you're using a water bath, vacuum seal the chicken in a bag.

3 Tbsp olive oil,

2 tsp kosher salt,

1 tsp ground black pepper,

1 tsp garlic powder
Cook
Place the chicken into the steam oven or water bath and cook for 5-7 hours. The range of time allows you to be flexible; it'll be done at 5 hours but will happily sit in the oven/water bath for up to 7 hours without the texture or taste being altered much.
Roast to finish
When the chicken is done cooking, you can either finish and serve immediately, or refrigerate asap to finish up and serve up to 2 days later.

To finish, preheat your oven to 450°F/230°C (no steam). If you have a fan-grill setting in your oven, use that. Line a baking sheet with parchment paper and place the chicken, skin side up, on the lined sheet.

Cook until the skin is crispy and golden (and, if it was refrigerated before finishing, until the chicken is heated through). If you're using a grill/broiler element this will take as little as 8-10 minutes, with a conventional oven setting it'll be more like 15-20 minutes.
Rest and serve
Rest the chicken for 10-15 minutes in a warm place before carving and serving.
Notes
If the idea of removing bones from a whole chicken is too much for you, most butchers will happily prepare the bird for you. Some better supermarkets also sell unmarinated flattened chickens, ready to season and cook.

If you're pre-preparing the chicken to serve at a later time, immediately chill it after the sous vide step (I actually put it into the freezer for half an hour, then into the fridge, to get the temperature down quickly).

You can keep the sous vide cooked chicken in the fridge for up to 3 days before roasting and serving, or in the freezer for a couple of months. If you've frozen it, thaw overnight in the fridge before proceeding with the roasting step to finish.
Nutrition
Calories:
337
kcal
|
Carbohydrates:
1
g
|
Protein:
24
g
|
Fat:
26
g
|
Saturated Fat:
6
g
|
Polyunsaturated Fat:
5
g
|
Monounsaturated Fat:
13
g
|
Trans Fat:
0.1
g
|
Cholesterol:
95
mg
|
Sodium:
865
mg
|
Potassium:
251
mg
|
Fiber:
0.1
g
|
Sugar:
0.01
g
|
Vitamin A:
180
IU
|
Vitamin C:
2
mg
|
Calcium:
16
mg
|
Iron:
1
mg
Do you want to use and love your steam oven more?

There are precious few resources to teach us HOW to use a steam oven in everyday cooking. I'm guessing that's why you're here! If you love cooking but aren't making the most of your combi steam oven, you aren't alone.

Steam Oven Insiders was created for you!

Benefit from my decade-plus of steam oven knowledge and training, delivered to your inbox twice monthly in bite sized, easy-to-implement tips and delicious recipes you'll actually want to cook. Insiders get access to every exclusive recipe and article within the members dashboard, so you'll never miss a thing.

Find out more right here