This post includes affiliate links. Find out more about affiliate links and how they help this site.
This Sous Vide Egg Bites recipe comes to you thanks to several requests from people who've asked how to make the popular Starbucks sous vide egg bites in a steam oven, rather than with a water bath. Happily for all those wondering, it's ridiculously easy and today I'm going to share how you can do it with five minutes of prep time and around half an hour of cooking.
These sous vide egg bites contain just a handful of ingredients you probably already have in your fridge. Once cooked, they keep well for up to a week, making them perfect as a protein-rich grab-and-go breakfast, and they can also be dressed up to serve as an elegant, light brunch. Basically, they're going to save your mornings!
---
Other popular steam oven egg recipes:
Combi Steam Oven Broccoli and Bacon Quiche
---
Are homemade Egg Bites as good as Starbucks Sous Vide Egg Bites?
This will be shocking to some of you who have one on just about every corner, but there is no Starbucks anywhere closer than a multi-hour plane trip from my home. Because of this, I haven't actually tasted the Starbucks egg bites! I have taken a good look at their ingredient listings and eaten several copycat versions, though, and I'm convinced these homemade sous vide egg bites cooked in your steam oven will be every bit as good.
Internet gossip tells me Starbucks developed their sous vide bites to satisfy consumer feedback that said people wanted lower carb breakfast options, which makes perfect sense. Not everyone wants a bagel or a muffin for breakfast.
Playing to the company's advantage is the fact that many sous vide foods are brilliant for mass scale production and storage, without compromising on taste or texture. This lets Starbucks have their egg bites batch-cooked well ahead of time, ready to pop out of a packet and heat in a matter of minutes whenever someone orders a serve. With a steam oven or a water bath sous vide device, anyone can achieve the same result at home, which means you too can batch cook and store a week's worth of egg bites at once.
What to cook your Sous Vide Egg Bites in
There are three ways to create perfect individually sized egg bites. I use small canning jars, which are fairly inexpensive, useful for many foods and easy to buy both online and in a lot of stores.
I use the jars with a two part lid, but you can also use regular lids as long as you don't do them up too tightly before cooking. Closing the jar lids too tightly means the air pressure that's created inside the jars during cooking can't escape, leading to cracked jars and ruined egg bites. The trick is to close the jars to what's called fingertip tightness, where you screw on the lid just to the point where it's closed and there's some resistance to your fingertips (not as tightly as you can manage by twisting with your entire hand).
Another option for cooking your sous vide egg bites, especially if you want them to look just like the Starbucks ones, is to purchase a silicone mould with a lid. These are commonly sold and used for Instant Pot cooking, but they work just fine in a steam oven as well. You cook the bites in the mould, then pop them out easily for serving. This creates a nice rounded shape which is lovely if you want to serve your egg bites directly on a plate.
My preference is to use jars over the silicone mould, partly because I'm on a quest not to buy too many kitchen utensils that aren't multi-purpose, but also because I'm a little lazy and prefer the ease of reheating and serving straight from the jars! The jar-cooked bites will also last longer in the fridge because the jars form a vacuum seal as they cool, whereas the silicone mould egg bites won't have that seal. It's up to you, though – as long as you aren't storing them for too long after cooking, either option will work just fine.
The third option, which will let you have egg bites today if you can't wait and have no jars or moulds, is to use small ceramic dishes or teacups covered with heat safe plastic wrap. It'll do in a pinch but I found the texture of egg bites cooked this way to be a little inconsistent (perhaps because I used a few different small cups of varying thickness?). Like the silicone mould versions, they won't keep the same way as the vacuum sealed jars if you're wanting to store them.
Ingredients for Sous Vide Egg Bites
Sous Vide Egg Bites contain just three or four main ingredients: essentially they're made from eggs, grated cheese and cream cheese, cottage cheese or pouring cream (or a combination of those last three things).
There are lots of ways to play around with these base ingredients to create a texture that ranges from fluffy and light to creamy and silky, and plenty of things you can add in terms of interesting flavorings. You can vary the type and quantity of grated cheese you use, or leave it out altogether, just keep the ratio of eggs and cream cheese/cottage cheese/cream consistent for them to work well.
The recipe at the end of this post is a take on the Starbucks combo of bacon strips and gruyere cheese, but here are some other delicious sous vide egg bite variations I've tried over the past couple of weeks, all of which can be made by following the exact same method in today's recipe:
1.
6 eggs
2/3 cup grated cheddar or Monterey Jack cheese
1/4 cup pouring cream
Handful finely chopped steamed broccoli
2 small slices bacon, finely diced and cooked until crispy
2.
6 eggs
2/3 cup grated gruyere cheese
1/4 cup cream cheese
1-2 sliced green onions
3-4 tbs finely diced roasted peppers
3.
10 egg whites (instead of 6 whole eggs)
2/3 cup cottage cheese
1/4 cup pouring cream
2-3 tbs chopped herbs
This mixture makes very light and fluffy egg bites which are packed with protein.
4.
6 eggs
2/3 cup crumbled full fat feta cheese
2 tbs cottage cheese
2 tbs pouring cream
4-5 semi dried tomato halves, finely chopped
What temperature and time is best for Sous Vide Egg Bites?
The right temperature and cooking time is critical for successful sous vide dishes but you do have some wiggle room here depending on the texture you'd like your finished egg bites to be.
I tried temperatures of 75°C/167°F, 80°C/175°F and 85°C/185°F when I was testing these, with various timings for each. All worked and tasted great. The lower temperature bites were more creamy and custardy, while the higher temperatures gave something a little more fluffy in texture, so it's really down to your own preference.
In the recipe below I settled on a temperature of 80°C/175°F, for 30 minutes. For me that was the perfect balance of silkiness without being too dense or too fluffy.
One important thing to note about steam oven sous vide cooking, here: while the traditional sous vide method of using a water bath with an immersion circulator allows for very precise increments of temperature selection, you may not have the same ability to set your steam oven to the nearest degree. The majority of steam ovens will only let you select in 5-10 degree increments. It's not a big deal for a lot of dishes but do be aware that even a couple of degrees either way when you're cooking at these low temperatures can make a big difference to a food's texture.
If you do have single degree selection in your steam oven, or want to use an immersion circulator, my absolute ideal temperature and time for these egg bites would be 172°F/78°C for 45 minutes.
How to cook Sous Vide Egg Bites in a steam oven
Cooking these egg bites in your steam oven is so simple. By the time your oven is preheated you can have the egg bites ready to go in, and then you just leave them alone until they're cooked!
Before you start, you'll need to have all your ingredients out of the fridge. Room temperature ingredients make for consistent egg bites! Because the cooking temperature is low, putting fridge-cold ingredients in to cook may alter the cooking time of your bites. I take everything I need out of the fridge about 30 minutes prior to making them, and prepare any add-ins like bacon, veg or herbs.
If you're following today's exact recipe you'll need cooked bacon before you start, which you can do up to a couple of days ahead and keep in the fridge. If you have a steam oven, you can use the combi steam setting to cook bacon easily, just make sure you do it far enough ahead that your oven can cool down enough for cooking your egg bites!
I have a whole post on steam oven bacon, but in short, to cook crispy combi steam bacon, preheat your oven to 400°F/200°C, combi steam setting (if you have variable steam, select 50%). Lay bacon slices flat on a baking-paper-lined pan and cook until they're sizzling and golden, around 12-15 minutes. It might seem a bit soft but it will crisp up after it's removed from the oven. You can cook as much bacon as you like by this method, saving any leftovers and reheating them for a few minutes using the same oven settings when you want to serve.
When you've got all your ingredients ready, it's time to preheat your steam oven. Set it to 175°F/80°C on the steam-only function (100% humidity).
While the oven preheats, get the jars ready. I don't bother greasing mine because I don't turn out the cooked egg bites, but if you want to do this I'd highly recommend rubbing a little oil (or using a nonstick oil spray) to coat the inside of each jar.
Pop a piece of bacon into each jar or mould. Add any other 'chunky' extras like chopped veg at this point too.
Put the rest of your ingredients into a blender, or use a jug with a hand blender, and blend until smooth.
Divide the eggy mixture evenly between your jars and pop the lids on. Remember from above, you should close the lids to fingertip tightness so any excess air can escape while the egg bites cook. Don't wrench the lids on as hard as you can!
Time to cook! Put the egg bites into your preheated steam oven and set the timer, then come back to perfectly cooked eggs.
Serve your egg bites hot straight from the oven or, if you aren't serving all the bites straightaway, chill them immediately.
Do you want to use and love your steam oven more?

There are precious few resources to teach us HOW to use a steam oven in everyday cooking. I'm guessing that's why you're here! If you love cooking but aren't making the most of your combi steam oven, you aren't alone.

Steam Oven Insiders was created for you!

Benefit from my decade-plus of steam oven knowledge and training, delivered to your inbox twice monthly in bite sized, easy-to-implement tips and delicious recipes you'll actually want to cook. Insiders get access to every exclusive recipe and article within the members dashboard, so you'll never miss a thing.

Find out more right here
How to store and serve Sous Vide Egg Bites
If, like me, you want to make a batch of egg bites and keep them for breakfast (or dinner!) on future days, just pop the bites straight into the fridge after cooking so they cool down quickly. You can store jar-cooked and lidded egg bites for up to a week if they haven't been opened. If you've cooked yours in a silicone mould or small dishes, I wouldn't keep them any longer than about 4 days as they won't be vacuum sealed.
You can eat your egg bites cold from the fridge but I think they're best warm. If you're reheating them at home just pop them into your steam oven at the same temperature you cooked at, and heat for 10-15 minutes. Otherwise they can be heated for a minute or two in a microwave, which makes them perfect for office breakfasts (if your egg bites are in lidded jars, take the lid off before microwaving!).
These sous vide egg bites can also be frozen for up to 6 weeks. If you're doing this I'd recommend removing them from the jars or moulds they're cooked in, and wrapping individually with plastic wrap to avoid freezer burn. They can be defrosted in the fridge overnight or just heated for a little longer straight from frozen.
For serving, I like to top my egg bites with some fresh diced tomatoes mixed with olive oil and a little salt. You can also sprinkle bacon bits, shredded cheese, baby spinach or a dollop of cream cheese or sour cream onto each one.
Let me know how your sous vide egg bites go – I look forward to seeing all your variations on Facebook, as well as how you serve them!
Happy cooking, see you here again soon.
If you're interested in exploring more sous vide steam oven recipes, let me know! I'd love to create more recipes like this if they're what you're all after. In the meantime, I've just added a Steam Oven Sous Vide Ideas board to my Pinterest page, where I'm pinning all kinds of ideas which suit this method of cooking. 🙂
---
Would you like more recipes and tips to help you cook with confidence? Join the mailing list to be alerted to new posts.
---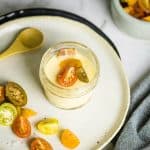 Print Recipe
Bacon and Gruyere Steam Oven Sous Vide Egg Bites
These Starbucks inspired Sous Vide Egg Bites are a great make-ahead breakfast. A batch will keep all week in the fridge, ready to heat and eat or grab and go.
Ingredients
3

slices

streaky bacon

cooked and cut in half

6

eggs

large

2

oz

gruyere cheese

about 2/3 cup lightly packed, or other Swiss-style cheese, grated

2

oz

cream cheese

just over 1/4 cup; use cottage cheese or cream as substitutes, or any combination of the three
Instructions
Preheat your steam oven to 175°F/80°C, steam only setting. Put your jars (or mould, or dishes) into a pan.

Put one piece of bacon into each jar, pushing it down to the bottom.

Put the rest of the ingredients into a blender or food processor and blend until smooth.

Pour the egg mixture into the jars and screw the lids on tight enough to close but not as tight as you're able – overtightening means the air pressure which forms during cooking can't escape and the jars may break. If you're using ramekins or bowls, cover each one with heat safe plastic wrap.

Cook the egg bites for 30 minutes, then remove from the oven and either serve or refrigerate immediately.
Notes
You can cook these in small heatproof ramekins, bowls or even teacups, but I find it easiest to use very small (4oz/125ml) jars with lids because I can reheat and serve straight in the jar, and they keep very well in the fridge. If you have one, you could also use a silicone egg bites mould.
Egg bites in lidded jars are pasteurized and vacuum sealed by this cooking method and will keep, unopened, for up to a week (though mine have never hung around more than a few days!). I don't like to keep plastic-wrap covered ones as long, only up to 3-4 days, as they aren't sealed.
Reheat at the original cooking temperature for about 15 minutes, or pop them into a microwave for 1-2 minutes (take lids off if you're microwaving in jars).
Nutrition
Calories:
180
kcal
|
Carbohydrates:
1
g
|
Protein:
10
g
|
Fat:
15
g
|
Saturated Fat:
6
g
|
Trans Fat:
1
g
|
Cholesterol:
192
mg
|
Sodium:
197
mg
|
Potassium:
103
mg
|
Sugar:
1
g
|
Vitamin A:
458
IU
|
Calcium:
130
mg
|
Iron:
1
mg
Over to you – if you try this recipe I'd love to know about it! Share your comments below or on Facebook, tag @steamandbake on Instagram, or pin all your favourite Steam and Bake recipes over on Pinterest!
Related posts: