Brussels sprouts casserole, or Brussels sprouts gratin, is never going to win on its looks alone. A creamy, cheesy mess of garlicky roasted Brussels sprouts with a crunchy lid, it's one of those ugly but incredibly delicious side dishes I never want to be without. In fact, if I'm honest I'd happily make it the main event rather than just a side, I love it that much.
This post may include affiliate links. As an Amazon Affiliate I earn from qualifying purchases (don't worry, it doesn't cost you anything!). Find out more about affiliate links.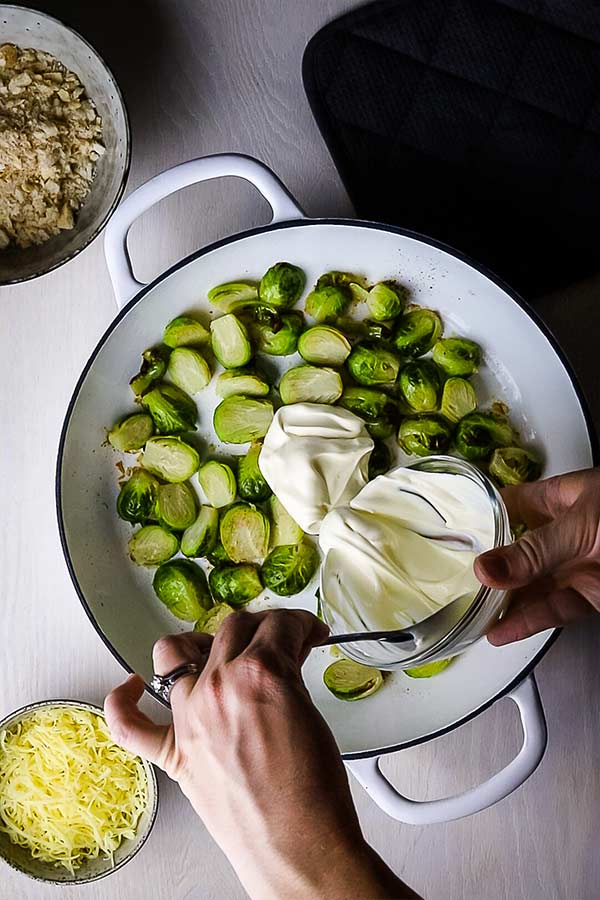 The secret to the best Brussels sprouts
Want to know a secret?
I can help you 'fix' Brussels sprouts forever.
Instead of a plateful of sad, grayish brown, soft Brussels sprouts thanks to too long spent in a saucepan of boiling water, we're going to roast your sprouts. Make no mistake, this will turn them into something spectacular.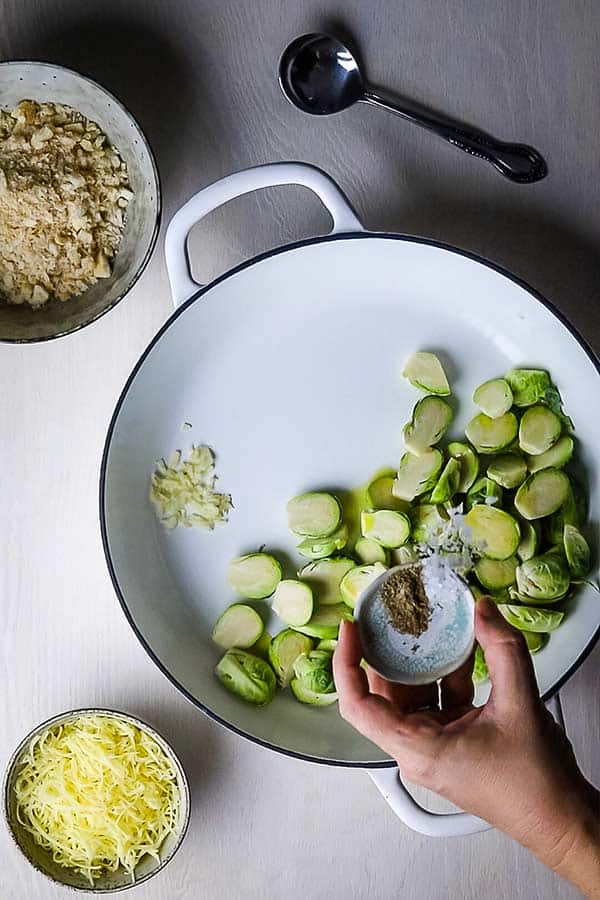 Roasted Brussels sprouts really are a thing of beauty. Cooked in a regular oven at high heat they're excellent, but the steam oven makes them even better because they cook faster and the inner leaves remain sweeter than with regular oven roasting. Bright green and tender on the inside, frazzled on the outside, they're a combination of sweet-ish baby cabbage-y flavor and caramelized char, and one of my favorite vegetables to eat.
Would you like my FREE Quick Start Guide to Your Steam Oven?
Start learning what (and how!) to cook using your oven's steam and combi steam settings, with my instant downloadable guidebook, full of tips, links and ideas.
Click here to get the Guide sent straight to your inbox
Creamy Brussels sprouts and crunchy crumbs
Because I always enjoy gilding the lily when it comes to eating, we aren't stopping at roasted brussels sprouts today. I mean, you absolutely could. I wouldn't judge. But Brussels sprouts casserole is here and waiting, and why wouldn't you go the extra step when it's so easy?
Brussels sprouts gratin, if you're using the French term, or Brussels sprouts casserole for North American dwellers, means we're going to cover those partially roasted sprouts with heavy cream (or creme fraiche, because my local store was out of stock on heavy cream).
Mix the cream through, then spread those sprouts back into a single layer again. You can do all this in the same baking dish you started roasting the sprouts in, by the way.
Add a little Gruyere cheese, or another good melting cheese if you prefer.
Finish everything with a scattering of fresh breadcrumbs and pop the pan back into the oven for the cheese to melt and the crumbs to crisp up.
Serve your best Brussels sprouts ever alongside grilled or roasted meat, or just pile them into a bowl and grab a slice of crusty bread. I've even fried an egg to have alongside these before, and I can recommend the combination as a great meat free dinner.
Do you want to use and love your steam oven more?

There are precious few resources to teach us HOW to use a steam oven in everyday cooking. I'm guessing that's why you're here! If you love cooking but aren't making the most of your combi steam oven, you aren't alone.

Steam Oven Insiders was created for you!

Benefit from my decade-plus of steam oven knowledge and training, delivered to your inbox twice monthly in bite sized, easy-to-implement tips and delicious recipes you'll actually want to cook. Insiders get access to every exclusive recipe and article within the members dashboard, so you'll never miss a thing.

Find out more right here
Happy steam oven cooking, see you here again soon.
Have you made and enjoyed this recipe? I'd love if you'd be kind enough to rate and review it via the stars in the recipe card, or leave a comment below! Ratings and reviews help other readers to find and know whether one of my recipes will suit them.
Print Recipe
Brussels Sprouts Casserole
Brussels sprouts casserole, or gratin, is creamy and cheesy and the perfect side dish for all kinds of grilled or roasted meats. Or pop it in a bowl and call it the main course, and forget the meat altogether. 😉
Ingredients
1 ½

pounds

Brussels sprouts

stem ends trimmed, cut in half

1

shallot

thinly sliced, or ¼ brown onion

1

clove

garlic

minced

2

Tbsp

olive oil

2/3

cup

heavy cream

room temperature (or creme fraiche)

1

cup

fresh breadcrumbs

from about 3 slices sandwich bread

3/4

cup

Gruyère cheese

finely grated
Instructions
Heat oven to 450℉/220℃, combi steam setting. If your oven has variable steam settings, select 80%. If not, don't worry! Just set to combi steam at the correct temperature and the oven will take care of the rest.

Toss together brussels sprouts, shallot, garlic and olive oil in a 12"/30cm round baking dish. Season with salt and pepper and roast, tossing once or twice, until sprouts are tender and just beginning to color, about 12 minutes.

1 ½ pounds Brussels sprouts,

1 shallot,

1 clove garlic,

2 Tbsp olive oil,

flaky salt,

ground black pepper

Leave the oven at the same temperature but switch off the steam.

Pour the cream over sprouts. Mix gently to coat, then scatter with half the breadcrumbs, the cheese and then the remaining breadcrumbs.

1 cup fresh breadcrumbs,

2/3 cup heavy cream,

3/4 cup Gruyère cheese

Return the dish to the oven until cheese and crumbs are golden brown, about 10-15 minutes. Let the casserole sit for a couple of minutes before serving.
Notes
This dish serves 6 as a side, or 2-3 as an indulgent main course with crusty bread alongside. 
You can double or even triple this recipe to serve a crowd. The cooking time remains similar as long as the sprouts are cooked in a single layer. 
Prep ahead by making the dish up to the end of step 2. Refrigerate the par-cooked sprouts in the baking dish for up to 24 hours. Complete the remaining steps about 20 minutes before you're ready to serve. If the pan and sprouts are cold, you may need to give the dish a couple of extra minutes in the oven.
This dish freezes, fully cooked, and can be gently reheated from frozen. To reheat, use a combi steam setting at about 250°F/120°C with a low to medium steam level until the dish is hot through.  
Nutrition
Calories:
324
kcal
|
Carbohydrates:
25
g
|
Protein:
12
g
|
Fat:
21
g
|
Saturated Fat:
10
g
|
Polyunsaturated Fat:
2
g
|
Monounsaturated Fat:
8
g
|
Cholesterol:
54
mg
|
Sodium:
226
mg
|
Potassium:
526
mg
|
Fiber:
5
g
|
Sugar:
4
g
|
Vitamin A:
1400
IU
|
Vitamin C:
97
mg
|
Calcium:
267
mg
|
Iron:
3
mg