This post may include affiliate links. As an Amazon Affiliate I earn from qualifying purchases (don't worry, it doesn't cost you anything!). Find out more about affiliate links.
Homemade caesar dressing is, to my mind, essential if you're going to the effort of making a proper caesar salad at home.
A great dressing, not too garlicky and not too fishy tasting, is the basis for my perfect caesar salad recipe. You could buy a bottle, but being able to quickly whiz up your own version means you get to adjust it to your liking. Homemade caesar dressing is fresher tasting and not full of thickeners, emulsifiers and excess sugar, either.
Making your own caesar dressing also means you can double up and store any extra in your fridge for up to a week. Follow one of my variation ideas below and that's the basis of another meal just sitting there waiting for you!
Ingredients for a homemade caesar dressing
If we're being really pedantic, a traditional caesar dressing contains raw egg. But I make mine with good-quality bought whole-egg mayonnaise, which means I don't have to pasteurize eggs to make it safe for everyone to eat.
As well as the mayonnaise, you're going to need lemon juice, mustard, Worcestershire sauce, milk, salt and pepper, parmesan cheese (fresh stuff, not the packaged pre-grated one) and a hint of raw garlic.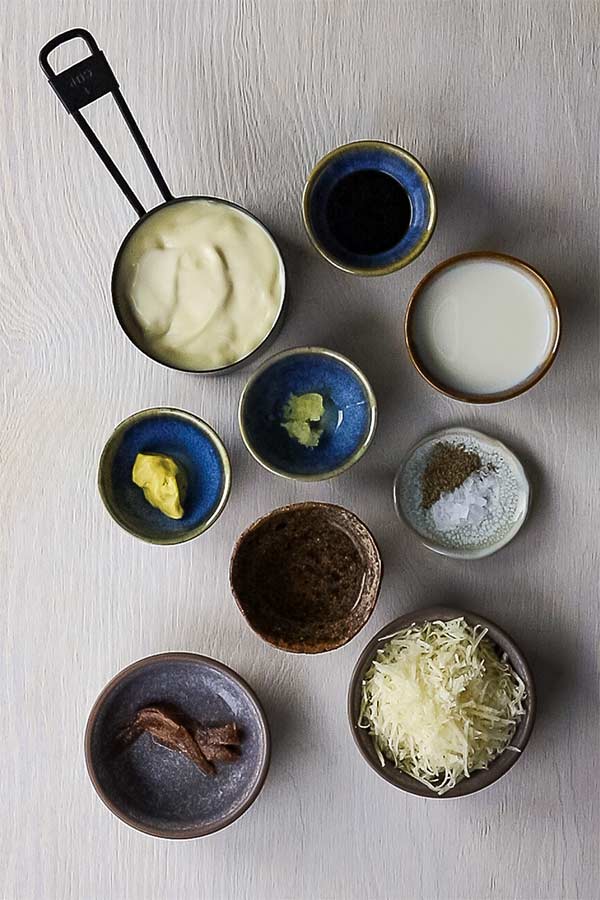 You'll also need, somewhat controversially, a couple of anchovy fillets. Yep.
Now, I do not like anchovies (just ask my husband, who hates that he has to order pizza without them because of me!). And that leads us to my next point.
Are you enjoying this post? You may also like these:
Do you have to put anchovies in caesar dressing?
Technically, you do not have to put anchovies in caesar salad dressing. You can do whatever you like.
But I want you to know that these salty little flavor bombs are the key difference between a dressing that tastes like the real thing and one that's just a bit lackluster and missing that proper umami hit.
Anchovies make me scrunch up my nose and accidentally eating one on a pizza sees me desperately trying to wash out the taste with glass after glass of water. In my caesar dressing, though, I would not be without them, and because they're blended into the dressing you won't even know they're there.
Do you want to use and love your steam oven more?

There are precious few resources to teach us HOW to use a steam oven in everyday cooking. I'm guessing that's why you're here! If you love cooking but aren't making the most of your combi steam oven, you aren't alone.

Steam Oven Insiders was created for you!

Benefit from my decade-plus of steam oven knowledge and training, delivered to your inbox twice monthly in bite sized, easy-to-implement tips and delicious recipes you'll actually want to cook. Insiders get access to every exclusive recipe and article within the members dashboard, so you'll never miss a thing.

Find out more right here
Do you have to use mayonnaise in this dressing?
If the idea of pouring that much mayonnaise into your otherwise lean salad horrifies you, that's ok. I love a classic, full-fat caesar dressing but I also enjoy feeling a little lighter after I eat my dinner!
If you want to replace the mayonnaise with something lower in fat, I recommend using thick Greek style yoghurt. Yoghurt is far preferable to a 'light' mayonnaise, which is generally stuffed with sugar and thickeners in place of the oil and doesn't taste of much. With the yoghurt you still get a dressing with body and thickness, it's just lighter than the original!
Would you like my FREE Quick Start Guide to Your Steam Oven?
Start learning what (and how!) to cook using your oven's steam and combi steam settings, with my instant downloadable guidebook, full of tips, links and ideas.
Click here to get the Guide sent straight to your inbox
What else can you make with caesar salad dressing?
Apart from the obvious salad-y joy of a caesar dressing, you may find yourself craving its creamy, tangy goodness in other ways. I get it.
Here are a few ideas to make it worth your while doubling the recipe:
Caesar baked chicken wings. Coat wings in caesar dressing and bake in your steam oven until they're golden and cooked through. These are a great alternative to buffalo wings.
Caesar potato or pasta salad. I think this one's pretty self explanatory, right?! Think of it as a pimped up version of a mayo dressed potato salad.
Caesar roasted vegetables. I know this sounds a bit weird, but it's not if you think about it. Salty, savory and complex, caesar dressing tossed through root vegetables before roasting makes a side dish you'll want to eat over and over.
Caesar dip. This is laziness and deliciousness in one – take your leftover dressing from the fridge, cut up some raw vegetables into sticks and dip away to your heart's content. It's kind of like salad but with less effort.
Go forth and enjoy the best caesar dressing you've ever made, and I look forward to hearing about all the different ways you come up with to use it. Drop me a comment and let me know how you're eating yours!
Have you made and enjoyed this recipe? I'd love if you'd be kind enough to rate and review it via the stars in the recipe card, or leave a comment below! Ratings and reviews help other readers to find and know whether one of my recipes will suit them.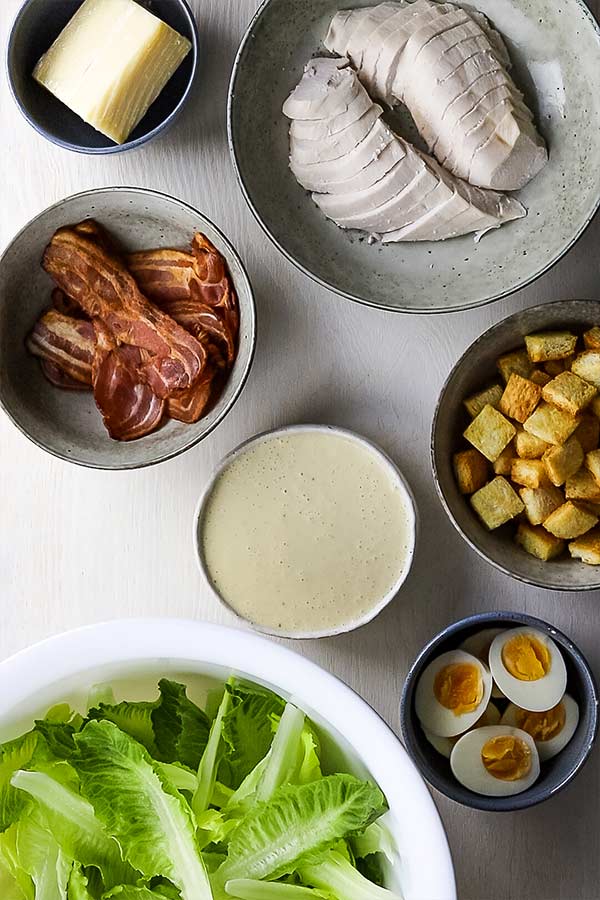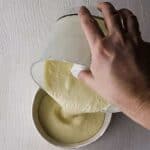 Print Recipe
Homemade Caesar Dressing
Homemade caesar salad dressing is creamy, tangy and packed with umami flavor! It's so simple you'll never buy a bottle again.
Instructions
Blend all ingredients in a food processor until smooth. Taste and adjust salt and pepper as desired, and use extra milk to thin the dressing if you need to. It should be the consistency of heavy cream.

1 cup whole egg mayonnaise,

1/2 clove garlic,

2 anchovy fillets,

2 Tbsp lemon juice,

1 tsp Dijon mustard,

1 tsp Worcestershire sauce,

1/2 cup parmesan cheese,

3 tbsp milk,

1/4 tsp salt,

1/4 tsp cracked black pepper

Set aside while you prepare your salad, or store, sealed, in the fridge for up to a week if you're prepping ahead.
Notes
This dressing is actually better made ahead of time! Even if you can just let it sit for 20 minutes before dressing your salad it will make a difference. It keeps up to a week, covered, in the fridge. 
You can directly substitute thick Greek style yoghurt for the mayonnaise if you'd like a lighter dressing. The taste will be slightly different but still delicious and with similar 'body'.
Nutrition
Calories:
444
kcal
|
Carbohydrates:
2
g
|
Protein:
6
g
|
Fat:
46
g
|
Saturated Fat:
9
g
|
Polyunsaturated Fat:
25
g
|
Monounsaturated Fat:
11
g
|
Trans Fat:
1
g
|
Cholesterol:
34
mg
|
Sodium:
737
mg
|
Potassium:
68
mg
|
Fiber:
1
g
|
Sugar:
2
g
|
Vitamin A:
156
IU
|
Vitamin C:
3
mg
|
Calcium:
172
mg
|
Iron:
1
mg