If you've wondered about the best cookware to use in a steam oven, you're not alone! Cooking vessels for combi steam ovens is something most new owners have questions about, so today I'm going to break down what I know about the best pans, baking dishes, trays and crockery from over a decade of cooking with steam ovens.
Starting out with combi steam cooking
Starting out with a steam oven can make you feel like you have to learn to cook all over again.
Between understanding the oven's settings and figuring out how steam affects different types of foods and cooking times, we forget that at their simplest, steam ovens are, in fact, just another kind of oven. Our regular cooking rules still apply, and this is very true when it comes to cookware.
There are a few instances where it's wise to change the dish you cook in for combi steam vs a regular oven. Overall, though, I encourage you to just use common sense when it comes to what you select to cook food in. If you'd use it in your normal oven, it's probably good to use in your steam oven!
Below are the most common pans and baking dishes I keep on hand; these items are what I consider the best cookware to use in a steam oven. Many are the same things I've always used on my stovetop and in my regular oven, but we'll talk about which are best suited to the different methods of cooking that your steam oven offers.
This post may include affiliate links. As an Amazon Affiliate I earn from qualifying purchases (don't worry, it doesn't cost you anything!). Find out more about affiliate links.
Stainless steel pans for steam oven cooking (AKA Gastronorm pans)
Most steam ovens come as standard with a couple of lightweight stainless steel pans to get you started. Commonly, manufacturers will provide you with a solid and a perforated pan along with an oven rack..
Depending on your oven's make and model, you may find your pans conform to a range of standard-sized catering trays called Gastronorms. These widely available pans are designed for oven cooking and bain marie service (think those big pans of scrambled eggs from a hotel buffet breakfast and you'll get the picture). The larger European oven manufacturers are most likely to offer steam ovens which fit Gastronorm pans.
If your oven has been designed to fit these pans you're in luck; buying extra or replacement pans will be easy and inexpensive. A quick search for standard Gastronorm sizes will help you figure out which ones fit your oven, and the pans are readily available online and in catering stores.
Gastronorm pans are brilliant for steam oven cooking. So if you're thinking about the absolute best cookware to use in a steam oven, these are my pick. They're light to handle and conduct heat very quickly. Plus, they're stamped out of a single piece of metal so have no rolled edges to rust, or hard corners to trap food and water. They wash up easily (I just chuck them in the dishwasher) and are often my favorites for combi steam cooking. And when it comes to straight steaming I rarely use anything else.
I also like Gastronorm pans because they come in various depths, from 1/2″ right up to around 12″ deep. My favorite depths are around 2 1/2″ and 6″, which cover almost anything I want to cook and mean I don't have to keep many different sizes on hand. I use the shallower ones to steam rice or roast meat and vegetables, and a deep one to make a casserole or soup.
If your oven doesn't conform to specific Gastronorm sizes you'll likely still find a couple of the standard sizes fit, even if you have to set them on your oven rack rather than slotting them into the oven rails.
Enamel-coated pans for steam oven cooking
Many newer release steam ovens come with enamel coated oven trays, just like a regular oven. These have a lightweight metal core coated with enamel that's fired at a high temperature to make it tough and impermeable.
Enamel oven trays are great to use for both steaming and combi steam cooking. They have similar heat distribution qualities and 'washability' as lightweight stainless steel.
If your enamel pan has rolled edges, don't leave it sitting in a damp steam oven after cooking or it will rust. Similarly, dry these pans properly after washing.
The other types of enamel pans you'll commonly see are baking dishes and cast iron pots and pans; think Le Creuset or Staub. Like enamel oven trays, enamel baking dishes are fine for steam oven use but should be dried well after washing.
Enameled cast iron pots put some people off because of their weight. And while they are difficult to lift in and out of the oven, for some dishes they're hard to beat.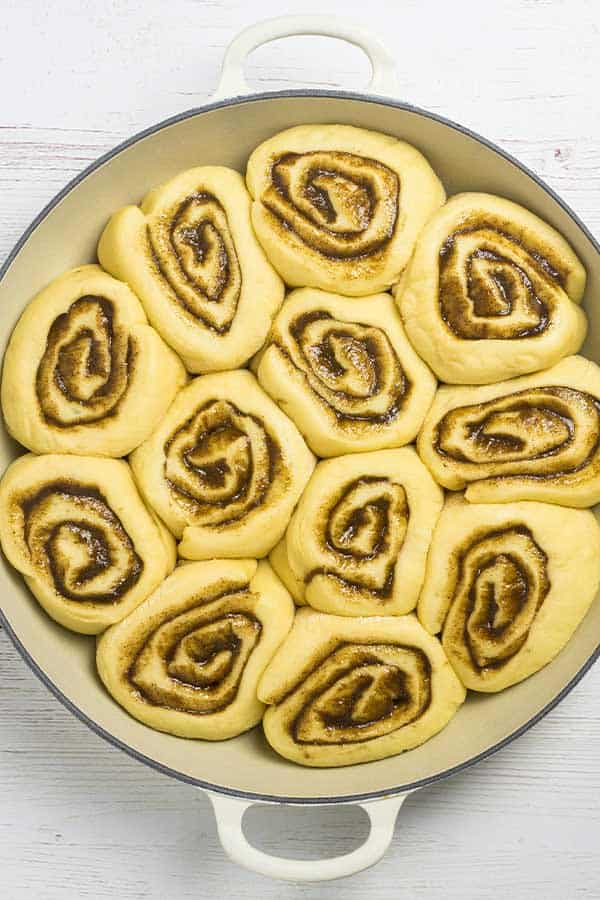 I love cast iron for cooking with my oven's combi steam settings. It gives extra heat conduction directly around the food for baking, sauteeing, roasting and braising. Plus you can go from oven to table with a nice looking serving dish.
I don't use heavier, enameled cast iron pots and pans for straight steaming. It takes a long time to heat these pots, which can affect the cooking time of steamed food.
Other metal pans and trays in a steam oven
It's fine to use just about any other metal pans or trays in your steam oven. Cake and muffin pans, roasting dishes and cookie sheets all fall into this category.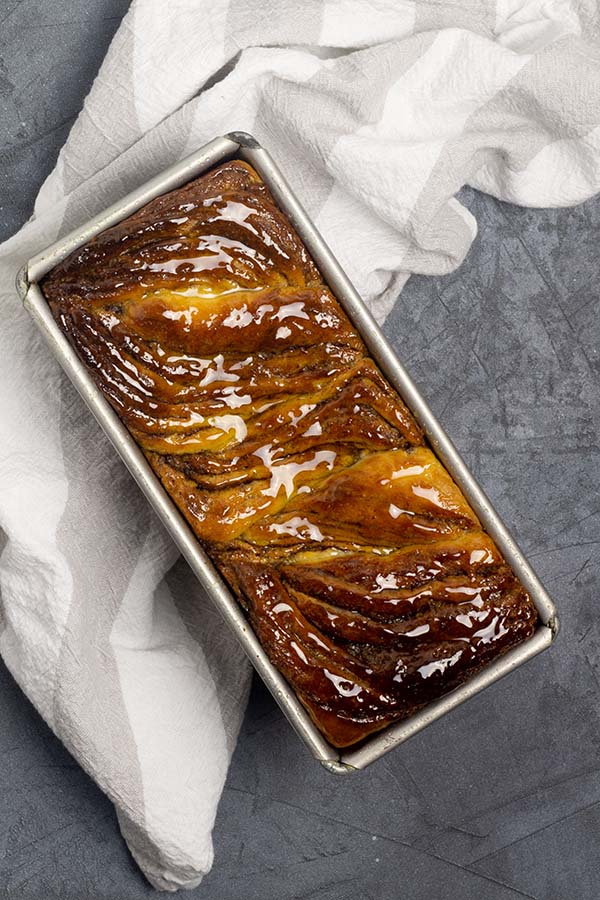 A lot of metal pans have rolled edges so they'll rust if used a lot on the steam setting, or if they're left in a switched off and damp oven. If you're mindful of this and clean and dry well after use, you won't have problems.
Do you want to use and love your steam oven more?

There are precious few resources to teach us HOW to use a steam oven in everyday cooking. I'm guessing that's why you're here! If you love cooking but aren't making the most of your combi steam oven, you aren't alone.

Steam Oven Insiders was created for you!

Benefit from my decade-plus of steam oven knowledge and training, delivered to your inbox twice monthly in bite sized, easy-to-implement tips and delicious recipes you'll actually want to cook. Insiders get access to every exclusive recipe and article within the members dashboard, so you'll never miss a thing.

Find out more right here
Glass and ceramic dishes for steam oven cooking
Heat-proof glass, ceramic and pottery dishes work well for combi steam cooking but aren't suited to most steamed foods.
Like heavy cast iron pots, glass and ceramic don't conduct heat fast enough to be reliable for quickly steamed foods like vegetables or fish. They are ok to use for steamed dishes which have a long cooking time, such as steamed puddings, braises and stocks.
If your everyday crockery is heat safe, it's fine to use for steaming and reheating leftovers. I use my everyday cereal bowls to steam single serves of oatmeal at breakfast time.
Plastic or silicone dishes and containers in a steam oven
Although there are a few types of plastic which are heat safe, as a blanket rule I don't use plastic in my steam oven. There are enough other options for cooking vessels that there's always an alternative to using plastic. There are heat tolerant plastics but it's a minefield to know exactly what's in any given container you want to use. I don't want to discover that something plastic I've used turns out to be leaching toxic compounds into my food.
The only exception to my no-plastic rule is occasional sous vide (bag) cooking with heat safe, food grade vacuum bags. In many cases I sous vide without a bag, but for some dishes it's essential. In those cases I practice safe, low temperature cooking under vacuum, using a bag from a reputable supplier.
Would you like my FREE Quick Start Guide to Your Steam Oven?
Start learning what (and how!) to cook using your oven's steam and combi steam settings, with my instant downloadable guidebook, full of tips, links and ideas.
Click here to get the Guide sent straight to your inbox
I hope this has been helpful in making you see that most of your current cookware will work just fine in your steam oven! Please comment below; tell me what your favorite cooking vessels are, and whether they work in your steam oven as well.