Roasted salmon is a tasty dinner in any event. But this? Roasted salmon with lemon and toasty, nutty burnt butter? It might just be my favorite salmon dish ever.
What you get with this easy steam oven salmon recipe is perfectly cooked, blushing salmon filets and crispy roasted baby potatoes. Plus a glorious rich sauce made only from a lemon and a little butter. Sound good? I thought so. Let's make it!
This post may include affiliate links. As an Amazon Affiliate I earn from qualifying purchases (don't worry, it doesn't cost you anything!). Find out more about affiliate links.
Cooking salmon in a steam oven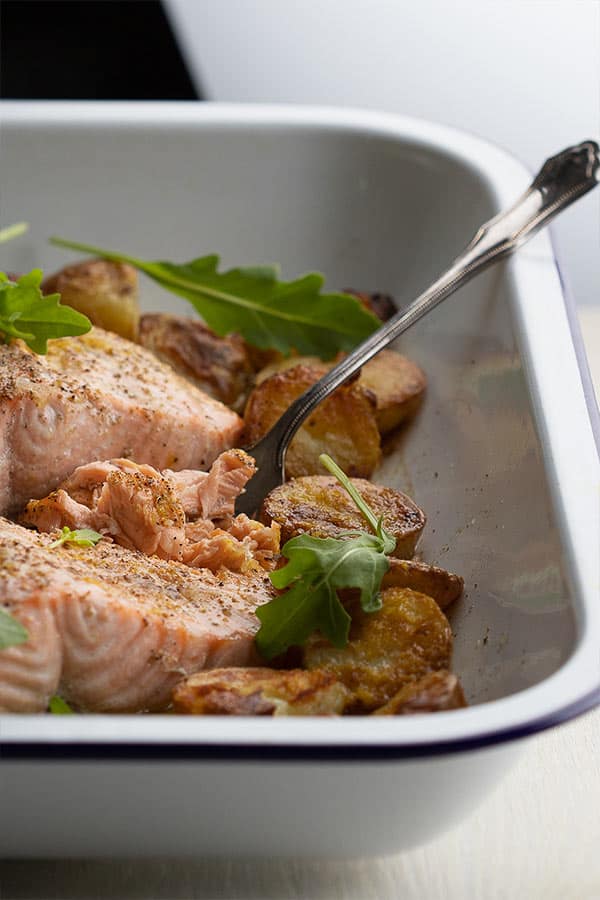 There are lots of things a convection steam oven or combi steam oven does well. And right at the top of the list is fish.
You might think of steam oven fish as a soft, gently steamed affair, and you can definitely go in that direction. My recipe for salmon with lemon, asparagus and potatoes will show you how.
But if you flip the settings to blazing hot with added steam, you'll get something entirely different. Fish that's just cooked and super moist inside, and beginning to frazzle on the outside. It's the best of both worlds, in the space of 6-8 minutes.
I like to make the most of the roasting temperature here and throw some halved baby potatoes into the pan too. The potatoes will be fudgy and perfectly tender with crispy golden bits on the outside. They take longer than the fish, but nowhere near as long as roasting potatoes in a regular oven.
Want more steam oven fish dishes? Try these.
Steam Oven Fish with Almond Crumbs and Sweet Potato Chips
Easy Fish Dinner with Miso Ginger Dressing
Steam Oven Salmon with Lemon, Asparagus and Potatoes
How to make the best roasted salmon
In a perfect world, the best roasted salmon would have a blushing pink center, tender flaky texture and an exterior with just a little browning on it. Lucky we live in a perfect steam oven world, then!
The full recipe and method is below, but here's a bit of a pictorial overview for you.
The first thing we'll do for this dish is preheat the oven and get the potatoes in. A little toss in olive oil, salt and pepper is all they need.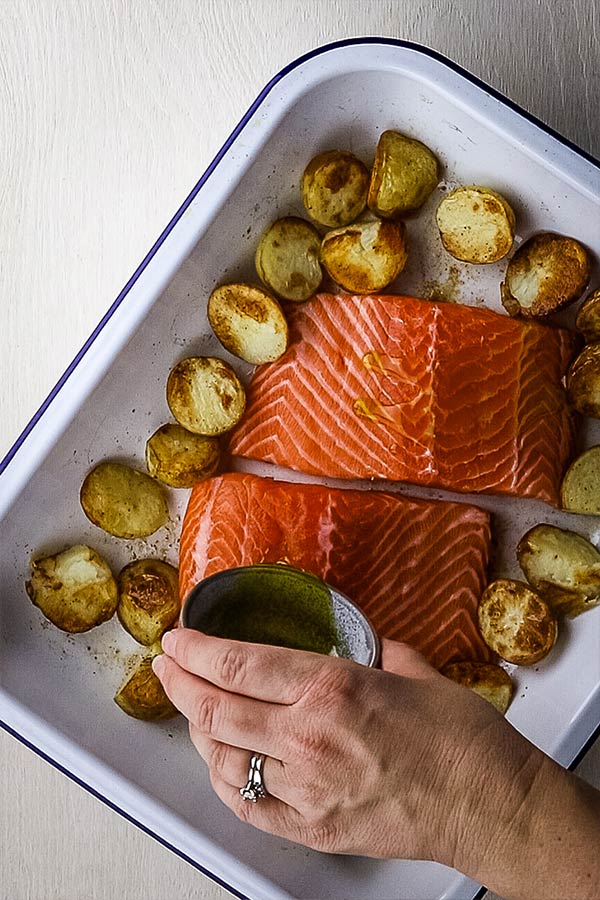 When the potatoes are all but cooked, take the pan out of the oven. Push the potatoes to the edges so you've got a salmon-sized gap in the middle, and put the fish in. Rub it with a little more olive oil, salt and pepper.
While the fish cooks, get onto the butter (and don't muck around, that fish is only going to take 6 to 8 minutes to cook through). Set it in a pot over medium high heat and let it melt, then bubble furiously until the milk solids turn golden. This will take a few minutes; watch carefully because it'll burn very fast once that color changes.
Do you want to use and love your steam oven more?

There are precious few resources to teach us HOW to use a steam oven in everyday cooking. I'm guessing that's why you're here! If you love cooking but aren't making the most of your combi steam oven, you aren't alone.

Steam Oven Insiders was created for you!

Benefit from my decade-plus of steam oven knowledge and training, delivered to your inbox twice monthly in bite sized, easy-to-implement tips and delicious recipes you'll actually want to cook. Insiders get access to every exclusive recipe and article within the members dashboard, so you'll never miss a thing.

Find out more right here
Tip the browned butter into a heatproof bowl to stop it cooking, and add your lemon zest and juice. There's your sauce!
You'll have just enough time left to toss some arugula/rocket or other salad greens with a little mustard and vinegar, and then it's time to serve up!
You can either serve the potatoes and salmon and then pour the butter sauce over each plate, or take my lazy approach and sauce all the salmon straight in the pan.
That's it. Super simple and if you aren't licking lemony, salty burnt butter off the plate at the end of this meal I don't even know who you are. Ha.
Happy steam oven cooking, see you here again soon.
Have you made and enjoyed this recipe? I'd love if you'd be kind enough to rate and review it via the stars in the recipe card, or leave a comment below! Ratings and reviews help other readers to find and know whether one of my recipes will suit them.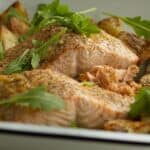 Print Recipe
Roasted Salmon with Lemon and Burnt Butter
Perfectly cooked salmon, crispy potatoes and the nuttiness of burnt butter. This dish is a winner all around!
Ingredients
1

lb

baby potatoes

halved

4

Tbsp

olive oil

divided in half

1

tsp

black pepper

coarsely ground

1½

tsp

flaky salt

divided in half

1.3

lb

salmon

600g 1lb 5 oz, skinless, in one piece or smaller fillets

5

Tbsp

salted butter

90g

1

lemon

large, zested and juiced

1

tsp

dijon mustard

1

Tbsp

cider vinegar

2

cups

arugula

rocket
Instructions
Preheat oven to 425°F/220°C, combi steam setting. If your oven has variable steam settings, choose 50%. If not, don't worry! Just set to combi steam at the correct temperature and the oven will work out the steam for you.

Combine the potatoes, 2 tablespoons olive oil and half the salt in a shallow pan. Toss well to coat and cook for 20 minutes.

1 lb baby potatoes,

1½ tsp flaky salt,

4 Tbsp olive oil

Remove the potatoes from the oven and push them to the edges of the pan. Add the salmon to the gap you've made in the center and rub with the remaining oil, pepper and remaining salt. Return the pan to the oven and cook until the salmon is just done to your liking, about 8 minutes.

4 Tbsp olive oil,

1 tsp black pepper,

1.3 lb salmon,

1½ tsp flaky salt

While the salmon cooks, make the burnt butter. Put the butter into a medium saucepan set over medium-high heat. Allow the butter to melt and then sizzle and bubble until the milk solids turn brown and it smells nutty. Be careful as it'll go from golden brown to black very quickly! As soon as it's done, pour into a heatproof bowl and stir in the lemon zest and a tablespoon of the juice.

5 Tbsp salted butter,

1 lemon

Mix the mustard and cider vinegar together and toss through the arugula/rocket.

1 tsp dijon mustard,

1 Tbsp cider vinegar,

2 cups arugula

When the salmon comes out of the oven, pour the burnt butter over the top and serve immediately, with the potatoes and dressed greens on the side.
Notes
I like to use skinless salmon for this recipe but if you can only get skin-on fish, that's fine. Cook it skin side down and people can simply flake the cooked salmon off the skin if they don't want to eat it. 
You can also make this dish with thick, white fish fillets instead of salmon. Choose something roughly the same thickness as salmon (about an inch to an inch and a half thick) if you want the cooking time to remain the same. 
Nutrition
Calories:
559
kcal
|
Carbohydrates:
23
g
|
Protein:
32
g
|
Fat:
38
g
|
Saturated Fat:
12
g
|
Polyunsaturated Fat:
6
g
|
Monounsaturated Fat:
17
g
|
Trans Fat:
1
g
|
Cholesterol:
119
mg
|
Sodium:
1074
mg
|
Potassium:
1290
mg
|
Fiber:
4
g
|
Sugar:
2
g
|
Vitamin A:
745
IU
|
Vitamin C:
38
mg
|
Calcium:
62
mg
|
Iron:
3
mg