The best mashed potatoes, in my humble opinion, are steam oven mashed potatoes.
Now, you might think to yourself, 'I've always boiled potatoes for mash and that's worked just fine'.
I hear you. Really I do.
But what if you could make one little tweak to cook your potatoes for mash using steam instead of boiling water, and have the best mashed potatoes you've ever made? It's a big promise, but I'm going to make it, and stand by it.
This post may include affiliate links. As an Amazon Affiliate I earn from qualifying purchases (don't worry, it doesn't cost you anything!). Find out more about affiliate links.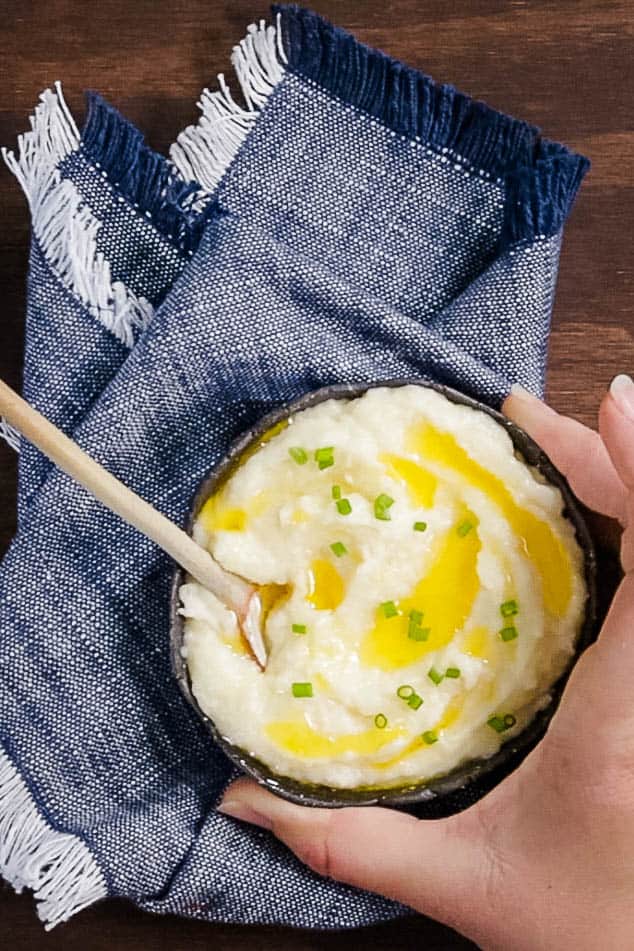 Why should you steam potatoes for mash?
I've talked before about the benefits of steam when it comes to cooking foods evenly and fast.
Here's the thing about potatoes in steam: they will NOT cook faster than in boiling water. In fact, they'll take roughly twice as long. So why would you do it?
One word: texture.
The texture of steamed potatoes is even and soft and the starches mostly stay in the potato, instead of leaching out into the cooking water. That means mash with amazing, silky texture and plenty of mouthfeel (I know, fancy word, but I can't think of a better one to describe it!). Mashed potato that tastes really…potato-y.
Does it matter what type of potato for steam oven mashed potatoes?
In theory you can use any kind of potato for mash. But the best are floury potatoes rather than waxy ones. They make fluffier mash that takes up any butter, cream or milk you add much more easily, so they're always my preference.
Here's a quick guideline for different parts of the world, if you aren't sure on waxy potatoes vs floury potatoes:
USA: Russets; they're easy to get and mash up to a fluffy consistency. Yukon Gold are also good, making a more dense and creamy mash that's a little yellower than Russet mash.
Australia: you know those cheap, dirt-covered potatoes you can buy in supermarkets? They're Sebagos, and they're brilliant all-rounders. They're my favourite for mash, followed by Royal Blues (though blues make a much denser mash).
UK: Maris Piper are by far the best mash potatoes I've used in the UK.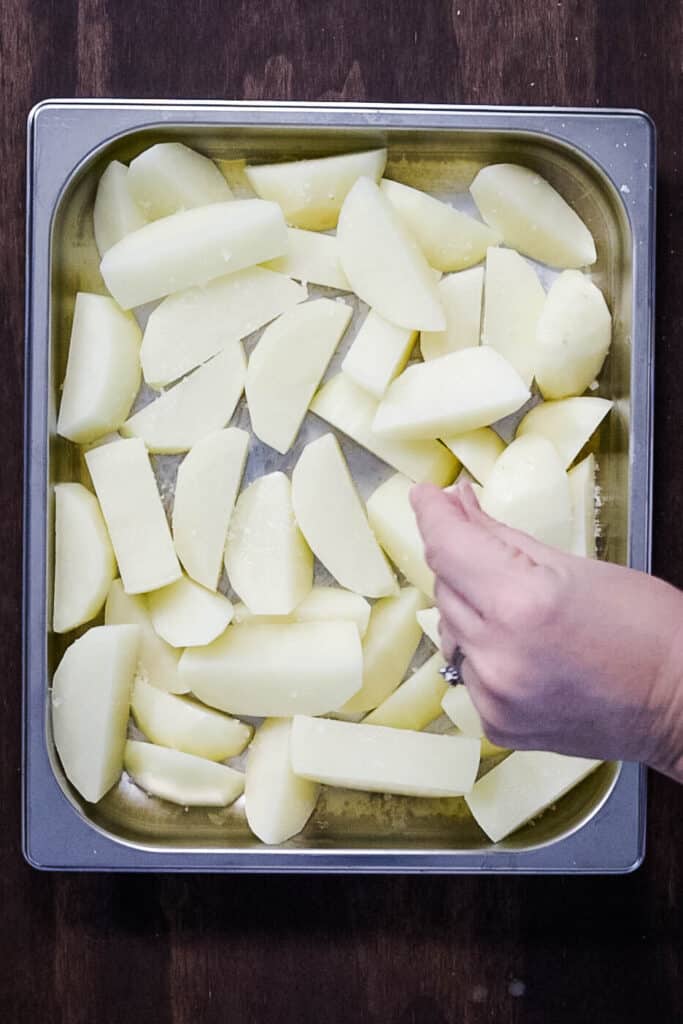 Butter, cream or milk for steam oven mashed potatoes?
You could use all three! In the interests of restraint, though (ha), I go with butter and milk for 'normal' mash, or butter and cream for special occasion mash (Christmas or a dinner party).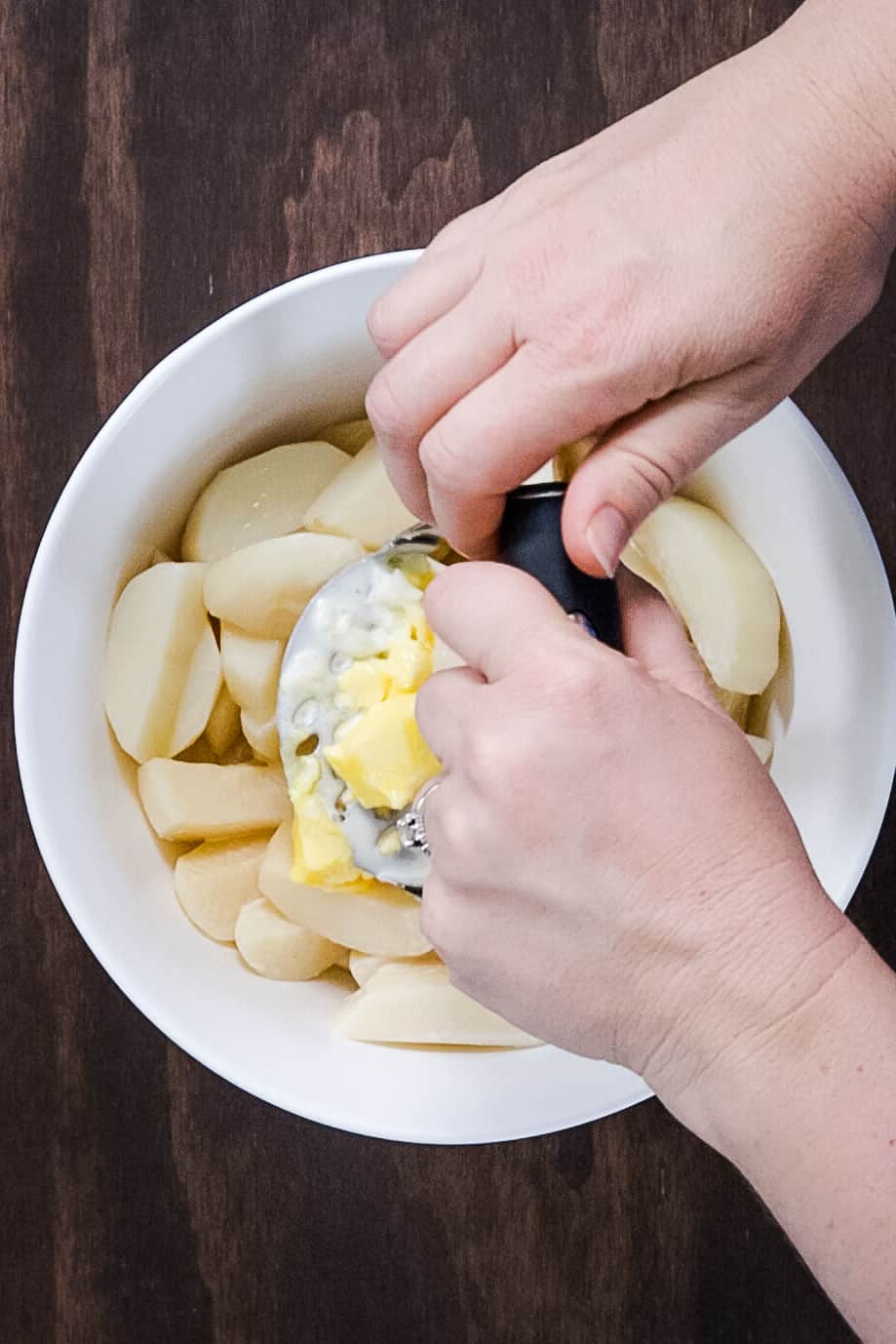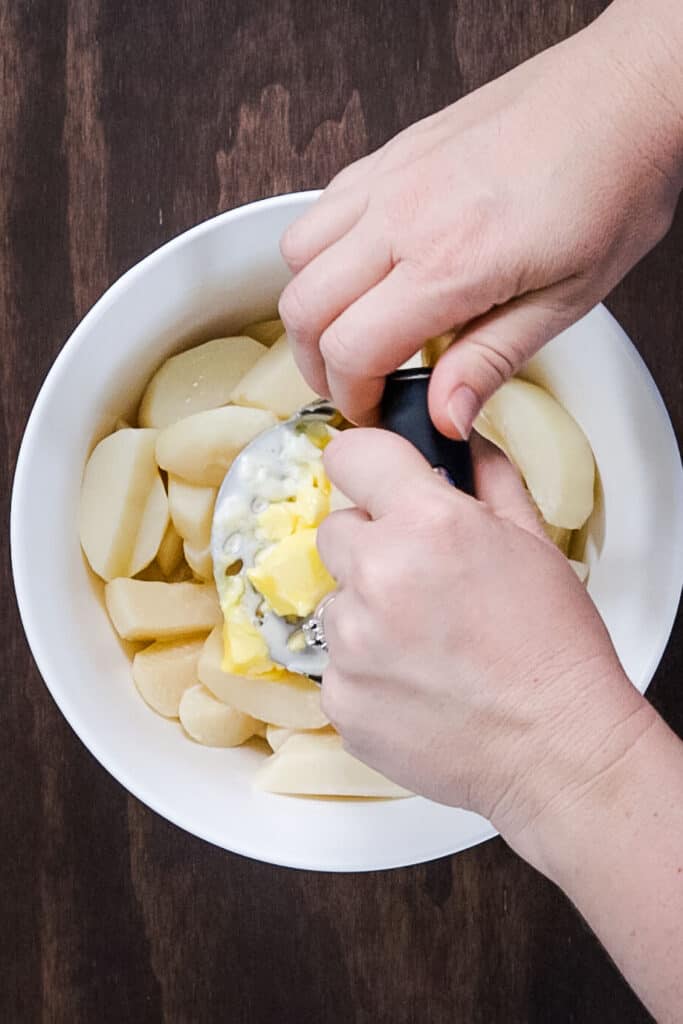 I sometimes use olive oil instead of butter in mashed potatoes, depending on what I'm serving them with. It definitely adds a different, stronger flavor. My kids and husband are not fans but if you love the taste of olive oil then give it a try.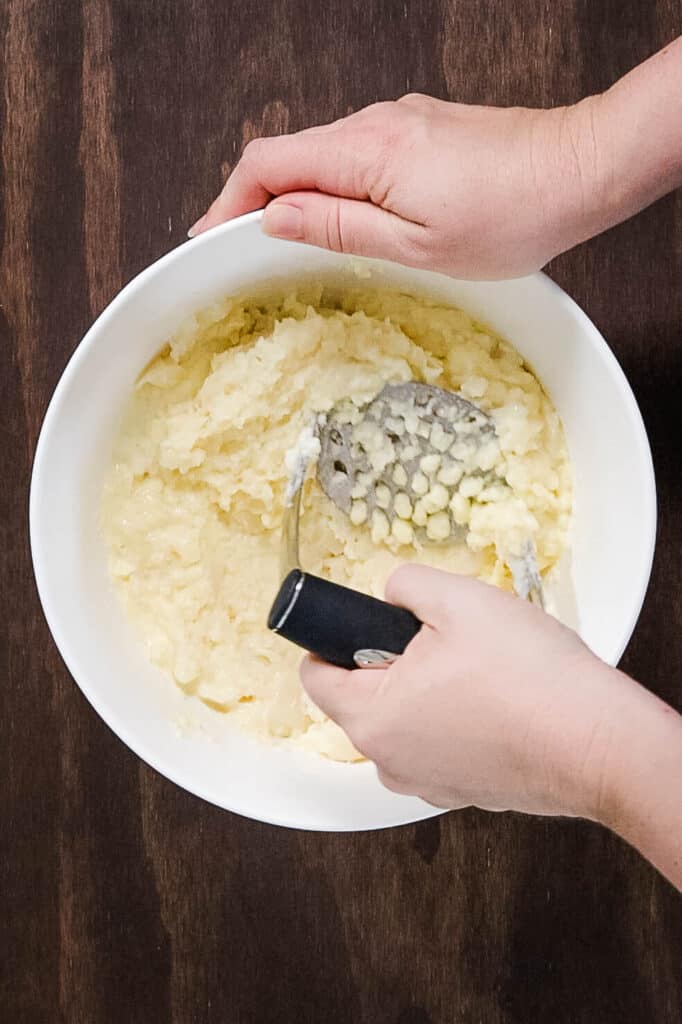 You can add all sorts of flavorings and extras to mash. Feel free to do so if that floats your boat, but around here we like it plain, creamy and unadulterated apart from a sprinkle of chives.
I hope you'll try steam oven mashed potatoes soon; they're so simple and I'm betting you'll never go back!
Happy steam oven cooking, see you here again soon.
Have you made and enjoyed this recipe? I'd love if you'd be kind enough to rate and review it via the stars in the recipe card, or leave a comment below! Ratings and reviews help other readers to find and know whether one of my recipes will suit them.
Print Recipe
Steam Oven Mashed Potatoes
Steamed potatoes make the best mash, and this is my go-to recipe. It's simple, no fuss and works every single time, without the mess of boiling starchy potato water!
Ingredients
Garnishes
3

Tbsp

unsalted butter

melted, optional

1/2

bunch

chives

chopped
Instructions
Put potatoes into a lightweight stainless steel pan and season with salt. Put into your cold oven and set to 212°F/100°C, steam setting (100% humidity). Cook for 25-30 minutes or until the potatoes are very soft. You should be able to easily break them with the back of a spoon.

3 lb potatoes,

1 tsp salt

When the potatoes are cooked, drain off any excess water and tip them into a deep bowl or pan.

Add the diced butter and milk or cream, then mash well. If your mash is too stiff, add a couple of extra tablespoons of warmed milk to loosen it. Season with extra salt if necessary.

4 Tbsp unsalted butter,

1/3 cup milk,

1/2 tsp salt

Transfer to serving bowl and drizzle with melted butter. Sprinkle with chives and serve hot.

3 Tbsp unsalted butter,

1/2 bunch chives
Notes
Let's talk about potato varieties for a moment. Floury and all rounder potatoes work best, so:
– in Australia, those cheap dirt-brushed potatoes (Sebago) are perfect all rounders. Yes, you'll have to wash them but it's worth the quick extra step for great mash.
– in the USA, Russets are a great choice
– in the UK I'd use Maris Pipers.
Please, please, for the love of all that is good and potato-y, DO NOT use a whisk, stick blender, food processor or blender for this recipe. A low-tech hand held potato masher is all you need. Mashed potatoes will quickly go from perfect and creamy to gluey and tough using appliances.
Want that incredibly silky smooth mash you get in restaurants? It can be done if you care enough to make extra effort! To make silky restaurant potatoes, push your finished mash through a sieve to get out any chunks. I can never be bothered but if it's a special occasion and you want to, go for it. The other key to restaurant potatoes is a ratio of about 1:1 potatoes to butter. There's a reason that mash tastes like heaven, and a reason I tend to save it for dining out! 😉
For a middle ground mash that's still very very smooth, buy a potato ricer. You put the cooked potatoes into the ricer a few bits at a time and push them through, kind of like a giant garlic press. Then mix in the butter and milk. I have a ricer and like it, but if I'm honest it only comes out once or twice a year. If you LOVE mash (or homemade gnocchi) it might be worth the investment, but do think about where you'll store it before buying one.
How to keep your mash warm: this is easy when you have a steam oven. Before you garnish, pop the entire serving bowl into your steam oven on a keep warm setting (a maximum of 175°F/80°C, 80-100% humidity). It'll keep like that for a good couple of hours, just take out and garnish to serve. 
How to reheat your mash: as per the keeping warm directions above, although you may wish to raise the temp to 195°F/90°C so they don't take so long to heat through. I like to give the potatoes a good stir after reheating to make sure the consistency hasn't become too thick. 
Nutrition
Calories:
300
kcal
|
Carbohydrates:
40
g
|
Protein:
5
g
|
Fat:
14
g
|
Saturated Fat:
9
g
|
Polyunsaturated Fat:
1
g
|
Monounsaturated Fat:
4
g
|
Trans Fat:
1
g
|
Cholesterol:
37
mg
|
Sodium:
602
mg
|
Potassium:
980
mg
|
Fiber:
5
g
|
Sugar:
2
g
|
Vitamin A:
449
IU
|
Vitamin C:
45
mg
|
Calcium:
48
mg
|
Iron:
2
mg
Do you want to use and love your steam oven more?

There are precious few resources to teach us HOW to use a steam oven in everyday cooking. I'm guessing that's why you're here! If you love cooking but aren't making the most of your combi steam oven, you aren't alone.

Steam Oven Insiders was created for you!

Benefit from my decade-plus of steam oven knowledge and training, delivered to your inbox twice monthly in bite sized, easy-to-implement tips and delicious recipes you'll actually want to cook. Insiders get access to every exclusive recipe and article within the members dashboard, so you'll never miss a thing.

Find out more right here