Crispy roasted potatoes are one of those dishes that can be quite elusive until you have a few cooking tricks under your belt.
I mean, it's not hard to roast a potato but to roast a potato so it's crunchy and glass-like on the outside but fluffy and perfectly soft through to the center? That's a little difficult.
Today I'll show you the best method I know to roast really crispy potatoes, AKA the best roast potatoes.
This post may include affiliate links. As an Amazon Affiliate I earn from qualifying purchases (don't worry, it doesn't cost you anything!). Find out more about affiliate links.
What makes the perfect roast potatoes?
My perfect roast potatoes come from a two-step method. I actually learnt this method from my host mother in South Africa when I was on student exchange as a 17 year old.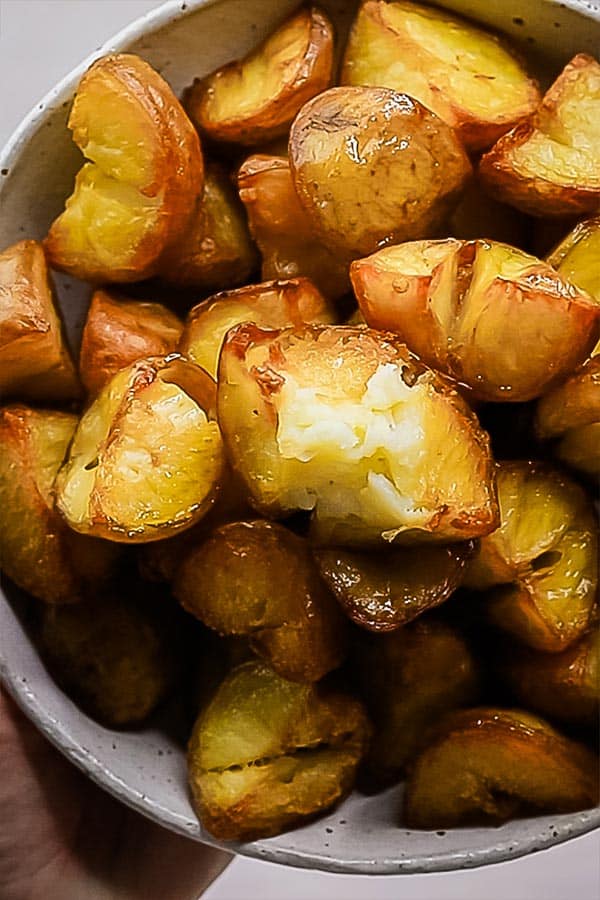 I've tweaked my lovely host mom's method to use my steam oven, so it's not exactly identical. But the principle is the same. She did not have a steam oven, and probably to this day doesn't even know what one is, but she made the best roast potatoes I have ever eaten in my life.
Happily, with my steam oven, I've been able to recreate her potatoes much more easily and with really predictable results.
The secret?
Steaming and then roasting.
Oh, and plenty of fat.
That's three secrets, isn't it? Never mind. Just know that these are going to be the perfect roast potatoes. The ones that everyone you know talks about and asks for.    
Are you enjoying this post? Try these too!
Why steam potatoes if you're just going to roast them afterwards?
When you roast a potato, steaming it first cooks the starches and gives you a really fluffy interior.
Steaming also means you're pre-cooking the potato, making the edges soft and expanding the surface area for maximum crispiness. The slightly crumbly, imperfect edges on your already-soft potatoes soak up all the fat you toss them in and turn super crispy in the oven.
Tips for the best roast potatoes
The first tip for the best roast potatoes is to steam them well; you want them to be pretty much cooked all the way through in this step.
If, during steaming, your pan has accumulated a little water, drain that off and then leave the potatoes for a couple of minutes to let any excess moisture that's on them evaporate away. Dry steamed potatoes are what we're looking for, because they'll take up the oil or fat really well during roasting and become crunchy instead of leathery.
Next you want to rough up the corners and the edges of each piece. You can do this by just shaking the pan of steamed potatoes, knocking the pieces together almost like you're trying to bruise them. The other way to do it is by lightly squeezing and crushing each potato in your hand after steaming. You choose the way that works for you, both are good but sometimes it depends on how floury your potatoes are as to how well the shaking-the-pan method works.
Now comes the most critical tip. We're going to add more fat than seems holy. Stay with me, you'll thank me later. I generally go with olive oil, but duck fat makes a truly worthy celebration potato (is there such a thing? I think so). Trust me when I say plenty of fat is the difference between a so-so roasted potato and a truly great crispy roasted potato.
The final tip is not to be tempted to stir or move the potatoes around in the pan until close to the end of roasting. What you need is for them to sit there and form a really good crust while they cook. The crust is how you get the crispiness of a finished potato; you don't want to tear it off and leave it in the bottom of the pan.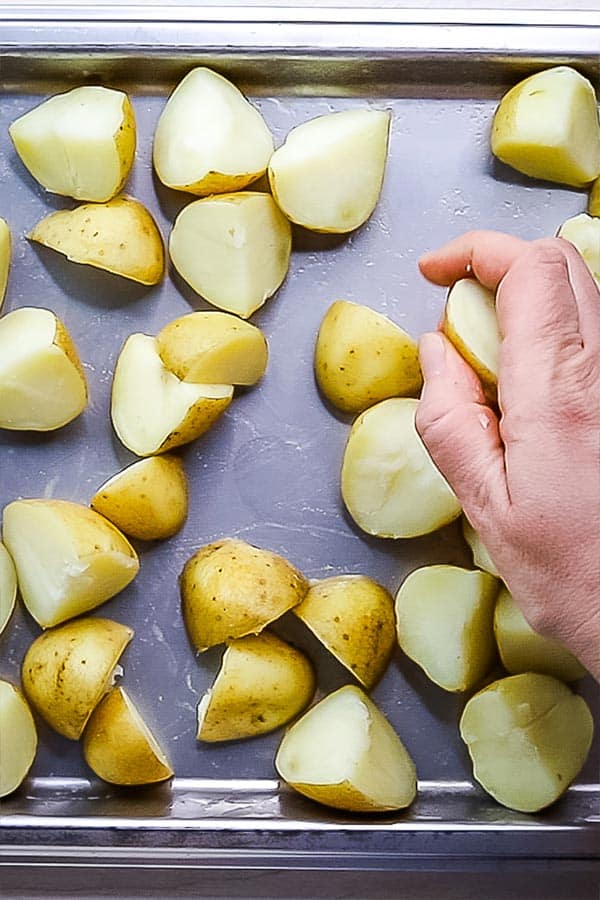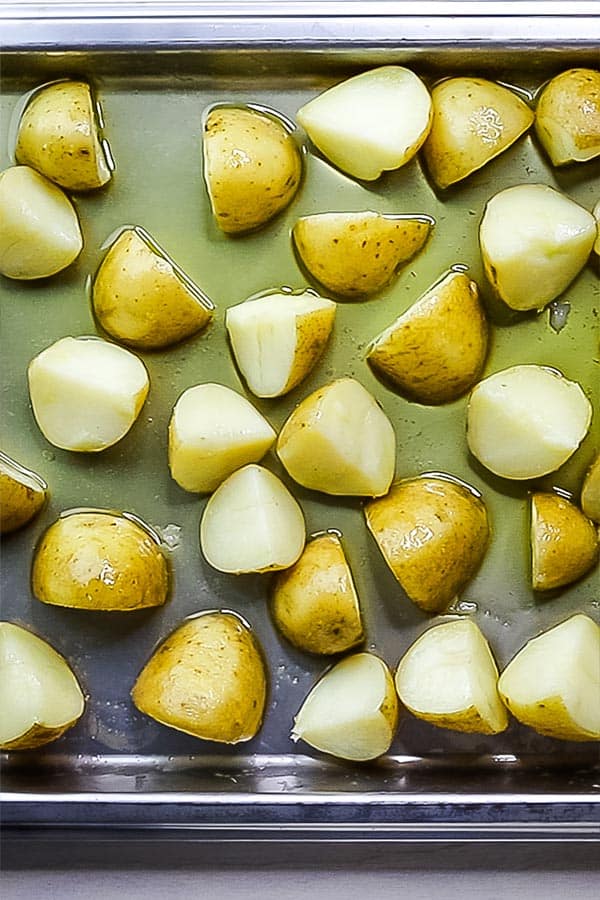 Do you want to use and love your steam oven more?

There are precious few resources to teach us HOW to use a steam oven in everyday cooking. I'm guessing that's why you're here! If you love cooking but aren't making the most of your combi steam oven, you aren't alone.

Steam Oven Insiders was created for you!

Benefit from my decade-plus of steam oven knowledge and training, delivered to your inbox twice monthly in bite sized, easy-to-implement tips and delicious recipes you'll actually want to cook. Insiders get access to every exclusive recipe and article within the members dashboard, so you'll never miss a thing.

Find out more right here
Frequently asked questions about crispy roasted potatoes
How small should I cut potatoes for roasting?
For a good balance between fluffy insides and crunchy roasted outsides, I like to cut my potatoes into pieces about 1 ½ inches (4cm) diameter.
Do I need to peel potatoes before roasting them?
Nope! Peeling, or not, is totally up to you. I don't usually peel because I really enjoy the texture difference between the skin and the flesh. The skins will crisp up nicely during roasting, but won't ever get as crunchy as the cut flesh of the potatoes. So if maximum crunch is what you're after then peeling is the way to go.
Would you like my FREE Quick Start Guide to Your Steam Oven?
Start learning what (and how!) to cook using your oven's steam and combi steam settings, with my instant downloadable guidebook, full of tips, links and ideas.
Click here to get the Guide sent straight to your inbox
Can I boil potatoes for roasting instead of steaming them?
Sure. I steam them because I have a steam oven and it means I can do the entire dish using one pan and one appliance. But if you'd prefer to boil your potatoes then go ahead. Potatoes cut into roughly 1 ½ inch pieces (4cm) take about 12 minutes to par-boil.
The key to boiling, if you do it, is to make sure you drain the potatoes very well and let the excess moisture evaporate. You can do that by putting the drained potatoes back into the pot and carefully tossing them over a low heat to cook out excess water. This will roughen the edges at the same time, which is a bonus.
What is the best fat to use for crispy roasted potatoes?
I most often use olive oil, because I have it on hand and it makes lovely crunchy potatoes. If I'm making crispy roasted potatoes for a special occasion I'll use duck fat for a deep savory flavor and glassy crunch.
If you'd like to try another kind of oil, coconut oil also works well. I don't love the taste but plenty of people do!
When should I salt my potatoes for roasting?
This is a little contentious. If you're roasting potatoes start-to-finish in the oven, you should always salt them after cooking. This is to avoid drawing out moisture while they cook and making the outer layer leathery. With my steam-then-roast method, the potatoes will have lost a lot of their moisture before the roasting step, so you can salt them when you add the fat. I find this gives a good salty hit to the potato flesh without sacrificing crunchiness.
Do let me know in the comments if you've tried my crispy roasted potatoes, and if you enjoyed them! They're easy once you know the little tricks to make them super crunchy, and you'll win with just about everyone at the table.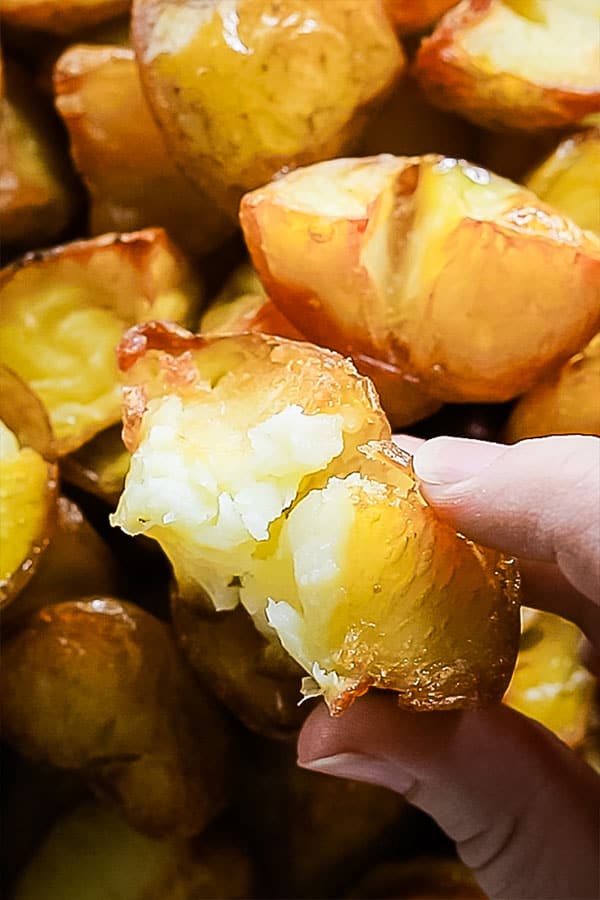 Have you made and enjoyed this recipe? I'd love if you'd be kind enough to rate and review it via the stars in the recipe card, or leave a comment below! Ratings and reviews help other readers to find and know whether one of my recipes will suit them.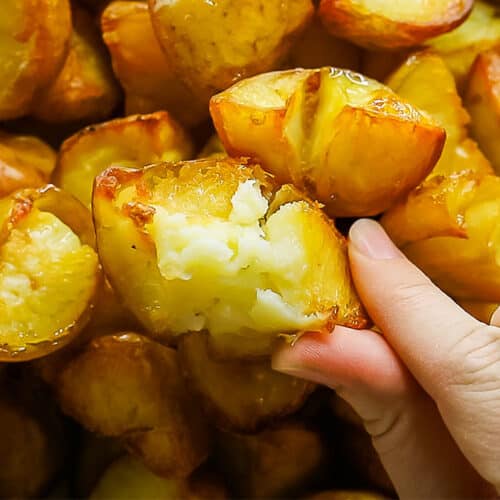 Print Recipe
Crispy Roasted Potatoes
The best roasted potatoes recipe is a two-step affair, and you can use your steam oven to make the first step easy! Steamed then roasted, your potatoes will be impossibly tender inside and shatteringly crisp outside.
Ingredients
Instructions
Steam the potatoes
Preheat your oven to 212°F/100°C, steam setting (100% humidity). If you don't have a steam oven, you can boil your potatoes in this step instead of steaming.

Peel your potatoes if you want to (although you certainly don't have to – I actually love a roasted potato with skin!). Depending on the size of your spuds, cut them in halves or quarters – you want each piece to be roughly 1.5-2 inches in diameter.

Put the potatoes in a single layer in a stainless steel pan and put the pan into your oven. Steam for 30 minutes, until they're tender when pierced with a knife (if boiling, they will only need around half this time).
Roast the potatoes
Remove the steamed potatoes from the oven and change the setting to 350°F/180°C, convection setting (no steam).

While the oven heats, drain the potatoes of any water and return them to the tray. Give them a good shake around to crush the edges slightly, this will help make them extra crispy later.

Pour the oil over the shaken-around potatoes and season with the salt. Toss to make sure the potatoes are well coated.

1/3 cup olive oil,

1 1/2 teaspoons fine salt

Return the pan to the hot oven and roast the potatoes for 45 minutes to an hour, until they're golden, crisp and crunchy on the outside. You can give them a stir towards the end of cooking, but don't be tempted to do so until they've formed a really good crust, or you'll lose all the crunchy bits to the bottom of the pan!

If you dare, season the potatoes with extra flaky salt, then pile them into a warmed bowl and serve.
Notes
These are quite forgiving when it comes to timing. If you're making other parts of a meal and your potatoes are done too early, just lower your oven temperature to 300°F/150°C and leave them there. They'll be fine for another 20-30 minutes while the rest of the meal comes together.
Duck fat potatoes are a really special treat – if you can get some, use it in place of the olive oil for an amazing, savory depth of flavor.
Nutrition
Calories:
246
kcal
|
Carbohydrates:
20
g
|
Protein:
2
g
|
Fat:
18
g
|
Saturated Fat:
3
g
|
Polyunsaturated Fat:
2
g
|
Monounsaturated Fat:
13
g
|
Sodium:
879
mg
|
Potassium:
478
mg
|
Fiber:
2
g
|
Sugar:
1
g
|
Vitamin A:
2
IU
|
Vitamin C:
22
mg
|
Calcium:
14
mg
|
Iron:
1
mg