This post includes affiliate links. Find out more about affiliate links and how they help this site.
When you bake cannelloni in a combi steam oven, the very top bits of pasta still get a little toasty and crisp, but the pasta and filling cooks so much faster than in a regular oven. It also has a lovely silky texture that I otherwise only get by letting the prepared dish sit overnight (and I don't know about you, but I'm not often organised enough to spend the better part of an afternoon making something, then not eat it until the following evening).
Cannelloni is definitely one of those dishes that's a labour of love.
It's not the fastest thing to make, but it's universally popular and freezes amazingly well. It doesn't take much longer to double or even triple the batch so you've got extra for another meal, so from that perspective it's worth taking a bit of time for.
It's always a hit at my table, with one kid a huge fan of the filling (although not the pasta?!) and the other vacuuming up as many 'calley-o-neez' as I'll let him eat in a sitting.
Ricotta in cannelloni
I can't stress enough the importance of using a decent ricotta cheese in this recipe. The amount of effort you'll put into making the filling, assembling and then baking the dish is wasted on the 'smooth' supermarket ricotta, which will give your cannelloni a strange grainy texture without the lovely little curds of cheese flecked through the filling.
You can usually buy firm, or drained, ricotta cheese from Italian delicatessens, and sometimes from the deli section of the supermarket. That works well, but if I have time my preference is for fresh, undrained ricotta in a tub, left in a sieve overnight in the fridge. Draining the cheese yourself means it's firm enough to give some body to the cannelloni filling, but soft enough to mix easily.
Frozen spinach all the way
While I encourage the best ricotta you can find, I'm pretty ok with frozen spinach in this dish. I know, I'm a girl of many contrasts. You absolutely are welcome to cook fresh spinach leaves in your steam oven, then squeeze them out and finely chop, but it's one of those kitchen jobs I've never liked so I'll happily avoid it wherever possible. A pack or two of defrosted pre-chopped spinach, squeezed out very well over a strainer, is the way I generally go.
The best pasta for cannelloni
I've used the dried cannelloni tubes in the past, but my go-to method for assembling cannelloni involves fresh egg pasta sheets, the ones usually used for lasagne. They cook much faster than dried pasta, and I honestly prefer the texture over the dried. The egg gives a little elasticity and bite that the straight-up wheat pasta doesn't have once it's been soaking in the cannelloni sauce for a while.
The quickest way I know of to put everything together is to lay out all the pasta sheets, spoon my filling into a large, wide-nozzle piping bag (or even just a large zip-lock bag with the corner snipped off), and squirt lines of the filling over the pasta before rolling up. The piping bag trick works well with dried pasta tubes, too, if that's your thing.
Bechamel sauce or just tomato?
Most often, when I make cannelloni I simply cover it with tomato puree that's been simmered with a bit of onion. It's easy and very, very good, and that's what I've written in today's recipe. Keen observers might notice the photos in this post seem to show a layer of béchamel sauce underneath the cheesy top, though, and you'd be right.
Do you need béchamel sauce in your cannelloni? No. Is it luxurious and over the top? Absolutely, and if you want to go to the trouble of making a very basic béchamel I don't think anyone you serve it to will complain. Just know that I most often don't bother, and no-one's complained about that either. I'm not giving a recipe for it because, well, I don't use one, but for those who are keen you can find easy instructions for béchamel sauce over at The Cook's Pyjamas. Double the quantity to fit the recipe I've given below.
The principle of steam oven cannelloni can be adapted to lots of different baked pasta dishes – think baked ziti, lasagne and giant stuffed shells – so I hope you'll give it a go. If you mark Lent and have given up meat for the period, this might just be the perfect week to try it out.
Happy steam oven cooking, see you here again soon.
Do you want to use and love your steam oven more?

There are precious few resources to teach us HOW to use a steam oven in everyday cooking. I'm guessing that's why you're here! If you love cooking but aren't making the most of your combi steam oven, you aren't alone.

Steam Oven Insiders was created for you!

Benefit from my decade-plus of steam oven knowledge and training, delivered to your inbox twice monthly in bite sized, easy-to-implement tips and delicious recipes you'll actually want to cook. Insiders get access to every exclusive recipe and article within the members dashboard, so you'll never miss a thing.

Find out more right here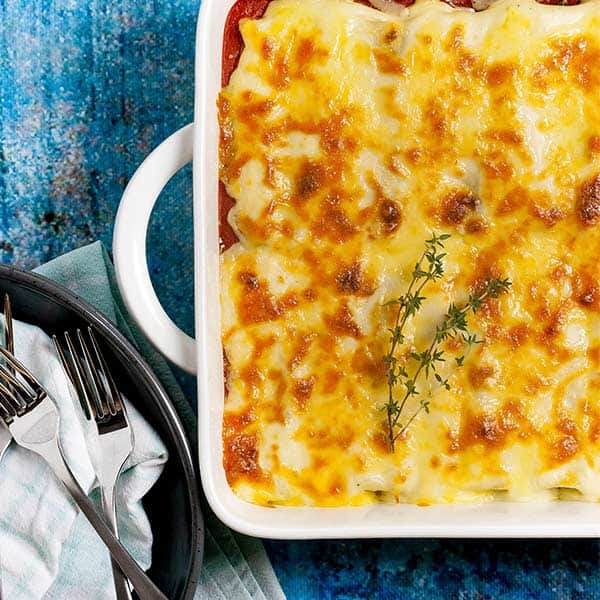 Print Recipe
Cannelloni with Spinach, Ricotta and Mushrooms
Bursting with ricotta, spinach and earthy mushroom flavors, this pasta dish is worth every bit of effort. Cooking it in a steam oven keeps the pasta really tender while still browning and crisping the cheesy top.
Ingredients
1

onion

very finely chopped

48

oz

tomato passata

equivalent to 2x24oz (700g) bottles of sauce/puree

3

tbs

olive oil

2

cloves

garlic

minced

1.1

lb

mushrooms

roughly sliced, button mushrooms are fine although field or cremini will give more depth of flavor

2

sprigs

thyme

leaves picked

1.1

lb

frozen spinach

thawed and excess water squeezed out

2.2

lb

ricotta cheese

drained overnight in the fridge (or use around 800g, just under 2lb, of firm/drained ricotta instead

3.5

oz

parmesan cheese

grated

black pepper

to taste

16

sheets

fresh pasta

each measuring about 6"/15cm square (if you're in Australia, this is equivalent to about a supermarket packet of fresh lasagne sheets, with each long sheet cut in half to make a square)

5

oz

mozzarella cheese

shredded, use more if you like an extra cheesy top on your cannelloni
Instructions
Make the filling
Heat a saucepan over medium heat and add half of the oil and the onion. Saute until the onion is soft but not coloured, then add the tomato passata, bring to a simmer and cook for 5-10 minutes. Remove from heat and set aside.

Preheat the oven to 400°F/200°C, combination steam setting. If you have variable steam settings, select 30% (if not, don't worry! Just set to combi steam at the correct temperature and your oven will take care of the humidity.

Put the remaining oil, garlic, mushrooms and thyme into a shallow baking tray and mix to combine. Put in the preheated oven and cook for 15 minutes, until the mushrooms are tender and most of the liquid has evaporated (a little liquid is ok). Remove the tray from the oven, stir through the spinach and season well with pepper. Turn the oven off for now.

Put the spinach mixture into a food processor, or use a stick blender, and pulse until the mushrooms are roughly pureed. You want to leave a little texture but no huge chunks. Set aside for 10-15 minutes to cool slightly.

Stir the ricotta and parmesan through the spinach and mushrooms and check the mixture for seasoning. You may wish to add a little salt here but I don't usually find I need it. Put the mixture into a large piping bag or zip-lock bag (you may need to do it in two batches). If you're using a zip-lock, snip the corner off to give an opening of about 2cm (5/8").
Assemble and bake the cannelloni
If you want to bake your cannelloni straightaway, turn the oven back on to the same settings as given in step 2. Spread about a third of the tomato and onion over the bottom of a large baking dish or two smaller dishes. You don't need much, just a vague slick to stop the pasta sticking to the dish.

Lay the pasta sheets across a clean benchtop and squirt a roughly 2.5cm (1") thick line along the closest edge of each piece. Roll each one up into a tube and lay them, fairly snug but not too packed-in, into the baking dish.

Pour the rest of the tomato and onion over the top of the tubes, making sure you cover all the pasta properly. You might need to spread it out with a spoon to get right to the edges and into the corners. Top with the shredded mozzarella cheese, then bake until the pasta is tender and the cheese golden brown, about 25 minutes. Serve hot.
Notes
This spinach, ricotta and mushroom version of cannelloni is a favourite in our house, but you can use any filling you like with the method. I love a roasted pumpkin and ricotta version with fried sage leaves (though no one else in my family does!), or a braised meat version for a lovely, if rich, change.
These quantities make a lot of cannelloni. I'm happy with that because it's a bit time consuming and I like having extra. You can refrigerate or freeze the prepared, uncooked dish – it'll keep for a day or two in the fridge and up to 3 months in the freezer, as long as it's well covered.
Nutrition
Calories:
710
kcal
|
Carbohydrates:
72
g
|
Protein:
39
g
|
Fat:
31
g
|
Saturated Fat:
16
g
|
Cholesterol:
147
mg
|
Sodium:
534
mg
|
Potassium:
1487
mg
|
Fiber:
6
g
|
Sugar:
11
g
|
Vitamin A:
9004
IU
|
Vitamin C:
24
mg
|
Calcium:
625
mg
|
Iron:
8
mg
Over to you – if you try this recipe I'd love to know about it! Please share your pictures with me on Facebook or tag them #whatsinthesteamoven on Instagram.
Would you like more Steam and Bake recipes and steam oven inspiration? Join the mailing list! When you sign up, you'll get an invite to the exclusive subscribers-only Combi Steam Cooking Facebook group, where you'll find more than 800 people from around the world, at all stages of their combi steam journeys, and with many different brands of oven. It's a friendly, helpful space to learn and share with one another, and I'm always in there answering questions and sharing tips.
And if you're after more delicious meat-free combi steam dinner recipes, the vegetarian index page has several. Try the whole roasted cauliflower, the easy loaded sweet potatoes (omit bacon for meat-free), or the red rice, quinoa and pumpkin salad.