Meatball bowls! With Chickpeas! This salady, proteiny bowl of goodness is such a fantastic dish. You can prep most of it ahead of time and change up the ingredients to make all kinds of flavor variations. That definitely makes it my kind of recipe.
This post may include affiliate links. As an Amazon Affiliate I earn from qualifying purchases (don't worry, it doesn't cost you anything!). Find out more about affiliate links.
What is a meatball bowl?
Meatball bowls are my collective term for pretty much any mix-and-match meal involving – you guessed it – meatballs.
I LOVE meatballs, because they're so flexible and so easily varied. They're also pretty healthy and everyone in my house eats them. That alone is a win. You can switch ground pork for beef, chicken or turkey (or a mixture), and season the meatballs any way you like.
Add beans or chickpeas (canned or home cooked, whatever's easier), salad vegetables and dip or cheese, and you've got an insanely delicious and nutritious meal that appeals to everyone.
What are the main ingredients?
You'll need to make or buy some meatballs for this dish. I make my own in large batches and freeze them, but there are some excellent bought options around too.
When you make your own meatballs you have control over the flavors and seasoning, which I love. And if you bake them in a steam oven they stay lovely and moist. For this recipe I used earthy spices like cumin, coriander and smoked paprika, but a ready-made spice mix like Cajun seasoning, lemon pepper or Italian herbs is perfect if you don't want to measure out so many separate ingredients.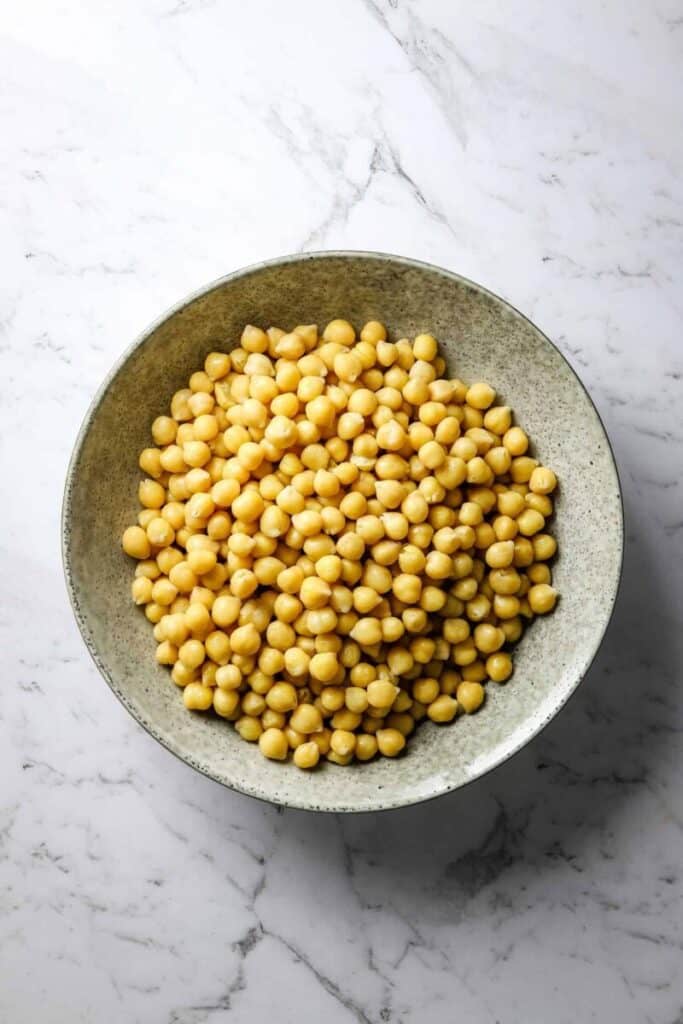 Along with the meatballs, I always include the following in my meatball bowls:
A filling grain or protein. Today we're using chickpeas, but I also love cooked beans, quinoa, couscous or rice.
Something creamy like whipped feta, hummus or tzatziki. I'm showing you how I make whipped feta today (because it's AMAZING), but you can save time with a bought dip.
Salad vegetables. I try to go for a couple of crunchy shredded vegetables like carrots, cabbage, peppers or cucumbers, and some softer leafy greens like lettuce or spinach. The combination of different vegetables is important because you want a meal that's got lots of textural and visual interest. In cold weather, you might like to swap out some of the raw veg for roasted sweet potatoes, zucchini, broccoli or cauliflower.
Garnishes. I love pickles so that's what I've used today, along with a little extra crumbled feta cheese left over from the whipped feta. Other great garnishes are roasted nuts, seeds, chili peppers or fresh herbs.
Would you like my FREE Quick Start Guide to Your Steam Oven?
Start learning what (and how!) to cook using your oven's steam and combi steam settings, with my instant downloadable guidebook, full of tips, links and ideas.
Click here to get the Guide sent straight to your inbox
Meal prepping your meatball bowls
When you look at the ingredients list for this recipe it looks like a lot of stuff. It is, but here's the thing: you can prep almost everything well ahead of time and then assemble lunch or dinner in a matter of minutes.
To meal prep these meatball bowls with chickpeas, I soak and cook my chickpeas a few days ahead of time, or have a couple of cans ready to go in the pantry. If I'm really organized, I will even freeze chickpeas in single serve portions. They can be dressed right after cooking or draining, so they'll be ready to eat whenever you like.
The meatballs can be made, cooked and frozen, or kept in the fridge for up to 3 days. You can serve them up at room temperature, or reheat them in your steam oven or (gasp) the microwave.
Whipped feta will keep for 3-4 days, covered, in the fridge.
Shredded or chopped vegetables will also keep for several days in airtight containers, so you can even prep those in advance.
How to make a meatball bowl
Here we go with a visual walk-through. Don't forget you can find the complete ingredient list and method in the printable recipe card at the bottom of this post.
First up, make your meatballs. Mix everything in a large bowl; I like to use my hands because it's much faster to combine everything than with a spoon. Form them into vaguely spherical blobs and put them on a pan to cook.
While the meatballs are cooking, you can prep everything else. Make the whipped feta by putting the ingredients into a food processor. Run it until you've got a fluffy and creamy mixture. The recipe makes twice as much whipped feta as you'll need, but that's so you don't have half a block of cream cheese hanging around in your fridge. Whipped feta is great on bread or crackers, or used as a dip with vegetables. It will keep for several days. You won't be sorry to have extra!
You can also prep the chickpeas at this point. We're just dressing them with the same flavors as the meatballs. I don't add salt to the dressing because the meatballs and feta are salty enough.
Time to assemble! Smear a little (or a lot) of whipped feta over the bottom of a bowl and add some chickpeas.
Pile in the salad vegetables and add meatballs to the top. Then garnish with the pickles, extra feta and anything else you want to add.
That's it! Looks special, tastes fantastic and if you have the different components prepped and ready to go, it comes together fast.
I hope you enjoy this recipe, it's a favorite of mine and I love knowing I can create lots of different flavors and combinations with a few tweaks to the ingredients!
Happy steam oven cooking, see you here again soon.
Have you made and enjoyed this recipe? I'd love if you'd be kind enough to rate and review it via the stars in the recipe card, or leave a comment below! Ratings and reviews help other readers to find and know whether one of my recipes will suit them.
Print Recipe
Meatball Bowls with Chickpeas
These creamy, crunchy and savory salad bowls are packed with protein and veg! Meatball bowls are fantastic for meal prep and a perfect lunchbox dish.
Ingredients
Instructions
Preheat oven to 400°F (200°C), combi steam setting. If your oven has variable steam settings, choose 30% (if not, don't worry! Just set to combi steam/convection steam at the correct temperature and the oven will work out the humidity for you). Line a sheet pan with parchment paper and set aside.
Make the meatballs
Mix together all the meatball ingredients in a large bowl until well combined. Form the mixture into 20 balls and place on the lined sheet pan.

1 pound ground pork,

4 Tbsp dried breadcrumbs,

1 egg,

1 tsp garlic powder,

1 tsp smoked paprika,

½ tsp ground coriander,

½ tsp ground cumin,

½ tsp cracked black pepper,

1/2 tsp kosher salt

Bake the meatballs until golden brown and cooked through, about 18 minutes.
Make the whipped feta
While the meatballs are cooking, put the feta cheese, cream cheese, lemon juice and olive oil into the bowl of a food processor. Run until the mixture is smooth, creamy and fluffy, about 2 minutes. It should be soft and spreadable; if it's too thick, you can add a little milk or extra olive oil to loosen it.

6 oz feta cheese,

8 oz cream cheese,

½ lemon,

1 Tbsp olive oil
Assemble the bowls
When the meatballs are cooked and the whipped feta is prepared, assemble the bowls. Mix the chickpeas, olive oil, lemon juice and spices together.

30 oz chickpeas,

2 Tbsp olive oil,

½ lemon,

½ tsp smoked paprika,

½ tsp garlic powder

Smear a couple of tablespoons of the whipped feta over the bottom of each bowl. Top each with a quarter of the chickpeas and a quarter of the shredded carrots and cabbage. Scatter a quarter of the spinach leaves into each bowl.

2 carrots,

¼ red cabbage,

2 cups baby spinach

Top the chickpeas and salad with the meatballs, then garnish with pickles and crumbled feta cheese. Hot sauce is optional but a delicious addition!

12 cornichons,

3 Tbsp feta cheese,

hot sauce
Notes
This looks like a lot of ingredients, but it's very simple to put together. If you want to spread out the preparation, make the meatballs and cook up to 3 days ahead of time. Store them in an airtight container in the fridge and reheat briefly to serve. You can also make the whipped feta up to 3 days ahead and store, covered, in the fridge. Let it come to room temperature before serving.
The recipe makes 4 very generous main meal servings, or 6 smaller servings.
You can sub the ground pork for beef, chicken or turkey instead. 
The salad ingredients are changeable, use whatever you like as long as you've got something crunchy like carrot or cucumber and something leafy.
The recipe makes twice as much whipped feta as you'll need, but that's so you don't have half a block of cream cheese hanging around in your fridge. Whipped feta is great on bread or crackers, or used as a dip with vegetables. It will keep for several days. You won't be sorry to have extra!
Nutrition
Calories:
886
kcal
|
Carbohydrates:
55
g
|
Protein:
41
g
|
Fat:
57
g
|
Saturated Fat:
21
g
|
Polyunsaturated Fat:
6
g
|
Monounsaturated Fat:
24
g
|
Trans Fat:
0.01
g
|
Cholesterol:
181
mg
|
Sodium:
1014
mg
|
Potassium:
1165
mg
|
Fiber:
13
g
|
Sugar:
12
g
|
Vitamin A:
8098
IU
|
Vitamin C:
53
mg
|
Calcium:
359
mg
|
Iron:
7
mg
Do you want to use and love your steam oven more?

There are precious few resources to teach us HOW to use a steam oven in everyday cooking. I'm guessing that's why you're here! If you love cooking but aren't making the most of your combi steam oven, you aren't alone.

Steam Oven Insiders was created for you!

Benefit from my decade-plus of steam oven knowledge and training, delivered to your inbox twice monthly in bite sized, easy-to-implement tips and delicious recipes you'll actually want to cook. Insiders get access to every exclusive recipe and article within the members dashboard, so you'll never miss a thing.

Find out more right here