I know you all enjoy a good sheet pan meal as much as I do, so you're going to love today's Greek chicken sheet pan dinner!
This simple one pan Greek baked chicken is bright, colorful and packed with vegetables. That alone would be enough, but it's served with a salty spicy mix of feta cheese, olives and red chili peppers. And then, because I couldn't leave well enough alone, I added garlic yogurt to finish things off. It's a lot. But in the best possible way.
This post may include affiliate links. As an Amazon Affiliate I earn from qualifying purchases (don't worry, it doesn't cost you anything!). Find out more about affiliate links.
What's in a Greek chicken sheet pan dinner?
Essentially Greek spiced chicken thighs with vegetables, roasted together, this is one of those dishes that hums because of the big, bold flavors you serve it with.
The (kind of) Greek marinade uses oregano, pepper, salt and paprika, plus olive oil, balsamic vinegar, scallions, lemon and garlic. It all combines to make an earthy marinade with a little sweet and sour hit. You're going to love it (and you should definitely try it on steam oven roasted fish, too!).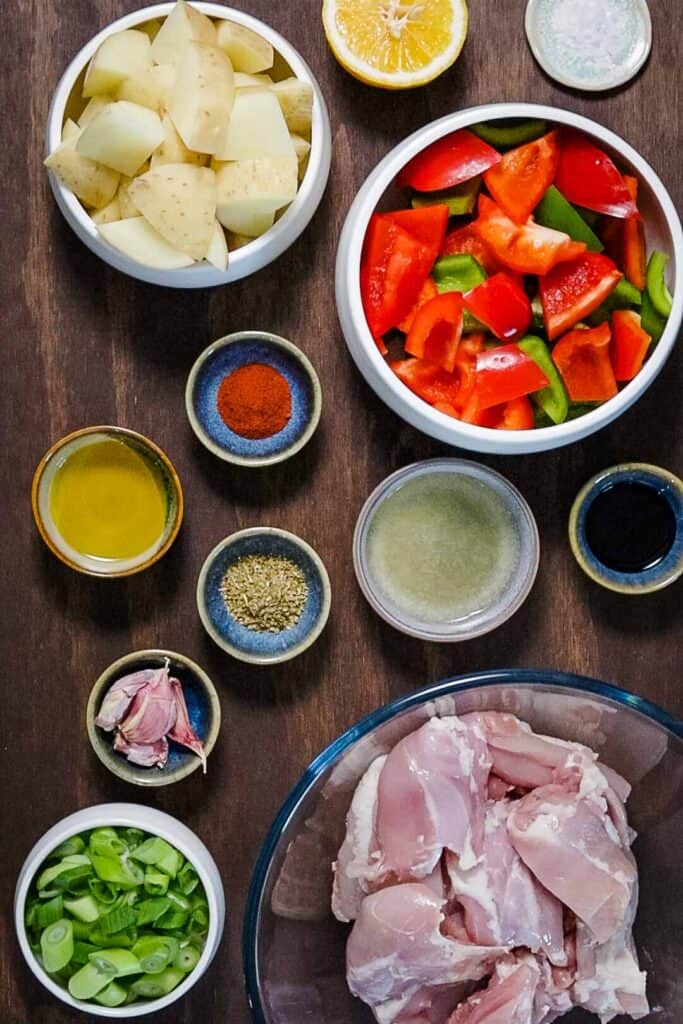 Under the marinated chicken you'll put potatoes and peppers. They'll cook down to a silky mix, and the potatoes are going to suck up all the chicken juices and flavor from the marinade. Using combi steam to cook the entire meal means juicy, tender chicken in around half the time it would take in a regular oven.
The toppings aren't even necessary here, but I wouldn't skip them. Because feta, olives, chilies and garlicky yogurt are always welcome. Right?!
Would you like my FREE Quick Start Guide to Your Steam Oven?
Start learning what (and how!) to cook using your oven's steam and combi steam settings, with my instant downloadable guidebook, full of tips, links and ideas.
Click here to get the Guide sent straight to your inbox
Top tips for the best Greek chicken and vegetables
Using different cuts of chicken
You can switch the boneless skinless chicken thighs in this recipe for other cuts. My preference if subbing would be for skin-on chicken thighs because the skin will brown and render and it's all kinds of good. You'll have to give them a head start before adding the vegetables, because they'll take more like 35-40 minutes to cook. Add the vegetables in the final 20 minutes if you're going this route.
Many of you will also want to know about using chicken breast. Yes, you can. Cut your chicken breasts in half if they're large, and give the vegetables a 10-15 minute head start before adding the marinated chicken. Even a thick chicken breast will only take 15-20 minutes to cook in your steam oven.
Using different vegetables
Please do! Cubed pumpkin or squash would be fantastic, as would eggplant, mushroom, zucchini, sweet potatoes, broccoli and cauliflower. Keep to the same volume of veg overall, and think about a good mix of flavors and textures. Otherwise the sky's the limit.
Don't get soggy
The key to this sheet pan dinner (and many others) is not to crowd the pan. Using combi steam is excellent for keeping the meat juicy, but moisture doesn't cook out of the vegetables in the same way as a regular oven. If you overcrowd the food so it's more than a single layer, you'll end up with a lot of liquid surrounding the vegetables at the end of cooking.
I'm going to go as far as telling you that the pan I've used for today's photos is a little on the small side; don't follow my lead! If you think your food is crowded, split it between two pans. It's one extra thing to wash up, but you'll thank yourself later.
Don't panic about marinating time
I advise leaving the chicken in the marinade for 20 minutes before cooking this dish. If you can, do that. The flavors will get into the meat and be more rounded. BUT. If you're in a rush and just need to get dinner into the oven, mix in that marinade and go for it. I've made this dish both ways and even without the extra marinating time it's still great.
How to make Greek chicken sheet pan dinner
This is mostly an assembly job, so let's get started. As always, the full recipe and method are at the bottom of this post in a printable version. Keep reading for the pictorial version!
First up, marinate the chicken. Mix all the ingredients in the 'for the chicken' section of the recipe except 2 tablespoons of the oil, the potatoes and peppers. Set the chicken aside to marinate for about 20 minutes while you prep the rest of the dish.
Preheat your oven and grab a big sheet pan. Chop the vegetables and put them into the pan with the remaining oil. Toss to combine. Add a little salt if you wish, although the marinade and chicken juices are going to flavor the vegetables too.
When the oven's hot and the chicken has had its little marinade bath, add the chicken pieces to the pan. You want to kind of nestle the chicken in between the vegetables rather than stacking it all on top. Single layer, people.
Into the oven! Cook until the chicken is tender and golden and those potatoes are done. It'll take 25-30 minutes, during which you'll make the toppings.
Cut the chile pepper and olives and mix with the crumbled feta in a bowl.
Mix the yogurt ingredients (except the parsley) in another bowl.
When the chicken comes out of the oven, liberally shower it with the feta olive mix and drizzle garlic yogurt over everything. Scatter parsley on top and pat yourself on the back, because by now everyone in the house will be desperate to fill their plates and their bellies!
Happy steam oven cooking, see you here again soon.
Have you made and enjoyed this recipe? I'd love if you'd be kind enough to rate and review it via the stars in the recipe card, or leave a comment below! Ratings and reviews help other readers to find and know whether one of my recipes will suit them.
Print Recipe
Greek Sheet Pan Chicken
The Greek inspired sheet pan chicken is filling and nourishing, and packed with colors, textures and flavors. It only takes a few minutes to put together!
Ingredients
For the chicken
1 1/2

lb

chicken thighs

boneless, skinless

3

Tbsp

olive oil

extra virgin, divided

1

Tbsp

balsamic vinegar

2

tsp

dried oregano

2

tsp

smoked paprika

3

cloves

garlic

minced

3

scallions

finely sliced

1

lemon

juiced

1/2

tsp

kosher salt

or flaky salt

1

lb

potatoes

cut into 1 inch chunks

2

bell peppers

red, green, or a mix of both, roughly diced
For the olive topping
1

red chile pepper

sliced

1/2

cup

kalamata olives

I use whole, but pitted is ok

8

oz

feta cheese

roughly crumbled
For the garlic yoghurt
1/2

cup

Greek yogurt

unsweetened/plain

1/2

tsp

black pepper

coarsely ground

1

clove

garlic

extra, minced

1/4

tsp

kosher salt

flaky salt

1/2

bunch

parsley

fresh, chopped
Instructions
Preheat oven to 425° F/220°C, combi steam setting. If your oven has variable steam levels, use 50% (if not, don't worry! Just set to combi steam at the correct temperature and the oven will take care of the rest). In a medium bowl, combine the chicken, 1 tablespoon of the olive oil, lemon juice, balsamic vinegar, oregano, paprika, scallion, garlic, salt and pepper. Mix well, then set aside in the fridge for 20-30 minutes.

1 1/2 lb chicken thighs,

3 Tbsp olive oil,

1 Tbsp balsamic vinegar,

2 tsp dried oregano,

2 tsp smoked paprika,

3 cloves garlic,

3 scallions,

1/2 tsp kosher salt,

1/2 tsp black pepper,

1 lemon

On a baking sheet, toss the potatoes and peppers with the remaining 2 tablespoons olive oil. Season with salt and black pepper. Nestle the marinated chicken on top of the vegetables, then put the sheet into the oven. Cook until the chicken and vegetables are cooked through and the chicken is golden, about 25-30 minutes.

3 Tbsp olive oil,

1 lb potatoes,

2 bell peppers

While the chicken and vegetables cook, mix the chile pepper, olives and feta in a bowl. In a separate bowl, combine the yogurt, extra garlic and salt.

1 red chile pepper,

1/2 cup kalamata olives,

8 oz feta cheese,

1/2 cup Greek yogurt,

1 clove garlic,

1/4 tsp kosher salt

When the meal is ready, serve the chicken and vegetables on warmed plates. Spoon the feta/olive mix and the yogurt over the chicken, then top with parsley.
Notes
You can substitute different vegetables for the peppers and potatoes. Try thickly sliced zucchini, patty pan squash, eggplant or mushrooms. Be aware that squashes, nightshades and mushrooms will release more liquid, so you may have to drain this off prior to serving.
Skin-on, bone-in chicken thighs will work in this recipe. They need a longer cooking time, so give them a head start for 15 minutes. Take them out, remove to a plate and put the vegetables on the baking sheet, before returning the par-cooked chicken to the sheet and proceeding to cook for a further 20-25 minutes. 
Chicken breast filets will also work in this recipe. Cut your chicken breasts in half if they're large, and give the vegetables a 10-15 minute head start before adding the marinated chicken and cooking for a further 15-20 minutes.
Nutrition
Calories:
617
kcal
|
Carbohydrates:
34
g
|
Protein:
48
g
|
Fat:
33
g
|
Saturated Fat:
11
g
|
Polyunsaturated Fat:
4
g
|
Monounsaturated Fat:
15
g
|
Trans Fat:
0.03
g
|
Cholesterol:
213
mg
|
Sodium:
1524
mg
|
Potassium:
1265
mg
|
Fiber:
6
g
|
Sugar:
6
g
|
Vitamin A:
3453
IU
|
Vitamin C:
130
mg
|
Calcium:
399
mg
|
Iron:
4
mg
Do you want to use and love your steam oven more?

There are precious few resources to teach us HOW to use a steam oven in everyday cooking. I'm guessing that's why you're here! If you love cooking but aren't making the most of your combi steam oven, you aren't alone.

Steam Oven Insiders was created for you!

Benefit from my decade-plus of steam oven knowledge and training, delivered to your inbox twice monthly in bite sized, easy-to-implement tips and delicious recipes you'll actually want to cook. Insiders get access to every exclusive recipe and article within the members dashboard, so you'll never miss a thing.

Find out more right here