This post includes affiliate links. As an Amazon Affiliate I earn from qualifying purchases. Find out more about affiliate links.
These bacon wrapped sausages are the perfect quick party dish to make when you're low on time but want something savory, satisfying and meaty for guests.
The first time I made these, my husband and kids vacuumed every single one off the pan before I could even serve them. Then I mentioned to a friend that I was photographing them for the website this week and she asked when she could come by for the leftovers. I think it's safe to say they're popular!
I've used mini breakfast sausages here and roasted with them with bacon, brown sugar and a hint of cayenne pepper. You can replicate the recipe with full sized sausages, kielbasa or cocktail sausages depending on your preference.
Sausages wrapped in bacon: appetizer, side dish or breakfast?
Bacon wrapped sausages are something I'd recommend as an appetizer or a side dish at a holiday party, but they're also great if you need to put together a few dishes for a breakfast buffet.
When it comes to breakfast entertaining, this is a way to serve sausages which don't need to be carefully watched in a frypan, and they take care of the requirements for both bacon and sausage on the table, so that's one less breakfast dish to worry about! Add some steam oven scrambled eggs, sous vide egg bites or a vegetarian breakfast casserole and you'll please just about everyone with far less effort than a traditional cooked breakfast.
Easy steam oven entertaining recipes to serve with your bacon wrapped mini sausages:
Tips for making easy bacon wrapped sausages
There are a few things I can recommend when it comes to these sausages which will make yours great from the very first time you try them.
Firstly, the thinner your bacon, the easier it is to wrap the sausages. The bacon in the photos is a little thick for my liking; it worked fine but the sausages in my previous batch with thinner bacon were easier to wrap.
Toothpicks! I always use a toothpick to secure the bacon around each sausage. I'm lazy and generally leave them in for serving (just warn people they're there!). The toothpicks are easy enough to pull out as you eat each sausage, but if you've got more time than me feel free to pull them out before you serve the dish.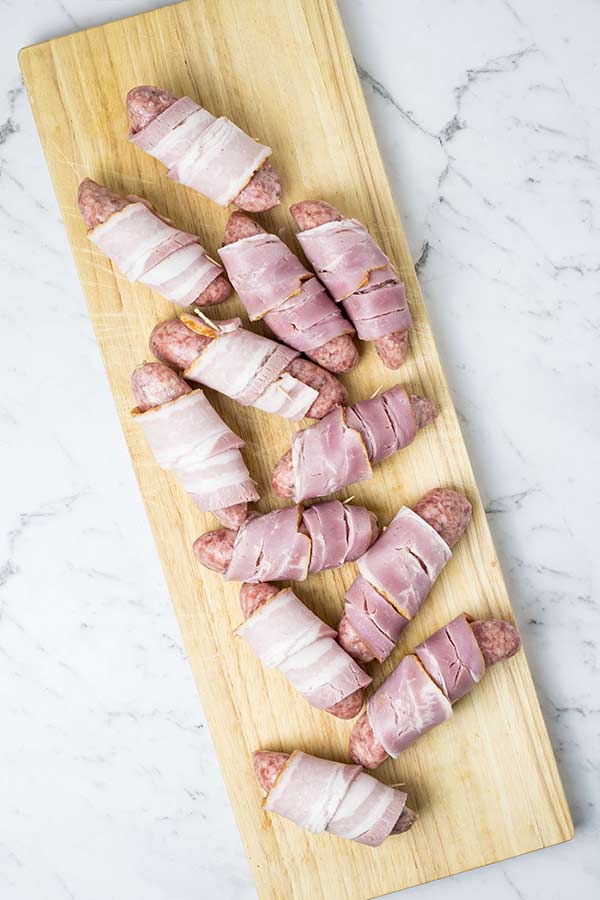 Next, don't panic if the brown sugar doesn't evenly coat the sausages when you're putting these together. If your bacon is dry cured it probably won't stick very well, but it's fine to just scatter it over the sausages once they're in the pan. This won't affect the flavor or color once you cook them.
Don't be tempted to add oil to these before you cook them! I tried it the first time because I wanted to boost the browning effect in the oven, but it just made everything extra greasy. The sausages and bacon have plenty of their own fat which will render out and help with browning, no need for any extra.
And that leads to my next point, which is baste, baste, baste. At least a couple of times during cooking, pull the pan out of the oven and either turn your sausages or brush the pan juices over the tops of them. It's the difference between glossy and golden bacon or slightly dry-looking and unappealing bacon.
Finally, these can be prepared ahead and refrigerated ready to cook, but they're a dish which reheats very well from fully cooked. If you prepare them too far ahead without cooking, the bacon seems to come a little unstuck from the sausages and it won't meld to the correct shape as nicely.
Give these steam oven sausages a go soon and watch them disappear into happy mouths and hungry bellies.
Happy cooking, see you here again soon.
Recipe: Bacon Wrapped Sausages
Print Recipe
Bacon Wrapped Sausages
Bacon wrapped sausages are a versatile appetizer or breakfast dish for casual entertaining. They're very simple to make and incredibly popular with kids and adults alike.
Ingredients
12

sausages

raw, mini/small size; you can use cocktail sausages, little smokies or wieners instead – see note about cooking times

6

slices

streaky bacon

halved lengthwise (if your bacon is quite wide, 4 slices cut into thirds will do)

½

cup

brown sugar

90g firmly packed

¼

tsp

cayenne pepper

optional

¼

tsp

ground black pepper
Instructions
Preheat oven to 350°F/180°C, combination steam setting. If your oven has variable steam settings, use 30%. If not, don't worry! Just set to combi steam at the correct temperature and the oven will figure out the humidity for you. Grease a shallow pan (I use a lightweight stainless steel one) or line with parchment paper and set aside.

Wrap each sausage in one of the cut pieces of bacon and secure with a toothpick.

Mix the sugar, cayenne and black pepper in a shallow bowl and add the sausages, turning to coat.

Spread the sugar-coated sausages onto the prepared pan. If you find the sugar mixture hasn't stuck very well (this will depend on how dry your bacon is), sprinkle a little over the sausages once they're in the pan.

Cook until the bacon is crispy and golden, about 20 minutes, turning after 10 minutes and then again after 15 to coat in the sugar and bacon fat which collects in the bottom of the pan. If you'd like a little extra color, broil/grill the sausages briefly to finish.

Serve hot or warm. If pre-cooking to reheat later, chill immediately and store in an airtight container for up to 2 days. Reheat using the same settings that you cooked at, for around 10 minutes.
Notes
You'll need toothpicks to secure the bacon around each sausage. Sometimes they'll stay wrapped without the toothpicks but I don't like to take the chance. You can leave them in for serving or remove straight after cooking.
The timings given are for raw sausages. You can use cooked smoked sausages, wieners or similar, just drop the cooking time by around 5 minutes for pre-cooked sausages.
You can scale this recipe up or down as much as you like – the cooking time will remain the same as long as you cook the sausages in a single layer with a little room in the pan. 
I have given nutritional information for the recipe as written, with small, raw pork sausages. Using another kind of sausage will change the nutritional info.
Nutrition
Calories:
167
kcal
|
Carbohydrates:
9
g
|
Protein:
6
g
|
Fat:
12
g
|
Saturated Fat:
4
g
|
Trans Fat:
1
g
|
Cholesterol:
28
mg
|
Sodium:
256
mg
|
Potassium:
106
mg
|
Fiber:
1
g
|
Sugar:
9
g
|
Vitamin A:
43
IU
|
Vitamin C:
1
mg
|
Calcium:
11
mg
|
Iron:
1
mg
Over to you – if you try this recipe I'd love to know about it! Share your comments below or on Facebook, tag @steamandbake on Instagram, or pin all your favourite Steam and Bake recipes over on Pinterest!
Would you like more recipes and tips to help you cook with confidence? Join the mailing list to be alerted to new posts.