Or, what to cook in your combi steam oven, April 24-30, 2023
Welcome to this week's Steam Oven Meal Plan!
New to this blog series? Check out the first Steam Oven Meal Plan for notes about how I do my meal planning and cooking, or just dive in and add this week's ingredients to your shopping list.
I use my steam oven every day, but I also like to share other recipes I'm cooking, from all around the web. This is the closest you'll get to being in my kitchen in person.
This post may include affiliate links. As an Amazon Affiliate I earn from qualifying purchases (don't worry, it doesn't cost you anything!). Find out more about affiliate links.
A steam oven meal plan to make you feel organized
I've been working on a different way to plan meals over the past week or two, and I think I've just about gotten it nailed. It's deceptively simple and not at all boring (my complaint about so many meal planning systems), and it's making me feel more organized about dinner than I have in a long time.
This blog series for meal planning has proved immensely popular; far more than I imagined it would! Given I've just been sharing my own plans for each week, I honestly had no idea how much all of you would enjoy reading and cooking from the same plan.
Because of the unexpected popularity of steam oven meal plans, I'm working on a kind of formula that'll help all of you plan your own cooking week using your steam oven (and, bonus, it's making my own planning much faster as well!).
For this week it's business as usual, but I hope to have a simple and fun meal planning system to tell you about very soon. Stay tuned for that; if you're on my email list you'll hear about it first right there. Not on the list? Sign up right here to be first to hear about everything in my steam oven world.
Happy cooking, see you here again soon.
Monday
Easy peasy and super delicious coconut chicken and rice! This is a great way to start the week because hubby and I will have leftovers for lunch for the next couple of days.
One Pot Chicken and Rice with Coconut Milk
Creamy, coconutty rice under tender chicken thighs is my kind of dinner. There are bell peppers for color and extra flavor, and all the chicken juices go into the rice as it cooks, making everything taste deep and savory and like more than the sum of its parts.
Check out this recipe
Tuesday
I don't know about you, but pretty much anything put into a taco is great in my book. Same goes for my kids. If I told them we were having beef stew for dinner, they'd roll their eyes and complain endlessly. But the same dinner labelled as beef tacos and served with tortillas? Win.
Beef Cheek Tacos
I know beef cheeks seem weird if you haven't cooked them before. But they're outstandingly tender and sticky, perfect for the best kind of taco you've had in ages. No beef cheeks? Use shin or chuck for something very nearly almost as good.
Check out this recipe
Would you like my FREE Quick Start Guide to Your Steam Oven?
Start learning what (and how!) to cook using your oven's steam and combi steam settings, with my instant downloadable guidebook, full of tips, links and ideas.
Click here to get the Guide sent straight to your inbox
Wednesday
It's the middle of the week, everyone's suffering hump-day-itis, but this lovely dinner still gets to be something we can all look forward to.
Steam Oven Pork Tenderloin with Courgettes, Red Peppers and Green Olive Sauce
You'll love the sauce for this easy one pan meal, or hate it. Luckily for us, we love it, and it elevates the dish from plain meat and vegetables to something bistro-worthy and almost kinda fancy. If you've never tried it I urge you to do so.
Check out this recipe
Thursday
Frozen cannelloni in the steam oven tonight. But not just any cannelloni. This spinach and ricotta pasta is made from scratch and although it's a lot of effort, I always, always make double or even triple. The extra quantity isn't much more work and it's a fabulous freezer meal.
Cannelloni with Spinach, Ricotta and Mushrooms
Comforting spinach and ricotta pasta, with mushrooms for extra depth. If, like mine, your kids don't like the texture of mushrooms, don't worry. They're blended into the filling and no one will know they're there unless you tell them!
Check out this recipe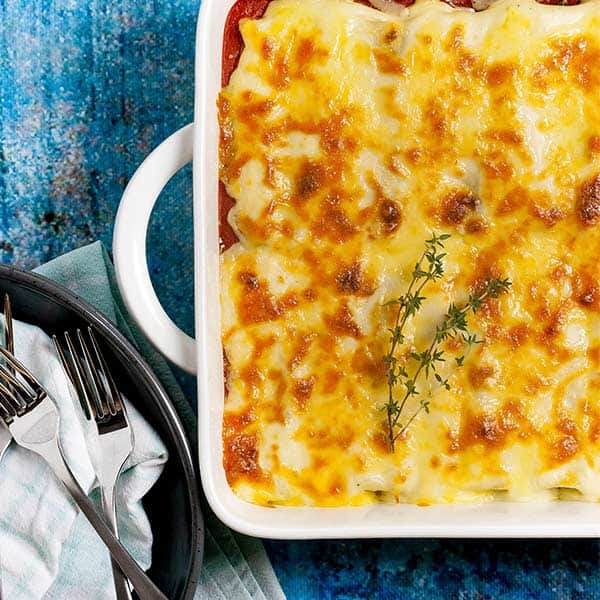 Friday
I've got a husband who's requested fried rice for the past few weeks, and I still haven't made him any! Tonight will fix that. I'll make the rice on Thursday and have it chilled and ready for a speedy dinner.
Egg Fried Rice
I've been making this dish for about 20 years and it's still the best fried rice I've tried. It's deeply flavored but somehow lighter than restaurant versions, and you can add or subtract the inclusions to make it 'your' fried rice. Leftovers reheat like freshly cooked in the steam oven.
Check out this recipe
Do you want to use and love your steam oven more?

There are precious few resources to teach us HOW to use a steam oven in everyday cooking. I'm guessing that's why you're here! If you love cooking but aren't making the most of your combi steam oven, you aren't alone.

Steam Oven Insiders was created for you!

Benefit from my decade-plus of steam oven knowledge and training, delivered to your inbox twice monthly in bite sized, easy-to-implement tips and delicious recipes you'll actually want to cook. Insiders get access to every exclusive recipe and article within the members dashboard, so you'll never miss a thing.

Find out more right here
Weekend
There's been no baking so far this week, but I'll be fixing that with a cake on Saturday.
We'll be out for dinner one night, and the other is going to be leftovers, so we might add in another 'treat bake' that can be frozen for school snacks.
Cream Cheese Pound Cake
Make this exactly as written, or turn it into a lemon drizzle cake with a quick lemon juice and confectioners' sugar icing.
Check out this recipe
Best Ever Gingerbread Cookies
Sometimes, even when it's not Christmas, I bake a batch of these with the kids and let them go wild with their own decorations. You should too, they're too good to be saved for just once a year.
Check out this recipe